Fabinho has avoided a two-match Premier League ban just in time, as Liverpool face a side Jurgen Klopp claims have the "best counter-attack."
After seven yellow cards in his previous nine games, Fabinho went into the Reds' meetings with Nottingham Forest and West Ham desperate to avoid another.
If cautioned in either of those two fixtures, the Brazilian would have received a two-match suspension for picking up 10 yellow cards in the first 32 games of the Premier League season.
But Fabinho was almost flawless, conceding just one foul across the two games despite making six tackles, three interceptions and three clearances.
Premier League rules stipulate that yellow cards are wiped after a club's 32nd fixture, which now means Fabinho has avoided suspension.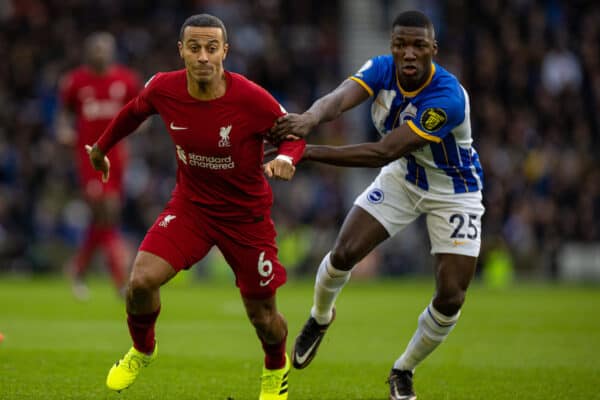 Across the entire top flight, Brighton's Moises Caicedo is the only player left under threat, with the midfielder facing a two-match ban if he is booked against both Wolves and Man United.
Fabinho's situation is likely aided by the shift in formation by Klopp, with less pressure on the No. 3 as Trent Alexander-Arnold sits alongside him.
And the added concern of a suspension being lifted could give Liverpool a welcome edge when Tottenham visit Anfield on Sunday.
Despite their struggles of late, including a 6-1 thrashing by Newcastle a week ago, Klopp still believes Tottenham can be the "best counter-attacking team in Europe."
"The team they have is still absolutely exceptional. Why it didn't work out [this season], I have no idea," he told reporters on Friday.
"I will be prepared for the best possible Tottenham side.
"They were for some years, by some distance, the best counter-attacking team in Europe.
"There were moments when you lost the ball and they only had to find Harry Kane and the next moment Son was in a one-on-one situation with the goalie.

"I had no clue how to defend that properly – the best way was to not lose the ball.
"That's one thing. They have brought in good players, really good players. I expect them to be really good."
One way to thwart counter-attacks is, of course, the deepest-sitting midfielder stopping momentum with a tactical foul or two.
Fabinho may have been less inclined to do this if he was at risk of suspension – now, it could give Liverpool a fail-safe if the "best possible Tottenham" turns up.