Jurgen Klopp insisted Liverpool try "absolutely everything" to get all they need in the transfer market but, in the case of Jude Bellingham, sometimes it's not possible.
Merseyside journalists broke the news on Tuesday evening that Liverpool are no longer pursuing a deal for the midfielder, who had long been their No. 1 target, due to the finances involved.
With a midfield overhaul needed, Klopp was reported to be in 100 percent agreeance that a move for Bellingham, which would exceed £115 million, would not make financial sense.
The news has triggered plenty of reactions and it was the obvious elephant in the room as the manager fronted the press ahead of Liverpool's trip to Leeds.
And Klopp was predictable in his answer, having "nothing to say about" it.
"If I don't speak about players we sign and don't sign, why would I now speak about this kind of speculation? Really nothing to say about it," he insisted.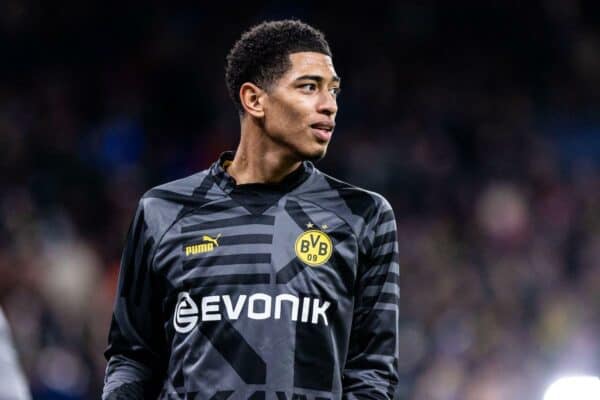 After being pressed about the issue, Klopp insisted his answer was not directly about Bellingham and used a 'Ferrari' analogy to explain Liverpool needing to operate within their means.
"It's not about Jude Bellingham now, my answer now. Definitely not," Klopp explained. "I never understood why we constantly talk about things we theoretically cannot have.
"We cannot have six players in the summer, where everyone is £100 million, for example. That's kind of clear.
"You have to realise what you can do and then work with that.
"We are not children, if you ask a five-year-old what they want for Christmas and they tell you I want to have 'a Ferrari', you wouldn't say that's a good idea.
"It's too expensive and, anyway, you cannot drive it.
"That's how it is. If this kid is then unhappy his whole life because he cannot get a Ferrari it would be a really sad life.
"It's just what can you do, and you work with that, nothing else to say about it.
"It's always how I worked. What we need and want, we try absolutely everything to get it.
"But there are moments you have to accept that this or that is not possible for us, and you step aside and do different stuff."
While Klopp said that answer wasn't about Bellingham specifically, it certainly ended up sounding like it with that final line.