Liverpool may have put Jude Bellingham on the back-burner ahead of the summer rebuild, but fans could now dream of a £150 million triple signing.
Bellingham is not considered an active target for the Reds heading into the summer transfer window, though there are muted claims a move could be revived in 2024.
Instead, Jurgen Klopp and the club's recruitment staff are prioritising a series of midfield transfers, with a price tag of over £130 million put to better use in signing more than one player.
Liverpool have already been linked with a host of midfielders from the Premier League and across Europe, and it remains to be seen who will be brought in.
Speculation is increasing, though, over the trio of Sporting CP's Manuel Ugarte, Bayern Munich's Ryan Gravenberch and Brighton's Alexis Mac Allister.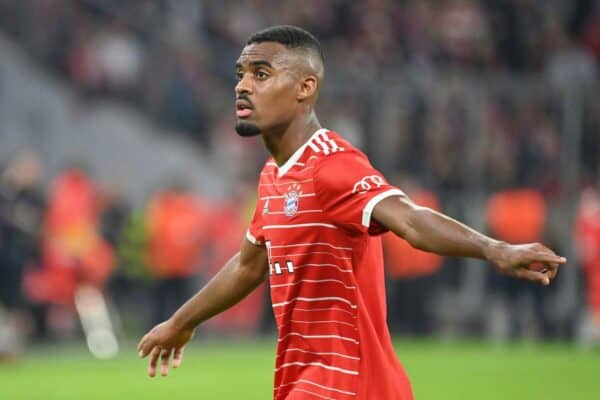 CNN Portugal and O Jogo have both reported on the Reds' interest in Ugarte, 22, while on Saturday, BILD's Christian Falk claimed Gravenberch, 20, will now push Bayern for a switch to Anfield.
Mac Allister, meanwhile, is the subject of imminent talks, according to the Mail, with the 24-year-old's father already explaining a summer move is "most likely."
Mason Mount, also 24, remains firmly on the radar, too, and many Liverpool fans have taken to Twitter to laud a potential dream transfer window with three new arrivals.
Ugarte, Mac Allister & Gravenberch is a 10/10 window, and one that could be done for less than £150m. Absolutely no excuses.

— BEN (@SMXLFC) April 29, 2023
If we really get Ugarte, Mac Allister and Gravenberch for £140-150m, that's 10x better than Bellingham alone for the same price!

I will be confident for the next season if we sign these 3.

— Alex ? (@AlexLFC27) April 29, 2023
Mac Allister, Ugarte & Gravenberch would solve all our midfield issues in one summer. Those 3 + Fab, Thiago, Jones, Hendo & Bajcetic is a league winning midfield.

Would still need business done in the defence though.

— Dan (@worksopdanic) April 29, 2023
Mac Allister, Gravenberch and Ugarte will be such a good window for midfielders coming in. It's what we need

— Nate… (@SimplyNate_) April 29, 2023
Mac Allister, Ugarte, Gravenberch and Mount is a proper proper midfield rebuild. Young hungry players, all of them with points to prove – wanting to make that next step

— R Jay (@aj4eva98) April 29, 2023
Mac Allister
Mount
Ugarte
Gravenbach
Colwill

This is my 10/10 window

— Jacob (@lfc_eraj) April 29, 2023
Apparently Gravenberch has told Bayern he wants to join us…
Without getting carried away with any rumours, Gravenberch, Ugarte & 1 of Mount or Mac Allister would be a brilliant summer.
Definitely better than only signing Bellingham.

— Daniel J (@DanielJ1920) April 29, 2023
If we end the summer with Mac Allister, Ugarte and Mount I would be very happy.

Getting a deal done for someone like Alex Scott and letting him stay for another season would also be brilliant business.

— Josh (@JoshCF_) April 28, 2023
---
There may be an element of FIFA Career Mode in hopes Liverpool could sign Ugarte, Mac Allister and either Gravenberch or Mount, but it is certainly not out of the question.
It is, arguably, the statement the club needs to make having pulled out of the immediate running for Bellingham – particularly as at least four midfielders will depart this summer.
Replacing James Milner, Naby Keita, Alex Oxlade-Chamberlain and Arthur is imperative – regardless of their status as squad players.
Signing players like Ugarte, Mac Allister, Gravenberch and Mount, who are all 24 and under but proven at a high level, is exactly the approach Liverpool should be taking.