Nottingham Forest fans are to unfurl a 30-foot 'no to tragedy chanting' banner when they meet Liverpool at Anfield on Saturday afternoon.
Vile Hillsborough chants have become an all too depressing and familiar occurrence whether the Reds are home or away, often coupled with references to poverty.
Liverpool have backed the Premier League in their initiative to address the issue, along with the FA, the EFL and the Football Supporters' Association, in contacting the police to tackle it.
Arsenal were recently praised by Jurgen Klopp for their "most respectful" minute's silence as the two clubs paused to honour the 97 prior to the 34th anniversary.
Class costs nothing and it speaks volumes that in the current climate, Arsenal's respect is the exception.
But Forest fans are seeking to take a stand and show their support to those who have "suffered enough," raising a banner in the sixth minute of Saturday's clash.
by what they saw that day too. We felt we needed to take a stand and show our support to those who've suffered enough, so we will be raising this banner in the away end in the sixth minute on Saturday – Respect The 97, Solidarity With Survivors, No To Tragedy Chanting… pic.twitter.com/hAvcMtkBP5

— Forest at Anfield 22.04.23 (@NoHateChants) April 20, 2023
The 30-foot banner reads: 'Respect The 97, Solidarity With Survivors, No To Tragedy Chanting'
The Athletic's Daniel Taylor shared the story and the intention behind the banner, made more important after sections of the City Ground aired the vile chants back in October.
"My son's 14, he said to me afterwards, 'I thought it was because Klopp was a bad loser and they always wanted an excuse if they were losing'," Martin Peach, who helped create the banner, explained.
"It's about awareness and, after that, respect for the people who died."
It is a class gesture but one you wish did not have to be made, there is no place for such vitriol. There is no point-scoring or banter with these 'chants'.
A Twitter thread from @NoHateChants further explained Forest's need to take a stand.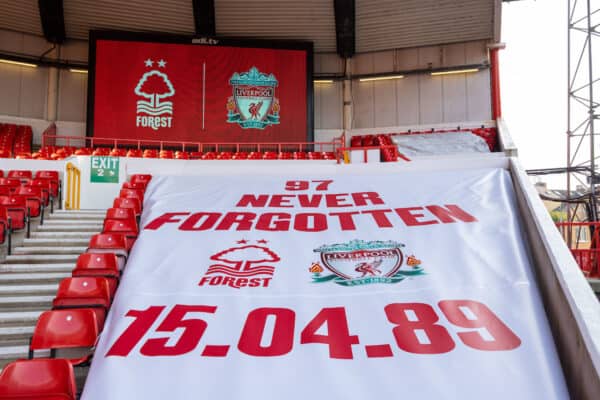 "We've been proud of the atmosphere us Forest fans have created home and away this season, and the praise we've received from opposition supporters for it," @NoHateChants penned.
"But, for us, the one blot on the copybook was the singing of 'Always the Victims' from sections of our support in the game against Liverpool at the City Ground in October.
"We know some of our fans argue this has nothing to with Hillsborough, but the connotation is undeniable, and whether it's intentional or not, it does cause deep offence and upset, not just to the families and friends of the 97 and the wider Liverpool fanbase, but also to many Forest fans who were affected by what they saw that day too.
"We felt we needed to take a stand and show our support to those who've suffered enough, so we will be raising this banner in the away end in the sixth minute on Saturday and we ask our fellow Forest fans to join us in a minute's applause at the same time."