Liverpool's 1-0 win over Brentford was far from the most eventful affair Anfield has seen this season, with a remarkable stat highlighting just how little action there was.
The Reds made it six wins from six after Mohamed Salah converted from close range inside 15 minutes to help the side towards all three points.
Brentford gave Liverpool plenty to think about after the interval but were ultimately unable to find the cutting edge required to force an equaliser.
The game itself had very little flow to it, something that was ratified by astonishing numbers that have emerged since.
Football data editor at Opta, Michael Reid, has explained how the ball was in fact in play for the lowest total time since such data has been recorded.
The ball was in play for just 43 minutes and 10 seconds.
For 56 per cent of the match, the ball wasn't in play. Fans are being short-changed.
Reid explains that that's both the lowest total and per cent in-play time of any Liverpool Premier League game on record – since records began in season 2006/07.
The ball was in-play for 43 minutes and 10 seconds of Liverpool's game vs Brentford yesterday – which was 44% of the total match time.

That's both the lowest total and % in-play time of any #LFC Premier League game on record (from 2006-07). #LIVBRE

— Michael Reid (@michael_reid11) May 7, 2023
Referee Anthony Taylor awarded 19 fouls against Liverpool, the most recorded by the Reds in a Premier League game since 2015.
You would have to go back even further to find a fixture in which Liverpool conceded such a number of fouls at home, with the same figure registered in a clash against Sunderland in September 2010.
Liverpool conceded 19 fouls against Brentford, their most in a Premier League game since October 2015 v Chelsea (21), and most at Anfield in the league since September 2010 v Sunderland (also 19). #LFC #LIVBRE

— Michael Reid (@michael_reid11) May 6, 2023
It was an eventful afternoon for Taylor, who produced a series of questionable decisions that went against both sides throughout the contest.
Goalkeeper Alisson was given a yellow card in the second half for taking 34 seconds to take a goal kick, an offence that is carried out to a much greater extent by almost every Premier League visiting goalkeeper at Anfield.
Taylor also blew for a free kick at an average of once every 83 seconds of the game's active minutes.
The statistics throw open a debate about whether the product is being harmed by the ball being out of play for such substantial parts of the game.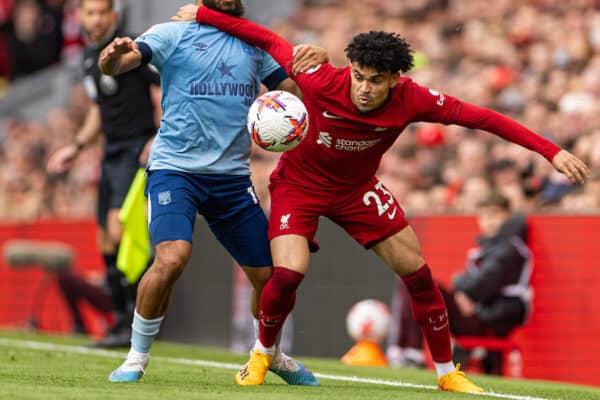 Brentford's trip to Anfield saw 10 minutes less 'ball in play' time than the 2-1 win over Newcastle back in August, when Eddie Howe's side were widely criticised for running down the clock.
The 1-0 win does however keep Liverpool on course for a European spot as they bid to close out the campaign with nine consecutive victories.