Liverpool have confirmed they will play the national anthem ahead of their meeting with Brentford on Saturday to mark the king's coronation.
What does it have to do with Premier League football, you ask? It is a valid question.
The coronation of King Charles III will be held on Saturday and in April the Premier League urged all 20 clubs to pay tribute by playing the national anthem before kick-off.
Liverpool's involvement in the tributes were, rightly, questioned as the majority of supporters hold a strong anti-monarchist and anti-establishment stance.
If some took even a minute to research the historical reasons for why Liverpool fans hold these views, they would start to understand.
Either way, Liverpool's decision to mark the coronation will create headlines as others watch on and wait for how supporters will greet the national anthem at Anfield.
Although, the reaction should not come as a surprise.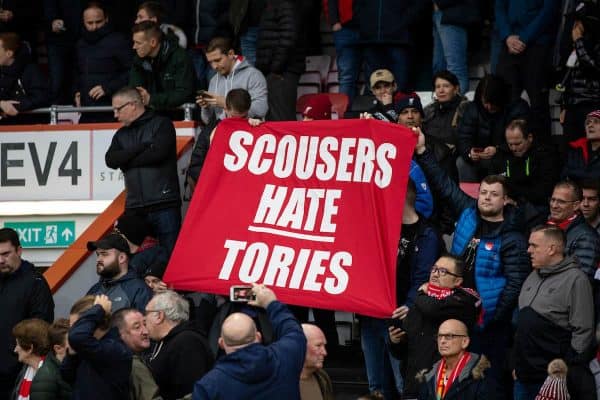 "You can stick your coronation up your arse" was the chant from Kop against Fulham and boos will certainly ring out on Saturday, leading to the predictable 'disrespectful' noise from the outside to swiftly follow.
It is a bizarre decision from the club as they will know all too well where their supporters stand on the matter having consulted them in this decision-making process.
And they stated as much in their confirmation, saying: "It is, of course, a personal choice how those at Anfield on Saturday mark this occasion and we know some supporters have strong views on it."
The Athletic's James Pearce has reported that the club felt "they were placed in an impossible position" after being given the choice, with all other clubs taking part.
Prior to the FA Cup final last season, there were choruses of boos for the national anthem, as well as the traditional hymn Abide With Me, and it was met with a hysterical reaction from some publications.

Jurgen Klopp was quickly asked for his view last May and his response epitomised why he is the perfect fit for the club.
He said: "I know our people that well that they wouldn't do it if there was no reason for it."
Too right there is a reason, not to mention the blatant show of wealth at a time when many in this country cannot afford the basic necessities.
There's only one king in Liverpool, his name is Kenny.