A 23-year-old Tottenham supporter has pleaded guilty in court to making gestures mocking the victims of the Hillsborough disaster at Anfield.
Kieron Darlow was accused of making pushing gestures during the 4-3 tie between Liverpool and Tottenham at the end of April.
The offence occurred just over a fortnight after the 34th anniversary of the tragedy.
According to ITV, he was charged with intentionally causing harassment, alarm or distress and pleaded guilty, and attended the Bootle Magistrates Court this week.
The supporter, who was believed by police officers to have been drunk, was said to be "laughing throughout the display" at Anfield.
He was situated near the divide between home and away supporters in the Anfield Road Stand, and was arrested at the scene.
Darlow pleaded guilty to the charges and will now be sentenced on June 13.

"He accepted at court that it was his intention that Liverpool fans should see this and that it would cause them harassment, alarm and distress," said associate prosecutor Andrew Page.
"He admitted that his behaviour was unacceptable and regrets his actions. He apologised to the fans who saw it and to Tottenham Hotspur football club and the court.
"Darlow knew what he was doing and it was done knowing what an impact the Hillsborough tragedy had on Liverpool fans and the city of Liverpool but he did it anyway.
"This sort of behaviour is not only unacceptable, it is criminal."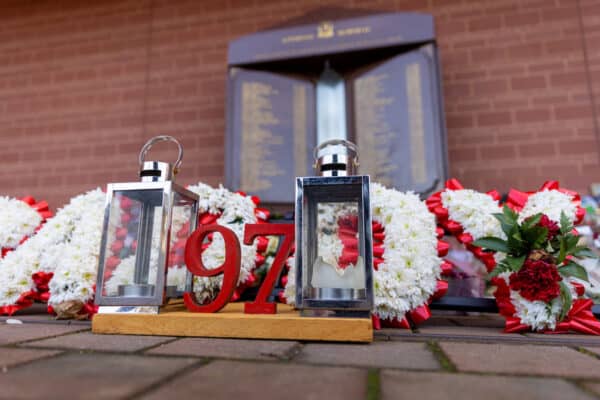 In January of last year, Shrewsbury banned two of their supporters for eight years after footage mocking Hillsborough victims in the city centre.
An 18-year-old was arrested outside Anfield for similar offences, but was later released pending further inquiries.
On a number of occasions this season, Liverpool supporters have faced tragedy chanting from rival fans, including in recent meetings with Man City and Chelsea.
"It makes no sense that there are still chants relating to tragedies including Hillsborough. This needs to stop," Jurgen Klopp said last month.
"Not because I say so or the police say so or whoever. It needs to stop because the people who continue to suffer – including families of those who died and survivors – tell us how much these songs hurt them."