Liverpool are set to be part of a revamped under-21s league from next season, with a 'Swiss style' model removing promotion and relegation.
Since 2016/17, Liverpool have taken part in Premier League 2, which was rebranded from the previous U21 Premier League and included two divisions.
The Reds' youngsters have remained in Division 1 over those seven seasons, with 14 clubs in the top tier and 11 others in Division 2.
Last season saw the age limit reduced from under-23 to under-21, though sides were still permitted to field an over-age goalkeeper and up to five over-age outfielders in every game.
Their final campaign in the current setup saw Liverpool finish second, with the reliable YouthHawk reporting via Training Ground Guru that this summer will bring major changes.
Now, all 25 Category One academy sides – including Liverpool – will join a closed 'Swiss style' league following a vote at the Premier League's AGM last week.
Explained: The Swiss model

25 teams in one 'league', seeded into 5 pots
Clubs seeded based on performances over last 3 years
20 'league' fixtures – 6 fewer than in previous format
Top 16 clubs from combined table advance to knockouts
In this setup, the 25 teams will be divided into five pots based on their performance over the previous three years, with 20 fixtures to be played.
Each team will play every side in their pot, as well as four or five of the teams in the other four pots, with the top 16 teams in the combined table then qualifying for a knockout stage.
It is the same format, albeit with a different number of teams, as that which the Champions League will adopt from 2024/25.
"Many of the more established clubs have been in favour of removing relegation for some time," it is explained.
"[They believe] that the desire to maintain league position has overshadowed development decisions regarding individual players."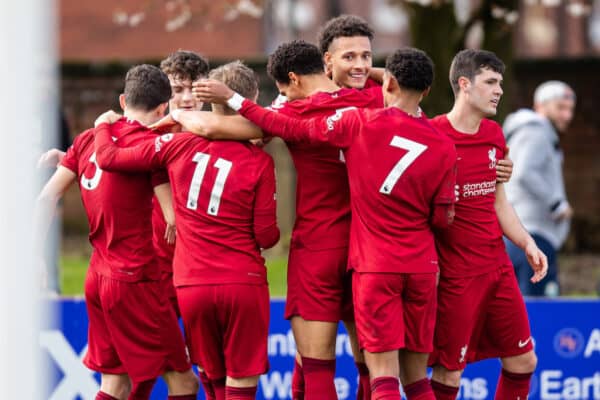 It will mean six fewer league games than Liverpool have played, though they could go on to play 24 in total if they progress through the knockouts.
The fixtures for the new competition, which is as yet unnamed but may remain as Premier League 2, will be released in July.
Liverpool have already announced their first warmup friendly of the summer, with Barry Lewtas' U21s visiting National League side Kidderminster Harriers again on July 21.