Ibrahima Konate is looking to pick up where he left off and show "another personality" in what will be his third season at Anfield.
The defender cemented his position alongside Virgil van Dijk at the heart of Liverpool's backline last season, recovering from knee and muscle issues to register 24 appearances in all competitions.
Jurgen Klopp's side failed to replicate the magical form which saw them notch 92 Premier League points and reach all three finals in 2021/22, but Konate added to his already impressive reputation despite his fitness problems.
The French international has had his say on the new system which saw his role tweaked slightly as Trent Alexander-Arnold operated in a hybrid position in the latter stages of the season, insisting that the change helped him to become a "better player."
"Yes, maybe [it] made me a better player because I have to do more, because I have more space to defend," Konate told the club's official website.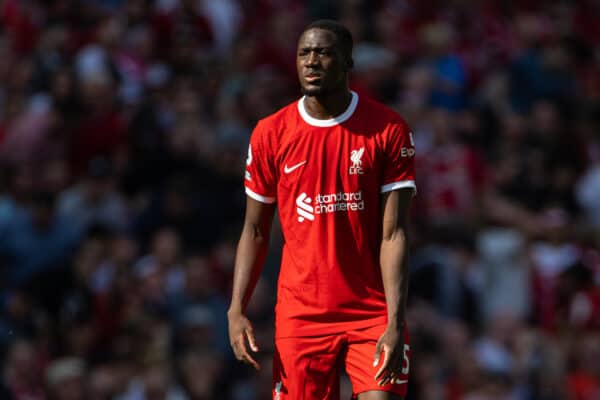 "But I have a nice team to help me do this and this season let's see what will happen."
Konate joined the club two years ago at the age of 22, but with various senior players exiting the club over the summer his role both on and off the pitch will take a step up next season.
The centre-back touched on his need to express himself in a different light in the upcoming campaign and his desire to "level up" in the next phase of his Liverpool career.
"I think this season, the third season, I have to level up and show another personality of me on the pitch and in life as well," he continued.

"I have a lot of objectives – a lot of clean sheets, help my team, score some goals and win some trophies."
Liverpool have been linked to a number of left-sided centre-back options in recent weeks, with reports last month indicating that Klopp will "100 per cent" sign a defender in the transfer window.
Any new recruits are likely to complement Konate rather than replace him, with the Frenchman's recent role focused on defensive cover on the other side.