There is no rest for the wicked and Liverpool are closing in on their return to training, with season 2023/24 fast approaching.
A mere 76 days is all that separates the end of the 2022/23 season and the start of 2023/24, when you account for international fixtures and pre-season training the time quickly disappears.
Curtis Jones and Harvey Elliott will be the last two members of Jurgen Klopp's senior squad to return to training due to their involvement in the U21 Euros.
The Liverpool manager did not hide his contempt at international fixtures following almost immediately after the domestic campaign but each player will have enjoyed at least three weeks off.
Those who did represent their country in the summer will report for pre-season on July 11, three days after the first wave of players on July 8.
Dates for summer 2023

July 8 – Pre-season starts (non-internationals)
July 11 – Internationals return to training
July 19 – Friendly vs. Karlsruher SC (Germany)
July 24 – Friendly vs. Greuther Furth (Germany)
July 30 – Friendly vs. Leicester (Singapore)
August 2 – Friendly vs. Bayern Munich (Singapore)
Friendly in England TBC
August 13 – Premier League seasons begins vs. Chelsea
September 1 – Europa League Group Stage draw
September 1 – Transfer window closes (11pm)
September 21 – First Europa League group game
The Reds' first pre-season friendly (July 19) is scheduled 11 days after the start of pre-season and just 25 before their Premier League campaign gets underway at Chelsea (August 13).
Klopp will take his squad to Germany for a training camp and two friendlies before a one-stop tour in Singapore to meet Leicester (July 30) and Bayern Munich (August 2).
Another friendly is anticipated to be added to the schedule, with Preston's Deep Dale expected to play host in early August as work on the Anfield expansion continues.
Plenty to do and Klopp has 36 days in which to lay the foundations for 2023/24.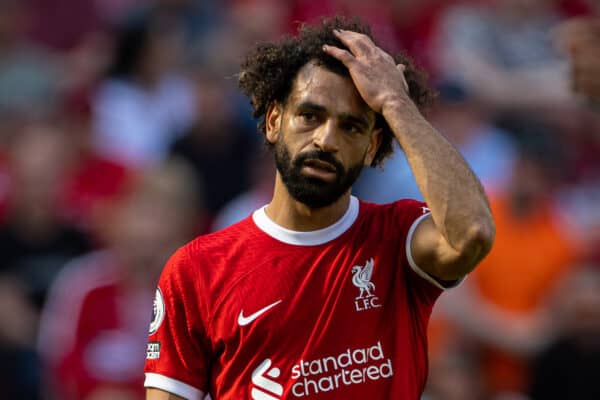 For the third season in a row there is an international tournament to consider, this time it is the Africa Cup of Nations – which could see Mohamed Salah miss up to 10 games at the start of 2024.
The schedule remains unforgiving and you do not see FIFA changing that any time soon.
Key dates for the 2023/24 season

August 11 – Premier League starts
September 4 – First international break
September 21 – First Europa League group game
September 26/27 – Carabao Cup Third Round
October 9 – Second international break
November 13 – Third international break
December 14 – Final Europa League group game
January 6/7 – FA Cup Third Round
January 13 – AFCON starts
January 13/20 – Winter break
May 19 – Final day of Premier League
May 22 – Europa League final
May 25 – FA Cup final
The hope will be that Liverpool will return to their silverware-winning ways and, once more, February and May will be when finals are contested.
Here's to a memorable 2023/24 for all the right reasons!