For the first time in his Liverpool career, Virgil van Dijk has had a spotlight shone on him in a scrutinising manner to which he's not accustomed.
The Reds' colossus at centre-back was a shining light in the most decorated period of the club's recent history, an ever-present as Jurgen Klopp's side lifted a sixth European Cup and ended a 30-year wait for the league title.
Until recently, it has been plain sailing with Van Dijk on the pitch, with the Dutch captain sidelined during the only other sticky patch of the current manager's reign in 2020/21.
His unrelenting success and presence were highlighted by his remarkable 70-match unbeaten home record in the Premier League, which came to an end in October's 2-1 defeat to Leeds.
Individual and collective struggles since have led to rare bouts of genuine criticism towards Van Dijk as Liverpool fell out of Europe's elite club competition for the first time since 2016.
At the age of 31, is the form a genuine cause for concern among supporters or merely a bump in the road?
Superpowers exposed?

Van Dijk's indestructible aura at the back earned him a reputation of being impossible to dribble around, something which the stats backed up and quickly became a borderline meme.
Rival fans tried to use it as a stick to beat him with, searching desperately for video clips to expose the 'myth' and find a way to humanise him.
At his peak, it was an impossible task. During the 2018/19 season in which Liverpool hit 97 points, lifted a European Cup and Van Dijk was awarded PFA Player of the Year, the defender was not dribbled past all season.
Gabriel Jesus became the first to break the 17-month streak but that came in the 2019 Community Shield and, as we know, that competition only counts when we win it.
When your centre-back is as impenetrable as that and you have the world's best goalkeeper in behind, it can make for a formidable force and Liverpool were precisely that.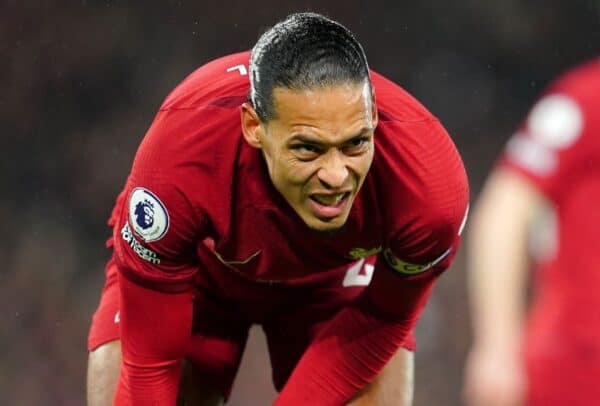 Now, Van Dijk has shown himself to be beatable by forwards and when that becomes the case for a talismanic centre-back it can have devastating consequences.
Alisson being voted the clubs' Player of the Season said as much for Liverpool's defensive woes as it did for the Brazilian's brilliance, but the holy goalie could do nothing to prevent Bournemouth's winning goal in March.
The defeat and Van Dijk mistake encapsulated the erratic nature of the season as it came just six days after a historic 7-0 triumph over Man United.
The Dutchman looked a shadow of his former self against the Cherries and lapses in concentration gave the likes of Dominic Solanke and Philip Billing one of the easiest afternoons of their respective seasons.
A predictable reality check

The Netherlands skipper gave the desperate compilation makers a lot more ammunition than they had become used to during 2022/23, with a costly failed clearance leading to Leandro Trossard's hat-trick goal for Brighton in front of the Kop another of the moments to forget.
Van Dijk admitted in March to playing "too many games" over the past couple of seasons, an issue that even the least-observant Liverpool supporter could have foreseen given the side's reliance on him.
Aside from the horrific ACL injury he sustained in 2020, Liverpool's No. 4 has had an almost blemish-free fitness record while others around him have wrestled with various issues.
But starting 51 games in the season after his long-term injury, was far too much. Quite simply, he was overplayed.
Ibrahima Konate has been primed to become the long-term centre-back partner and will likely be built around long after Van Dijk has gone, but even he has picked up numerous injuries which have placed an even greater share of the strain on his defensive colleague.
Van Dijk can remain one of the club's most important players and is fully capable of returning to the heights he has hit in the past, but he simply cannot continue to be relied upon quite so heavily as he approaches his twilight years.
Klopp (and Netherlands boss Ronald Koeman) must find a way to give the 31-year-old a rest without compromising the quality of the backline and for that, they will need reinforcements be it this summer or next.
Too soon for panic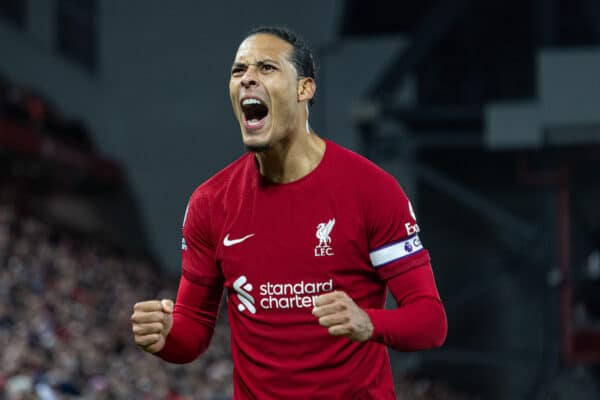 When you have performed at the level Van Dijk has for such a sustained period of time any drop-off is magnified and warrants investigation, particularly at a club as high-profile as Liverpool.
In the same way that Klopp has earned enough credit to have his future remain unquestioned despite a lacklustre campaign, Van Dijk's importance to this team need not face any debate next season.
The defender experienced his worst season in a Liverpool shirt and that will clearly provoke questions whether he likes it or not, but he was far from the only one and a lack of self-belief across the squad quickly became contagious.
Great players find a way to overcome obstacles even in the most trying of circumstances and we have a significant body of evidence to suggest that Van Dijk falls under that category.
He will face new challenges beyond the summer should the manager persist with the new system which sees the Reds operate with a back three when out of possession, but his experience with the national team should be enough to see him make a seamless transition if that is to be the case.
Van Dijk's relative decline in form is something for supporters and staff to ponder and is an understandable cause for concern, but you can bet your life that the centre-back is experiencing absolutely zero doubts over his own capabilities.