Alisson has sung the praises of Darwin Nunez after his decisive double at Newcastle and shared the advice he has given the striker as he continues to knock on Jurgen Klopp's door.
Nunez has yet to be named in Klopp's starting lineup this season and has instead accumulated 41 minutes off the bench, with the No. 9 all but fifth choice.
At Newcastle, though, that bottled up energy and passion found the perfect outlet. Newcastle. His 13-minute cameo saw him hit a match-winning brace from just two shots on goal.
His celebrations were evidence enough of what it meant to him and Klopp acknowledged that he was "fired up" and, understandably, will not be happy "when he's not starting."
And Alisson has revealed his consistent advice to his fellow South American, who he knows still "needs time" to come into his own at the club.
"I'm serious, I say to him so many times people here at Liverpool they love you and they want you to do well and you need to be patient," Alisson told LFCTV.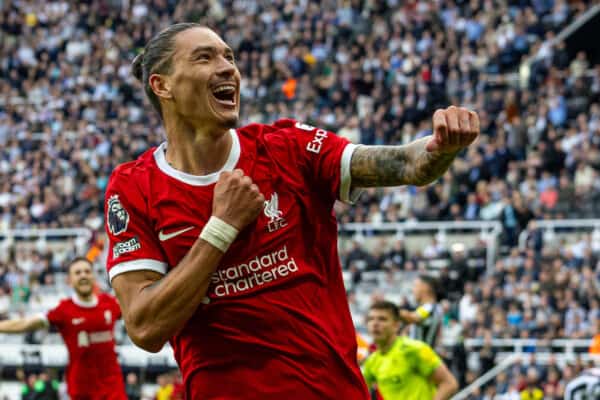 "I think he is showing that. He is being patient, but this guy has fire inside of him.
"He has a lot of desire to play more, to be decisive for the team, not as a selfish sort, but he really wants to help the team to make big things, to win games and to win trophies.
"This is the kind of mentality he has because this guy is on fire, and I hope he can keep this performance from now on."
The 24-year-old is a favourite among fans and Alisson is aware of the expectation that rests on Nunez's shoulders, but patience remains key in the eyes of Liverpool's No. 1.
"This guy is amazing. He has a lot of expectations on him about his performances, from supporters, from everybody, from his teammates, from the staff, everybody, because he is really good," Alisson explained further.
"He is amazing and he has huge potential. But he's still young and he needs time. We have to be patient with him and we have to support him in a way that he feels that we are really there supporting him.
"All the moments, the hard moments, we are there for him. The South Americans are there for him, all the teammates are there for him and I see the supporters as well, everybody loves him.
"When he comes on in a game they shout his name already: 'Nunez! Nunez'! We make a few jokes with him about that as well."