After suffering another last-gasp defeat at the hands of Liverpool, Eddie Howe has made an interesting choice when it comes to picking his latest excuse.
The Reds gave themselves a mountain to climb having fallen a goal behind and losing skipper Virgil van Dijk to a red card within half an hour.
Darwin Nunez was once again introduced from the bench with less than 15 minutes to play and the rest is history, with the Uruguayan stealing the show with two late goals at the death.
Liverpool inexplicably came away with three points from a game that looked out of their reach for the majority of the contest, as the Newcastle boss once again rued his side's inability to hold onto the lead.
"That's as painful as the game at Anfield for me and us," said Howe, having seen his side concede a 98th-minute winner from Fabio Carvalho 12 months earlier.
"I thought we played really well today. The opening stages of the game can't be forgotten by me in regards to the team's performance and reflection on how the game went."
Van Dijk's dismissal left Liverpool with it all to do as a raucous St. James' Park looked certain to play host to a comfortable Newcastle victory.
As was the case at home to Bournemouth eight days earlier, Liverpool looked a better and more secure side after being reduced to 10 men.
In an excuse that is unlikely to wash with the home supporters, while simultaneously providing great amusement to the away supporters, the Magpies' boss claimed that the red card was to the detriment of his side.
Howe continued: "I thought we were excellent, individual performances were very strong. The sending-off almost harms us really in the match."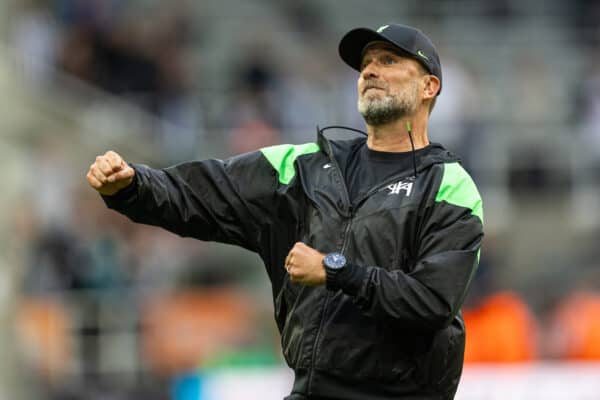 It could be said that he hadn't thought much about how to coach his side against 10 men, much like his stance on Saudi Arabian ownership.
The Newcastle boss went on to lament the fact that Liverpool hadn't been reduced to nine men, with Trent Alexander-Arnold narrowly escaping a second booking in the opening minutes.
"I thought it was a clear second yellow card [the challenge on Gordon], the referee didn't agree and we have to accept that," he added.
"It's ironic that I'm saying we were better 11 vs. 11 than we were 11 vs. 10, but yes at that moment in time I thought that was the correct decision."