A target date for the full opening for the Anfield Road end has been reported, and Liverpool's most popular shirt sales have been revealed.
Joke's on Mac Allister
OK, it has been a slow news day but this may trigger some amusement; Alexis Mac Allister has been subject to some light teasing from his teammates.
Speaking to La Nacion, the Argentine said: "Many of my teammates tease me because they say that [Klopp] is my dad now. The relationship with him is perfect."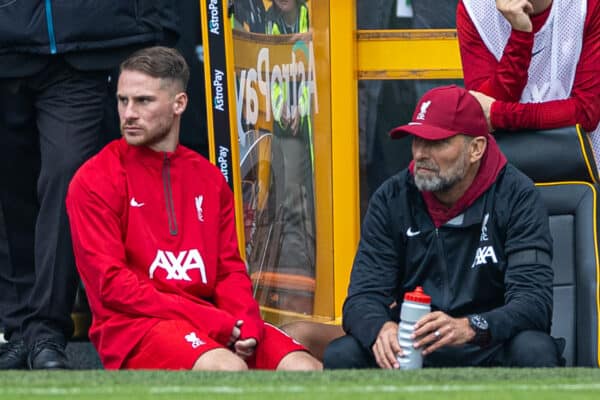 Mac Allister was the only one of Liverpool's South American outfield players to start vs. Wolves.
The midfielder added: "Then they told me that he is my dad, that he can't take me out, that I had played all the games and so they drove me crazy.
"But, beyond the joke, he is a person that I respect very much and I hope that he continues like this and that I can continue learning from him on the pitch."
He might not be Mac Allister's dad, but the Argentine will definitely be on the end of some big bear hugs from Klopp this season!
3 things today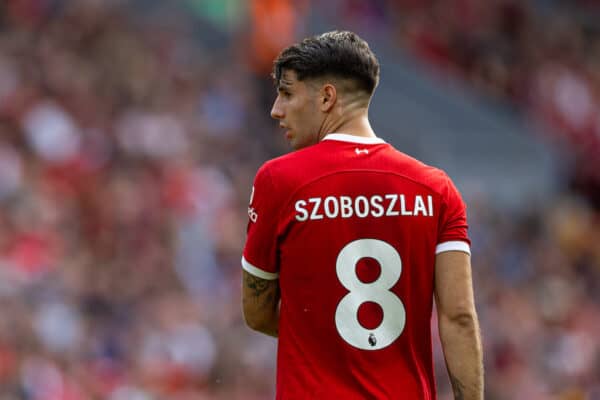 More injury time is playing a big part in the Premier League, with 22 stoppage-time goals in 48 games this season, compared to five in last season's first five matchdays
Since the 2020-21 Premier League season, only two players have recorded a quicker top sprint speed than Dominik Szoboszlai against Wolves on Saturday (36.76km/h), report Opta – he really does have everything
Latest Liverpool FC news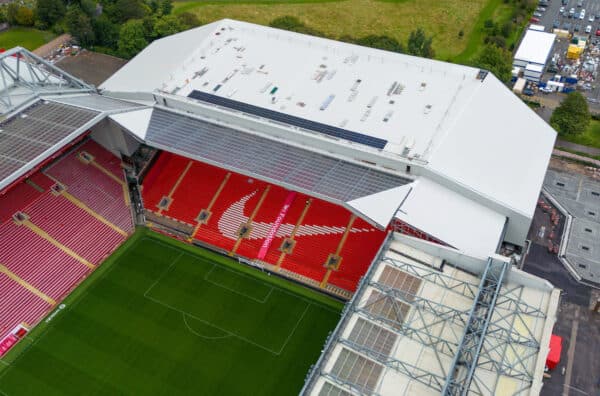 The club have confirmed a new multi-year sponsorship agreement with shipping giant UPS – combined with Peloton and Google deals, This Is Anfield understands the trio of partnerships is set to net the club as much as £35 million
Curtis Jones has become just the third LFC Academy graduate since Steven Gerrard to make 100 Liverpool appearances – the others are Trent Alexander-Arnold and Raheem Sterling
Latest chat from elsewhere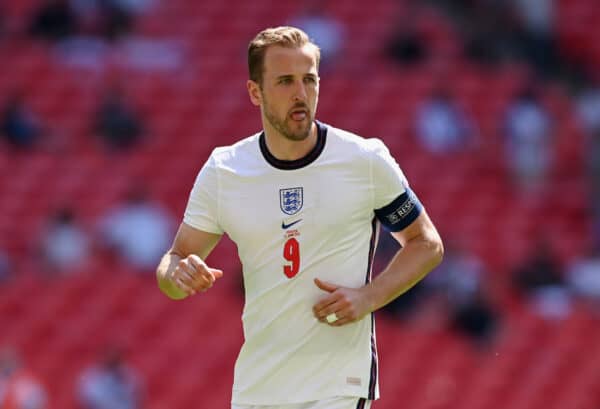 Harry Kane says Harry Maguire has been subject to "unnecessary scrutiny" and "scapegoated" – the pair's teams face each other as Bayern Munich play Man United on Wednesday
Video of the day and matches of the night
If you missed last night's Live at 5 show from This Is Anfield, you can find a snippet below and watch the full show across our YouTube and podcast platforms.
It is strange not to be involved, but the Champions League can still provide entertainment this season.
Tonight, AC Milan play Newcastle at 5.45pm (BST) but, if that has passed, other fixtures include PSG vs. Borussia Dortmund and Feyenoord vs. Celtic, a rerun of the 1970 final, at 8pm.