After Liverpool announced the upper tier of the Anfield Road End will not be open until 2024, one of the first thoughts is about those who have already purchased tickets in that area of the ground.
The new Anfield Road Stand expansion will take Anfield's capacity to 61,000 supporters, however that will not be the case until 2024 after the club announced no increase will occur this year.
"The lower tier of the stand [is] remaining open and the upper tier [is] remaining closed until the end of the calendar year," Liverpool CEO Billy Hogan has confirmed.
But while work on the upper tier continues, supporters will have already purchased tickets during sales earlier this year and will, rightly, be concerned about what this news means.
Liverpool are "disappointed" and "really sorry" for those impacted as the club "won't be in a position" to provide seats for supporters who purchased tickets for the upper tier.
Hogan said: "It means ultimately we won't be in a position to be able to provide seats for those fans who have purchased those tickets in the upper tier. Our team has identified who those supporters are and they will be reaching out directly to those supporters next week.
Anfield games to be played without upper tier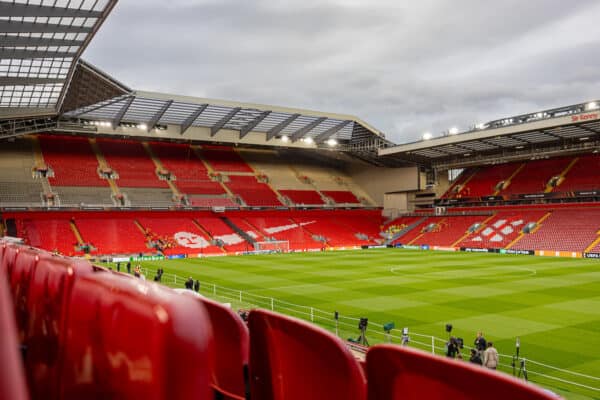 "I realise this is of little solace, frankly, but those supporters who have purchased these cancelled tickets will not lose their credit for that purchase."
Supporters with tickets for the remaining Anfield games this year – there are nine in total – in the upper tier have been urged to wait for fan services to contact them first.
Hogan added: "Our fan services team will be in touch directly, they have every supporter's information and contact information and they will be in touch with those supporters directly as it relates to each match in the run-up to the end of December.
"We're all really disappointed to have to deliver this news, we know the impact of this news on many supporters."
It is important to stress that supporters will retain the credits for matches they have purchased tickets for in the upper Anfield Road Stand.
The Reds host a run of significant fixtures before the year is out – including Everton, Man United, Arsenal and Newcastle – all of which will be played with limited capacity at Anfield.
With the upper tier now confirmed not be opening until 2024, the earliest the Reds could potentially play with 61,000 fans in attendance is the FA Cup third round on January 6/7 – if drawn at home – or in the League Cup semi-final (January 9/10 or 23/24).