Liverpool FC have admitted their disappointment and frustration as they announced that the new upper tier of the Anfield Road Stand will not be complete in 2023.
The news comes nine days ahead of the Merseyside derby at Anfield, which had been set as a target for the first game with 61,000 supporters in attendance.
However, the main contractor, the Buckingham Group, going into administration in August has severely hampered the construction timeline.
Liverpool have made the difficult and "frustrating" decision now in order to remove any uncertainty for supporters.
With a trio of huge home games around Christmas – Man United, Arsenal and Newcastle as successive Anfield fixtures – the club have taken the difficult decision to clarify the situation and announce no increase in capacity this year.
Announcing the news, LFC CEO Billy Hogan said: "We're going to have to maintain the status quo for the remainder of the calendar year, essentially meaning capacity at Anfield will remain the same as for the previous home games that we've seen this season.
"The lower tier of the stand remaining open and the upper tier remaining closed until the end of the calendar year."
Anfield games to be played without upper tier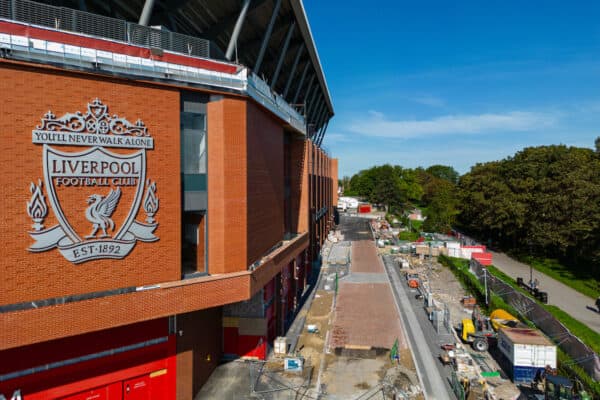 Anfield's five home games so far have seen around 48,000 in attendance – 13,000 fewer than the eventual capacity of the stadium.
"We are really disappointed to have to deliver this news," says Hogan. "And really sorry for all those supporters who are impacted. You can see the games coming up on the fixture list, not just the derby but as you run through it to the end of the calendar year."
He added: "This is a really complex and deeply frustrating situation. We're all really disappointed to have to deliver this news, we know the impact of this news on many supporters.
"But our team here and the consultants, as well as Rayner Rowen, are working incredibly hard to ensure that we're doing everything that we possibly can to progress the project as quickly as possible."
Before the new upper tier can be full of fans in 2024, the club will first be required to undertake a test event, as they did for the lower tier, to obtain a safety certificate from Liverpool City Council.
The longer the wait goes on, however, the club are missing out on revenue with a previous estimation suggesting Liverpool are missing out on £750,000 per match with the ground in its current state.
With at least 14 matches at Anfield this season to be played without the upper tier, using those estimations, Liverpool can be presumed to be losing at least £10.5 million in matchday revenue.