The level of ineptitude shown by VAR Darren England in Liverpool's loss at Tottenham is made worse by the fact it is not the first time he has done so.
England, who served as VAR on Saturday evening, has been removed from duties for at least the remainder of the Premier League weekend along with assistant Dan Cook.
It came after what PGMOL described as a "significant human error" in failing to alert referee Simon Hooper to the fact that Luis Diaz was onside for a goal disallowed.
That was not the only alarming decision from England and his team at Stockley Park, however, with the still image shown to Hooper as he was brought to the monitor to adjudge Curtis Jones' red-card challenge also hugely suspect.
• Revealed: What VAR claim happened for "human error" on Luis Diaz goal
PGMOL chief Howard Webb has now taken immediate action, and it would not be a surprise to see further sanctions against England at the very least.
Webb will likely consider previous failings when deliberating any future punishment for the official, with one such instance coming in a Liverpool game last season.

Liverpool's 3-2 defeat away to Arsenal in October 2022 was littered with strange decisions from referee Michael Oliver and England in the VAR booth.
The first incident came with Gabriel Martinelli's goal in the first minute, with Bukayo Saka in an offside position in the buildup.
It was later claimed that a technical issue with VAR meant that the appropriate checks could not be made, with Martinelli's opener upheld.
Soon after, Diogo Jota's attempted ball across the box struck the arm of centre-back Gabriel, and despite a VAR check showing his arm was in an unnatural position, no penalty was awarded.
Then, after goals from Darwin Nunez, Saka and then Roberto Firmino made it 2-2, Arsenal were given a questionable penalty with Thiago deemed to have fouled Gabriel Jesus.
Saka stepped up to convert, with Arsenal taking all three points and Jurgen Klopp explaining his issues after the game.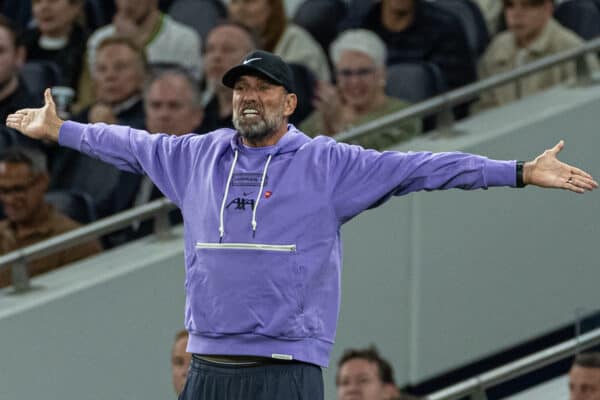 "The first Arsenal goal, how I heard now, was pretty likely offside, we just cannot find out because the camera was not there or whatever, I don't know exactly the reason," he told reporters.
"But when I saw the picture I thought it was obvious that Saka came back from an offside position."
Klopp later added: "We concede a penalty that was not a penalty, and from that moment on we had to chase the game and Arsenal could counter-attack and they had obviously better situations.
"That's all true, but it's difficult to judge that game really."
It is perhaps no surprise that England was VAR that afternoon at the Emirates, with his cockup on Saturday proving him entirely inept in the role.