After a summer that briefly threatened an exit, Mohamed Salah has shown how changes in his game could make him even more valuable to Liverpool in his 30s.
Mo Salah is back in business.
After 17 games in all competitions this season, the Egyptian King is Liverpool's top scorer with 12 goals.
But he's also their top assister, with four to his name, and second only to Dominik Szoboszlai (62) for shot-creating actions (SCA) with 55.
Amid links to the Saudi Pro League over the summer, Salah stayed at Anfield and became key to Liverpool's resurgence.
But how has the 31-year old adapted his game to stay so incredibly consistent?
Mentality Mo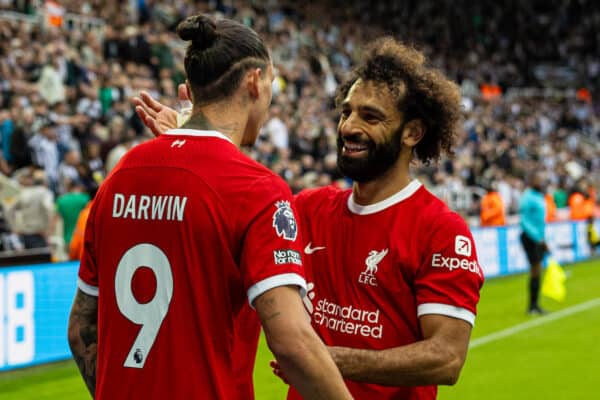 The saying goes that "youth is wasted on the young."
In his comments last month, Jurgen Klopp described how "the young Mo was super fast."
A number of his goals in his debut season were the result of quick breakaways, when the opposition simply could not cope with his incredible pace.
He was also accused regularly of being selfish; the ruthless mentality which made him ice cold in front of goal also made him a poor team player.
There was the high-profile incident vs. Burnley in 2019 when Salah failed to spot Sadio Mane in space, leading to on-camera recriminations.
Roberto Firmino also claimed in his recently released memoir that "Salah used to frustrate everyone when he didn't pass the ball."
So has Salah simply learned to play nice?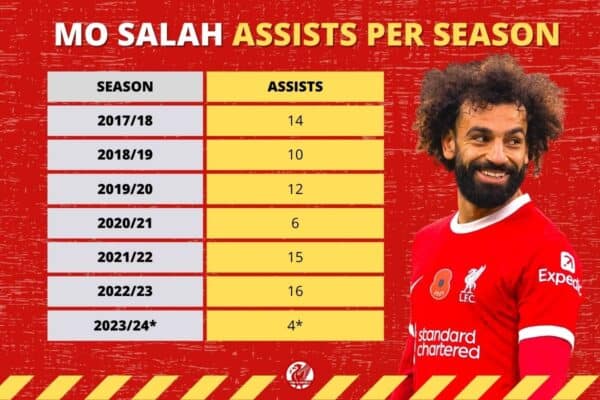 His assist numbers have certainly changed over time.
From 14 in his first season, to a low of six in 2020/21, Salah has laid on tallies of 15 and then 16 in the last two campaigns.
After producing a career-high 16 in a stuttering season last time out, he already has four to his name by November this term.
In fact, his expected assisted goals (xGA) of 5.9 suggests he might be slightly let down by his team-mates so far.
A rate of 0.45 xGA per 90 suggests he is currently operating at a rate that could have brought 21 assists over last season's minutes.
This xGA variance shows the perils of judging a player's output in goals and assists. Was "the young Mo" selfish? Or were his team-mates unable to convert the chances he laid on?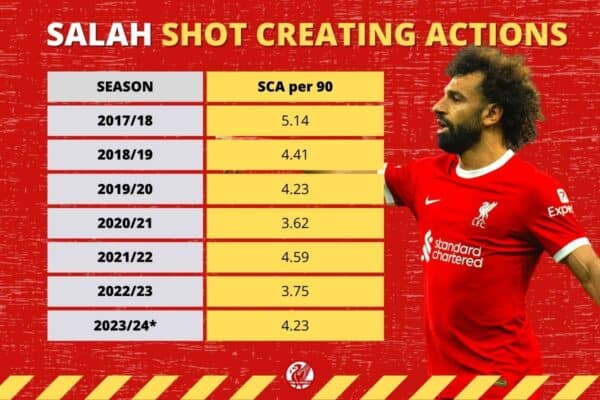 A look at his SCA since 2017/18 shows that Salah has consistently created around four shot-creating actions per 90 every season.
His best season in that regard was actually his debut season, with an incredible 5.14 SCA per 90. So far this term, his average of 4.23 SCA per 90 puts him in line with the 2019/20 season but behind the 2018/19 season.
The linear path of selfish to unselfish is not so obvious.
Shot-creating actions are not limited to passes, also measuring take-ons and tackles that lead to shots.
If we look purely at passes from open play that lead to shots, we see that Salah has been remarkably consistent, with at least 120 every season.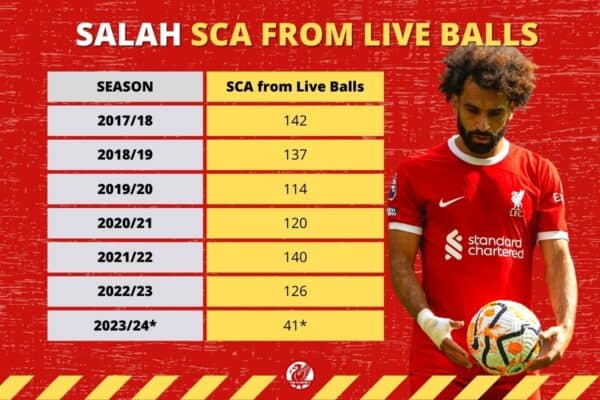 The outlier? That 2019/20 season, when he managed 'only' 114.
It's possible that, while Salah has not necessarily started creating more chances, he's relying more on his passing to create than before.
But why?
Tactics stuff
When Liverpool changed system in April 2023, overlapping full-backs were abandoned.
The wingers therefore had to get closer to the touchline to provide width – stretching the opposition back line laterally and creating gaps for midfielders to attack from deep.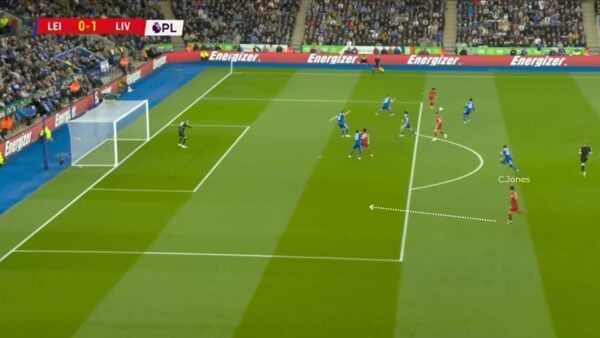 By inverting Trent Alexander-Arnold, Liverpool opened up a direct passing lane to Salah, and created more situations where he was one-on-one against his opposition marker.
Salah was therefore more likely to receive the ball deeper and play more passes rather than being a pure finisher.
Crucial to this is his ability to read the game and understand what's needed of him in a given situation. Back to Klopp:
"Obviously with Mo, that's clear: he understands the spaces much better, he knows how players react on him and then, if he cannot score, he can still be a threat for us.

That's really super important."
As Salah has matured, he's become more aware of how space is created on the pitch and what impact that has on situations.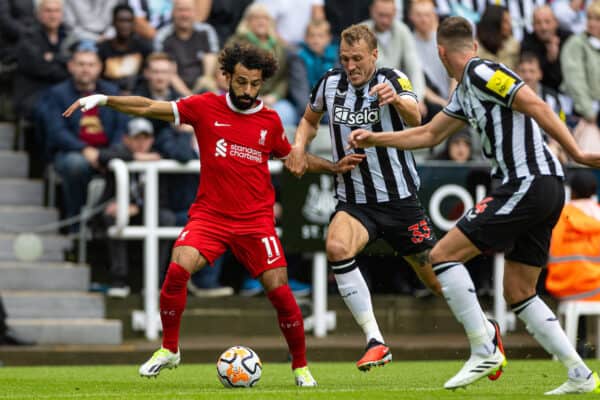 That's why he can be seen dropping deep to link play, pulling wide to create space or rotating with Szoboszlai to come inside and shoot.
This is why we can see Salah passing to team-mates in space; he attracts opponents towards him, waits for his team-mate to make the run, and then finds the pass.
A great example of this came for the winner against Newcastle.
Despite playing 11v10, the Newcastle defenders are reluctant to leave Salah one-on-one. The space opens up behind for Nunez…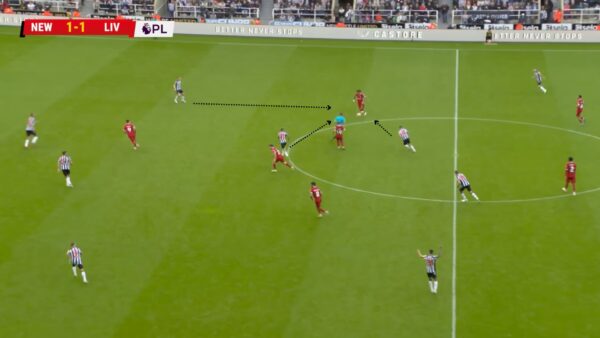 …and Salah releases him to score the winner.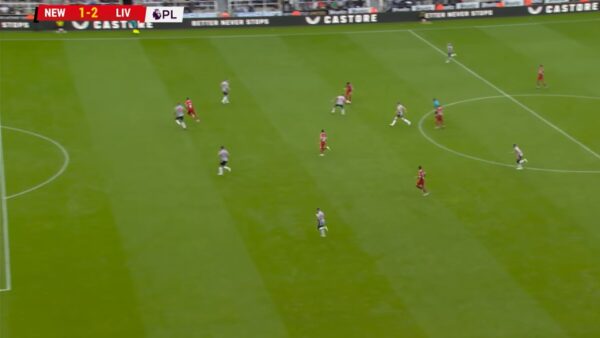 Of course, Salah is still an elite goalscorer, second-highest in the Premier League this season.
The acquisition of Szoboszlai has helped both players to thrive by interchanging out wide, which allows Liverpool to lean on both the creative and goalscoring prowess of the Egyptian.
Salah's development as a player has been powered by a greater reliance on him tactically. And his rising to the challenge has allowed Liverpool's tactics to continue evolving.
Pausa
There's something else magical about that Newcastle assist. Can you see it?
DARWINNN ?

The moment Nunez secured all three points at St James' Park ? #NEWLIV pic.twitter.com/kPQD9XCSJO

— Liverpool FC (@LFC) August 27, 2023
The word 'pausa' usually conjures images of the Guardiola-era 'tiki-taka' Barcelona team. But the concept is simply about timing; when you perform an action is as important as the action itself.
By delaying the rhythm of the action by just a second – a brief 'pausa' – you can turn a good opportunity…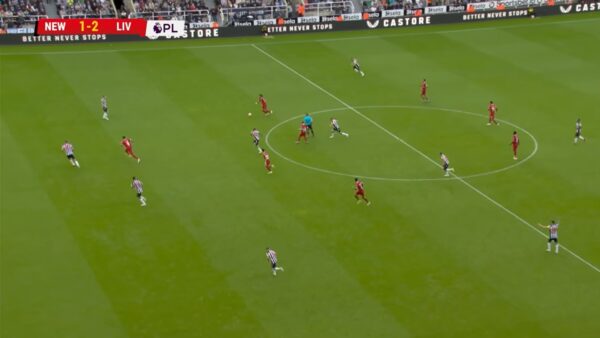 …into a great one: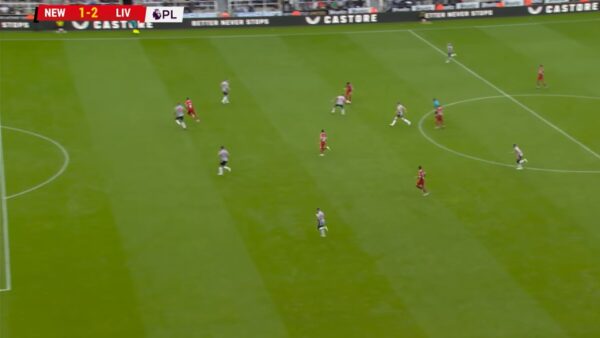 Salah has added this to his game of late, either rolling the ball with the sole of his foot or stuttering on it momentarily.
We can see it again in the buildup to this goal against Nottingham Forest: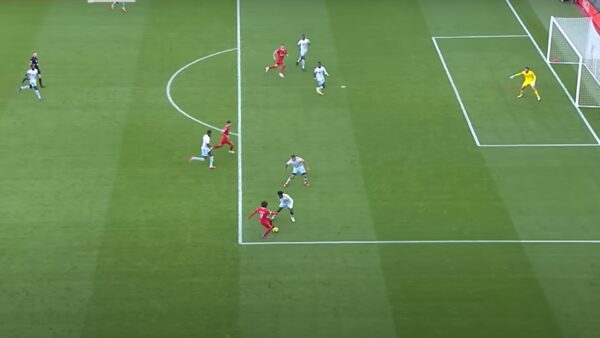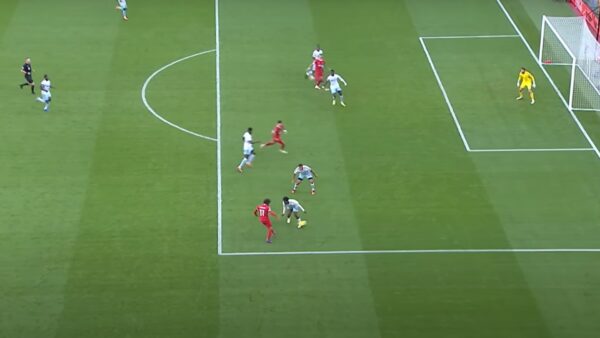 By finding more space out wide and getting one-on-one with his opponent, Salah can wait on the ball until the pass can be most effective.
The clinical finisher is now becoming a clinical playmaker.
Get the contract sorted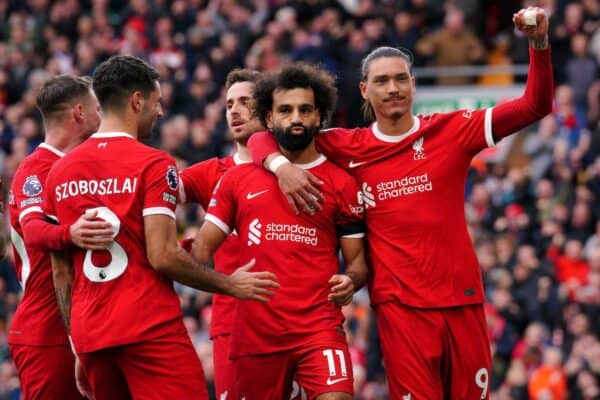 Far from being a faded star ready for retirement in Saudi Arabia, Salah has shown this season that he's a world-class all-round threat.
A ruthless goalscorer, an excellent on-pitch tactical analyst and an artistic playmaker – all in one brilliant package.
£150 million would be daylight robbery for such a player. In fact, despite his age, would a new contract be a shrewd investment? I'll defer to Klopp one more time on that one:
"I cannot compare Mo to other 30-odd-year-old players because I don't think, biologically, he is."
* Statistics via FBref