Eli Caywood takes an in-depth look at the stats of Jordan Henderson, comparing him to others in Liverpool's midfield and Arsenal's Jack Wilshere, among others.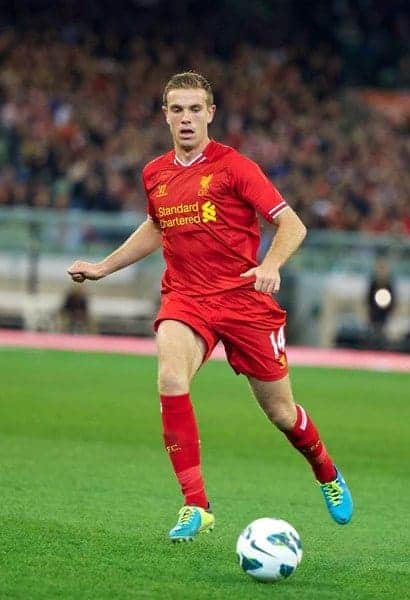 Jordan Henderson's career at Liverpool FC has been met with mixed reviews. I will be honest; I have counted myself as one of his critics. He fell victim to the frustration of King Kenny's perceived overpaying for British players (we are all aware of the £71 million shelled out for Carroll, Henderson, and Downing). It occurred to me recently after reading some other articles and blog entries that I may have been to hard on the young man. Relatively few people know the pressures of pulling on that iconic red shirt and stepping on the hollowed pitch of Anfield. Especially with the added pressure of justify a transfer of £16 million (interestingly enough, adjusting for inflation that is roughly the same amount Bob Paisley paid for a young Kenny Dalglish) and a weekly salary of reported around £60k. So before I pass further judgment I want to take a few minutes to analyse Henderson's performances and predict how that may play in to Brendan's plans for the coming season.
Analyzing a player's performance "by the numbers" seems to be a relatively straightforward task. There are countless websites that assign numerical values to a player's match day rating. What I have done is go over a rather extensive set of data (thank you to eplindex.com) to look back at the last two seasons for Henderson and look for signs of improvement and what we might expect from the young man in the coming year.
Before we get started, to establish a base line, Jordan Henderson made 92 appearances in all competitions for Sunderland (including 13 for Coventry City while on loan) he scored 5 goals. Since joining Liverpool he as made 92 appearances in all competitions and scored 8 goals. Most people understand that for a team to be successful in the league and a broad, goals have to come from the midfield (which is the only reason I mention goals in this base line). Over the 5 seasons Liverpool has placed 3rd or higher since 2000/01 season, Steven Gerrard has contributed an average of 8.6 goals/season, his highest tally of 16 in the 2008/09 season.
The good news for Henderson and Liverpool is that statistically he is showing improvement in many key areas of his game. I have looked Henderson's stats from 11/12 and 12/13 and looked at the difference in performance. I then adjusted his 12/13 stats to reflect potential results had he played the same number of minutes in 11/12 and 12/13. Then we look at the differences in 12/13 adjusted stats from 11/12 to give us a better idea of what kind of results we can with increased playing time.


According to eplindex.com Henderson played 1136 fewer minutes and started 15 less games in 12/13 than in 11/12. Where Henderson will fit in the midfield next season has yet to be seen, in Melbourne he played in an attacking midfield role. Due to his work rate, playing a central box-to-box role seems to fit his style the best. The next bit of analysis should give a good idea of how successful we can expect him to be in the future.


Henderson's passing game is showing steady signs of improvement. Based on his 12/13 stats we can assume Henderson is becoming more confident in his passing, we can also see a decrease in passes forward and backward. This perhaps points to his vision maturing and settling into a more central role. It is safe to say that over the coming seasons the passing role currently occupied by Gerrard is going to have to be filled by someone else. Henderson making more passes, more accurately is an encouraging sign.




Looking at Henderson's possession stats for the last two seasons is somewhat deceiving at first. His 12/13 adjusted stats suggest that he is also feeling more confident in possession; taking more touches with fewer unsuccessful touches. He is disposed less and while he wins possession less in the defensive and attacking thirds, his possession won in the middle of the park is encouraging. His interceptions remain steady, but we can expect that stat to rise with experience.


Henderson's attacking stats are also encouraging. He is taking more shots and his conversion rate is higher. Most encouragingly is the difference from 11/12 to 12/13 without the adjustment. While his total shots decreased, the ones he did take were more accurate. Considering the adjustment and what that means for the future is certainly encouraging.


Chances created and assists provide similar encouragement to Henderson's attacking stats. Not only is he scoring more, he is providing more opportunities for his teammates. The fact that he created one more chance in open play despite playing 1136 minutes less should certainly be considered a positive sign for the future. His chances created per minute are roughly on par with Steven Gerrard.


Defensively, Henderson is also showing signs of positive improvement. Employing him in a role that allows him to track back and help cover the defense seems to be a feasible option. He rarely makes a mistake to leads to an opposition shot, and has not committed an error that lead to an opposition goal.


Aside from shot conversion and crossing accuracy, Henderson's improvement in tackling percentage represents his best improvement since joining Liverpool. Despite losing more aerial duels, his increase in ground duel victories is an encouraging sign.


Discipline wise Henderson represents little concerns.
So in terms of across the board improvement, Henderson has averaged an improvement of 3.58% in his recorded stats. If his improvement continues that means truly exciting things for Liverpool's midfield. Improvements in his individual game obviously have positive implications for team results.
But how does Henderson compare to the current Liverpool midfield and does he deserve a spot in the starting XI? I want to take a few brief moments to compare the 5 players that currently represent Liverpool's central midfield options.










Based on Liverpool's current midfield and evaluating last year's performances, Henderson fits in as a solid squad player. His improvements since 11/12 definitely creates competition for the central midfield spots.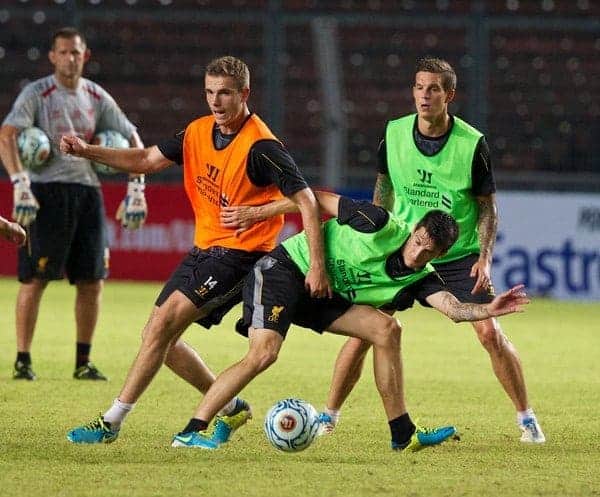 How does Henderson compare to other players in the league? This perhaps is our best indicator to judge. At this point in time, if Henderson is the best option for Liverpool. Henderson is most commonly compared with Tom Cleverly and Jack Whilshere. This also works out nicely since Manchester United and Arsenal are also in competition for Champions League places.


As we can see Wilshere had the most playing time with Henderson 169 minutes behind, but 71 ahead of Cleverly. Because of the difference in playing time, I'm going to focus mainly on percentages in my analysis.

Statistically Cleverly has did the best in 12/13 of retaining possession while Wilshere did the best job of winning possession. Henderson's possession won stats could be a result of him generally being employed in a more attacking midfield role where tracking back to win possession is not his primary responsibility.


Wilshere has the advantage in tackling, however Henderson excelled in interceptions.


Wilshere again has the edge in passing overall, however Cleverly is the most accurate passer of the three. It should be taken as a positive that Henderson, although consistently behind the other two, does not lag that far back in his passing stats.


Henderson has done the best getting his name on the score sheet, and as the previously table showed, he also provided the most assists.
Jordan Henderson definitely plays with heart; I don't think there is any questioning that. However, comparing him to his teammates and his competition, he is statistically lacking. I have made an attempt here to lay out his performances in the least biased way possible. By looking at his 11/12 to 12/13 season we can see improvement; comparing his 12/13 performances to his teammates we can see that he fits in as a good squad player; and comparing him to his competition we see that he falls behind Wilshere but is fairly close to Cleverly.
So what does all this mean to me as one of his critics? I think a lot of money has been spent on the young man; and as we have learned from the last few years falling financially behind the top teams in England and Europe, and looking at teams like Dortmund who have provided a model of how to "punch above your weight" Henderson provides us with a good option for the coming year. At this point I'm still not completely sold that he is a long term starting XI at Liverpool. I hope for his sake and for LFC's that when we look back in a year his improvement has continued and his contributions have helped push Liverpool to where we all want them to be.