Let's be honest, as much as we don't like it, Liverpool Football Club are not quite the force they once were in the game, writes Steven Harris.

We know this because league tables do not lie and have not lied for the past twenty-three years. We know it because we have gone from a club which used to promote from within to secure managerial candidates but in more recent times we have changed managers more often than Madonna changes children. We know it because in the good old days, the hand over from one manager to another did not seem to disrupt on-field success or off-field stability but now every change at the top, whether of coaching staff or of ownership, leads to yet another period of rebuilding, restyling, rebranding and uncertainty. And we know it because so-called 'marquee signings' the brightest, most promising younger players around the world's leagues, are far more likely to sign for the likes of Chelsea, Tottenham Hotspur and those clubs along the M62, even if they show initial interest in joining Liverpool.
This last point has become especially relevant over the summer. The transfer window has dragged interminably on and on, filled with unedifying rumours and with irritating 'scoops' from the media about the next candidate to be snatched away from Anfield.
While Daniel Agger has shown his class yet again by reiterating his love for the club and for his life in the city of Liverpool, no such assurances have been forthcoming from Luis Suarez. One sure-fire way to counteract speculation about unsettled players is the arrival of new playing staff. This has been proven to a degree this summer with the arrival and opening day heroics of Simon Mignolet but is the Belgian a "marquee signing" or simply someone with great potential much as Pepe Reina was when he first arrived?
As the window has progressed Liverpool fans have grown excited by the prospect of players such as Henrikh Mkhitaryan, Diego Costa and, most recently, Willian coming to Anfield – only for hopes to be dashed when these players have either decided to move elsewhere or to use Liverpool's interest to renegotiate the terms of their contract with their current club. The shirt-selling, media-exciting, fan-pleasing signing has not yet come. Nor did the club sign a recognisable marquee player last summer.
Matt Sproston's thoughts on the value of such signings are eruditely expressed and if every supporter were to give his words the once-over they might all realise that big name signings should not be the be-all-and-end-all of a club's transfer policy. However, there are still some fans out there who are out of the loop when it comes to reading such articles and it is apparently these people who are offering up the strongest piece of evidence yet when it comes to how things have changed at Liverpool Football Club.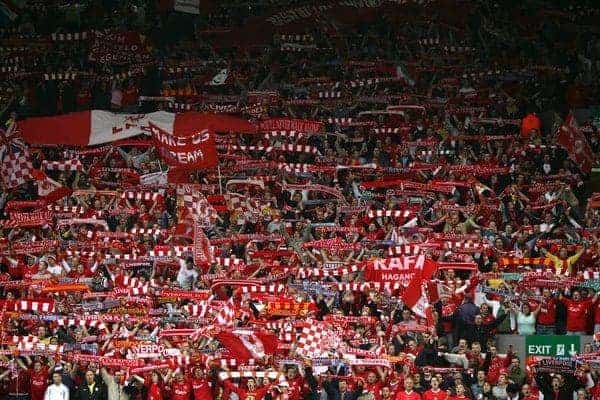 Some supporters are now taking to social media to attack one another. Not to wind up Bluenoses or goad Mancunians about whether a certain potato-faced player will be plonking himself around the Old Trafford turf much longer. Not to cheekily remind Mourinho'd-up Chelsea fans of the ghost goal nor even to point relieved, distracting fingers are the debacle that was Arsenal's performance on the first day of the new season. No, Liverpool supporters have begun to tear strips out of one another on Twitter, Facebook and anywhere else they can type angry words then press 'send' with hot, sweaty digits.
Little of it makes for pleasant reading, especially this week when the Willian issue became something of a farce as far as many of those on the outside of the situation were concerned. Personally I can't see quite why fans have become so enraged with FSG, Brendan Rodgers and each other over a player whom none of us were bothered about a fortnight ago and who has shown his true colours and/or his agent's greed by bumping up personal demands once the initial overtures to a transfer had been made. If he was worth £30m in January and Anzhi are holding a fire-sale then he can hardly be worth more than £30m now, can he? If Liverpool had no interest in signing him when he was available in January, why would he suddenly become the saviour of the club now? And if he is so mercenary as to court Chelsea even after undergoing a medical at Spurs then how can any club assume he will pull on their shirt and show the kind of fight and loyalty fans and manager's demand?
There will always be such players. It is not even a modern phenomenon. Just ask that now retired Scotsman with the dodgy hips about the ones who got away when he was managing some other North West club whose name currently eludes me. Shearer, Gascoigne, Torres – just three of the names that presumably still haunt the old codger or send him into spasms of rage at the thought that they could have spurned his Santa-nosed advances.
What is new is the bile and vitriol with which club supporters (if that is the correct word) express themselves across the internet. Textually screaming at one another that FSG are planning to sell Liverpool (something John W. Henry has denied and for which there is no solid evidence) or that Luis Suarez has already agreed personal terms with Real Madrid/Melchester Rovers/Madonna, really is not helping. More importantly it is at odds with the traditional image of the 'educated' Liverpool fans of old.
It used to be said that Liverpool fans, more than any other, knew their football. Isn't that why we applaud great performances from other teams' players, even if such performances have helped to inflict a home defeat on our beloved reds?
It was once a given that Liverpool supporters would exert patience as a new manager slowly instilled his preferred tactics onto the players, or as new signings bedded in. For some of us this patience and awareness that success cannot come overnight (nor even in three years given the ludicrous amounts of money available to a handful of other clubs) remains. What social media is sadly proving is that there are plenty of other alleged fans who have never taken a moment to consider what the word 'supporter' truly signifies.
To support one's club is to trust those making the important decisions within the club. This is a sore subject, naturally, after the underhand tactics and the lies of Hicks and Gillett but, really, where is the actual hard evidence to suggest that FSG are akin to those two asset-strippers?
To support a club is to put one's faith in the manager for a long enough period for him to either prove his tactical nous or to produce a handy piece of rope with which to hang himself (I'm looking at you, Graeme Souness).
To support a club is to respect that you are just one member of a vast collective of fans, many of whom may have different opinions to yours when it comes to tactics or favourite players but who all have a right to such opinions as well as the right not to be abused and attacked over the net simply because they do not agree with your verdict on the club's dealings in the summer transfer window.
To support Liverpool Football Club surely means that we are as proud of the Liver Bird on our replica shirts as Stevie G is of the one on his own top.
And, perhaps most importantly of all, to truly support Liverpool we all need to acknowledge that the club have no God-given right to sit at the top of the league table, nor to hold shining cups aloft towards the end of most seasons. We want it, we pray for a return to the glory days, we hurt when we see other clubs break records we once set, but it is not automatic that Liverpool will ever emulate the Shankly, Paisley, Dalglish days again. A terrible admission, I know, but one we need to make, if only to understand why it is that jumped-up wannabes like Willian may look elsewhere for their thirty pieces of silver while Brendan Rodgers and FSG continue to try and attract players who genuinely want to pull on the famous red shirt.
If the players on the pitch do us proud because they love the club then maybe, just maybe these abhorrent bouts of internet self-immolation amongst Liverpool fans will prove to be a passing nightmare.