It's a lazy Sunday afternoon, the cricket's plodding on in the background, so today on Twitter, we asked Liverpool fans, what would be your Liverpool starting line-up if the season started tomorrow?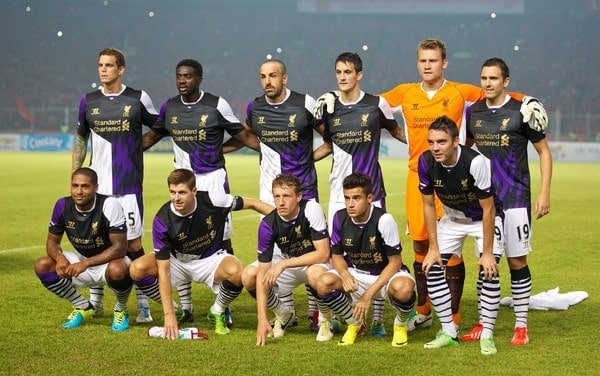 First, let's share with you our starting eleven, in a 4-2-3-1 formation:


[team1]
The rules are simple. You've got all the players who are available and fit now (so no Daniel Sturridge for example) and the opponents are Stoke City (as they will be when the season does kick off on August 17th).
Of course, whether Luis Suarez is at the club or not come the 2013/14 campaign is irrelevant – he's suspended for the first six games of the campaign.
So let's see what some of you came up with. And please feel free to leave us your Liverpool starting XI in the comments below, or on Twitter @thisisanfield.

@thisisanfield Mignolet, Wisdom, Toure, Agger, Johnson, Lucas, Gerrard, Allen, Sterling, Coutinho, Aspas.

— Kop·ol·o·gy (@Kopology) August 4, 2013
@thisisanfield Mignolet Johnson Toure Agger Enrique Gerrard Henderson Coutinho Ibe Sterling Aspas

— Daniel Davies (@dannydavies94) August 4, 2013
@thisisanfield Mignolet – Johnson – Toure – Enrique – Lucas – Gerrard – Allen – Sterling – Aspas – Coutinho

— Aaron Cutler (@aaron_cutler) August 4, 2013
@thisisanfield mignolet wisdom agger skrtel Johnson Gerrard,Lucas Allen Coutinho aspas sterling

— Steven Gerrard (@StevenGerrrard_) August 4, 2013
@thisisanfield Mignolet; Johnson, Toure, Agger, Enrique; Lucas, Henderson; Sterling, Gerrard, Coutinho; Aspas.

— Daniel Allan (@Daniel_Allan91) August 4, 2013
@thisisanfield Mignolet, Johnson, Toure, Agger Enrique, Lucas, Allen, Gerrard, Coutinho, Sterling, Aspas (4-2-3-1) No Dan or Luis to start

— Shaun Kirby (@skirby84) August 4, 2013
@thisisanfield Mignolet , Wisdom, Agger, Toure, Enrique, Allen, Lucas, Gerrard , Sterling ,Coutinho, Aspas

— CHAMPIONS OF THE WORLD!!! ???????? (@LfcRajan_) August 4, 2013
@thisisanfield mignolet, Johnson, wisdom, agger, Enrique, Lucas, Gerrard, Allen, coutinho, aspas, sterling

— seven7faces (@seven7faces) August 4, 2013