Will Speed-Evans takes a look at ten people who we'd rather forget in the illustrious history of Liverpool FC.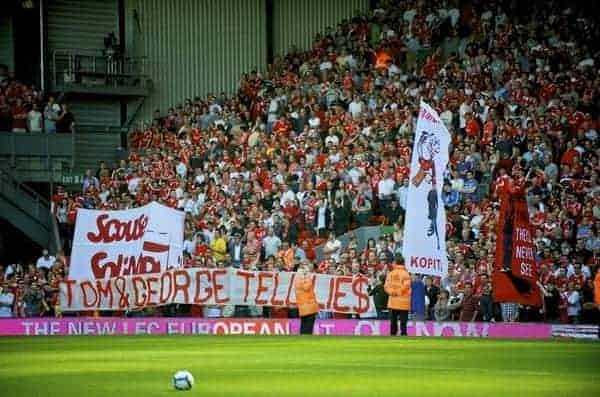 The official Liverpool Football Club website recently conducted a poll, actually they re-conducted a poll they'd first done in 2006, of 100-players that had 'Shook the Kop'.
The original poll had a certain Scot, former player, manager and veritable club icon coming out in first place, and closely behind Mr Dalglish (in case you needed to be told who I meant) was the very latest in a long line of heroes, the Liverpool born and bred current Captain, one Steven Gerrard.
Time moves on and whilst opinions don't necessarily change, the ratio of people who can easily recall Dalglish and co diminish as a new generation of match-going support are able to cast their vote. A vote for which the recent memories of Steven Gerard's exploits in a red shirt are more easily recalled. Rightly or wrongly the re-conducted survey came out with a new name at the top, with Steven Gerrard and Kenny Dalglish switching positions.
Hardly earth-shattering or remotely monumental but more than enough to have fans on twitter and other social networking sites discussing and commenting all the same.
I'll admit that I was one of those fans too and it was during one particular discussion that it occurred to me that the whole notion of a player who 'Shook the Kop' was in essence quite vague and ambiguous in its definition. I mean should a player be voted for based on their number of appearances or goals, medal haul, fan popularity and affinity or something else?
This got me thinking and that's where I opted for 'something else', and that's what this following list is, a list of not 100-names but 10-very alterative names that in my opinion did and have genuinely shaken the Kop during my time as a fan. Again it's a list that's very open to argument, discussion, no doubt some ridicule, and I'm certain there'll be alternative names that could have or should have been included but I doubt anyone can disagree that each person listed is at least worthy of consideration…
10. Eric Cantona
So I hear you ask "apart from him being both overly arrogant and a Manchester United player what did he do to prompt inclusion?"
Well, apart from the general unmitigated success he helped to deliver at the other end of the East Lancs Road, there's one particular moment that for me ensures that his name's here. Wembley stadium, 11th May 1996 and the 85th minute in an FA Cup Final with United chasing a 2nd League and Cup 'double', the ball drops to Eric and he strikes home through a crowded penalty box to nestle in the bottom right hand corner. Le Tw@t.
9. Roy Hodgson
What can you say about Royston? Well one thing you should never have been able to say is 'Liverpool Manager'!
Despite the media-love-in and having seemingly being the managerial equivalent of 'The Emperor with No Clothes', it was clear to large sections of the Anfield faithful that Royston, from a footballing perspective was very much naked and it really wasn't pretty.
There may still be people who believe that he was undermined in his time (thankfully short time) as Liverpool manager, but there can be few who'd argue that his time was anything other than an unprecedented disaster?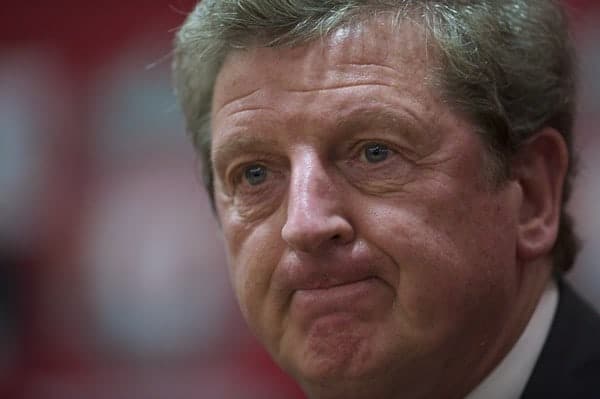 Archaic tactics, a stream of press conference faux-pas and a more than questionable eye for a player (sic. Konchesky and Poulsen).
Whilst he didn't necessarily have the Kop shaking, it's fair to say that the majority had a tingling sense of impending doom and foreboding had he stayed at the helm. Utopia my arse.
8. Steve McManaman
(with special mention for a Mr Jean-Marc Bosman)
The shaggy haired, streak of the proverbial, a local talent brought through the youth ranks along with Robbie Fowler. Responsible for countless edge of your seat moments and a provider of wing-wizardry that included a wonder goal at Celtic Park and a brace to secure a Liverpool victory in the 1995 Worthington Cup final at Wembley. There's no doubt that the boy could play, but none of that is the reason he's in this list. The reason's quite simple, the end of his time at Liverpool and his departure to Real Madrid as a 'free transfer'; leaving the club at the peak of his playing powers was at the time genuinely shocking and dealt a huge and not insignificant blow to the squad.
7. Dave Beasant
One defining moment in his career, forget England call-ups and anything else. One moment in at Wembley stadium will live with him for ever and likewise irritate the life out of anyone who was there including a certain John Aldridge. Again an FA Cup Final and a side chasing a 2nd League and Cup 'double', though this time they'd miss out. Liverpool had been clear favourites for the win prior to the game and most observers expected red ribbons to be on the Cup come full time. Liverpool were already trailing and things were definitely not going to plan when it seemed that red fortunes had changed as a penalty was awarded. Up stepped Aldridge to put the score level and slot the ball home, but no. Dave Beasant flung himself low to his left and kept the ball out to help deal Liverpool a shock defeat and himself a place in this list.
5 and 6. Tom Hicks and George Gillett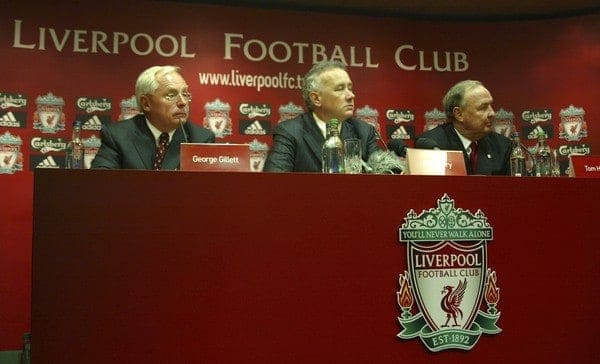 What can you really say about two cowboys who in almost no time at all managed to derail the progress of Liverpool Football Club both as a competitive side and a business. Throw in the fact they were ultimately responsible for the driving out and undermining of one of the club's greatest managers (yes I mean Rafa and yes some will disagree) and more worryingly almost responsible for the very real demise of Britain's most successful club. Crooks and charlatans both.
4. Charles Itandje
Bit part player and to be honest not even that. Itandje's only moment of notoriety during his time at Liverpool was a shameless and utterly disrespectful display of immaturity, stupidity and plain insensitivity. It's 2009 and the scene's Anfield and a contemplative and reflective congregation for the 20th Anniversary Tribute. All except Itandje.
3. Graeme Souness
A former Liverpool great, a midfielder of genuine class and ability, and as a Liverpool player a regular collector of silverware. Ah, if only that was where you could stop talking about Souness. Ignoring his ill-feted tenure as manager and the damage that particular episode left behind, there's one incident that both shocked and outraged fans as one. The publication of an interview with the S*n newspaper on 15th April 1992, the 3rd anniversary of the Hillsborough disaster. Unforgivable and genuinely shocking. Excuses have been made since for the timing, citing that late press run meant the interview was published later than it had been intended. Irrespective of that though, the decision and sheer short-sightedness of Souness, the serving club manager, to deal with 'that' paper is reason enough. What was he thinking?
2. Lawrie Sanchez
If you've read this far and seen the inclusion of Dave Beasant then I'm pretty sure you'll have expected to see this guy mentioned too.
A not so glittering career that saw him ply his trade as a youth at Southampton and Thatcham Town, before turning pro and playing for Reading, Wimbledon, Swindon and latterly Sligo Rovers. Even allowing for his 3-caps for Northern Ireland it's far, far from glittering and if it wasn't for one moment he'd probably have been forgotten. Sadly his 37th minute header in the 1988 FA Cup final means he's a staple inclusion for FA Cup pre game chatter about giant killing and cup upset. Thanks to Sanchez Liverpool's chance of securing what could have and should have been a 2nd League and Cup 'double' was missed.
1. Michael Thomas
Michael Lauriston Thomas, I'm sure there's no real explanation needed for this one but I'll give you a clue; it's not his 1992 FA Cup Final goal-scoring performance in a Liverpool shirt, that's for sure. He's in a different shirt and 3-years earlier.
The final game of the 1989-89 season and Liverpool hosting Arsenal in front of a wholly expectant crowd. All that was required was to avoid a two-nil home defeat and having not lost at home by that scoreline for over 4-seasons; what could go wrong?
After all a win to secure the League and Cup 'double', in fact a draw, no, forget that, Liverpool could actually lose one-nil and still, yes still achieve greatness.
But no, an Alan Smith header had Liverpool trailing by a goal and the crowd pensive. With the final whistle fast approaching a stunned and genuinely shaken Kop looked on as the match entered injury time only to witness Michael Thomas running up field, latching onto an Alan Smith flick-on, evading a tackle by Steve Nicol and with an accompanying TV commentary of "it's up for grabs now" heartbreakingly lift the ball over a stranded Bruce Grobbelaar; Anfield and the Kop well and truly shaken.
So there it is, not a particularly flowery or happily remembered list of loved or revered former Liverpool greats but instead a genuine list of players, managers and individuals whose actions, in my opinion certainly 'Shook the Kop'.