Liverpool fans exploded with interest at the shock news that Liverpool U18s winger Harry Wilson had been called up to the Welsh first team on Wednesday afternoon. So, who is Harry Wilson?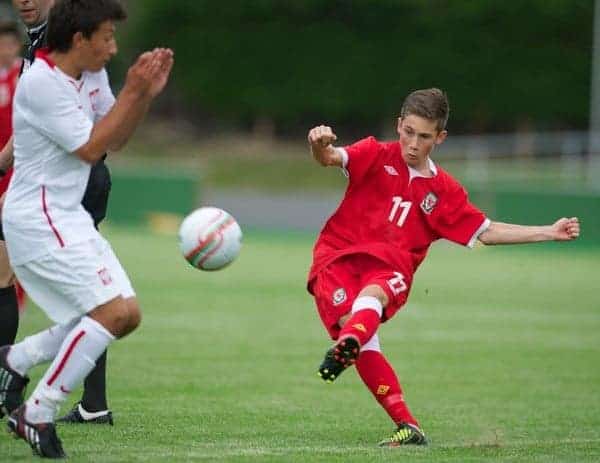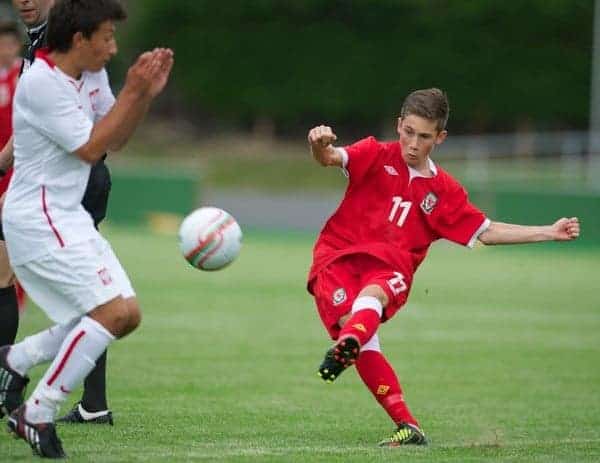 Image: Wilson in action for Wales U16's last year.
Wilson joined the Liverpool Academy as an 8 year old from his hometown club Wrexham in 2005. He raced through the youth ranks and made his U18s debut as a 15 year old when he replaced Kristoffer Peterson in a 4-1 thumping of Sunderland in February. He went on to make a further six appearances and grab two goals.
The fleet footed winger first came to fans attention when he starred for Liverpool U15s in their Milk Cup campaign of 2012. Observers remarked how Wilson had stood out even against the much more hyped talent of Seyi Ojo, signed for £1m from MK Dons.
The sixteen year old begun this campaign as a regular at U18 level and even managed to make a substitute appearance for the U21s against Southampton in the 4-3 defeat on the opening day of the season.
Wilson plays mainly from the right wing although he easily interchanges between left and right, forming a nice relationship with the equally impressive Ryan Kent. He is extremely quick, has fantastic technique and an eye for goal. Liverpool fans may recall him beating Seyi Ojo and Ryan Kent to the title of 'King of the Academy' over a series of drills filmed for Soccer AM in August.
For Academy observers Wilson has been one of the stand-out prospects coming from last season's U16s squad. He has already developed a reputation for scoring impressive long range strikes, including a fabulous goal against Stoke City, and despite his relatively small stature he makes up for it through pure fight and clever use of his body.
No doubt there will be many asking for a comparison of him as a player but as anyone who knows me will tell you I dislike this method of rating or judging youth players. Suffice to say he is a winger, or probably more accurately an inside forward, who enjoys scoring goals and exploiting the space between a full back and centre back.
The Welsh call up is at once a fantastic reward for his hard work and a slight concern. He hasn't yet played a full game at U21 level and is only truly settling into U18s football now. The step to first team international football will probably be quite a lot to take on and heaps pressure on him over the next couple of years to continue his astonishing rate of development.
However focusing on the positive, Wilson deserves recognition for his meteoric rise. Where it not for all the other fantastic talents at the Academy he would probably be better known among supporters and have enjoyed the accompanying praise/criticism of his every action that the likes of Sterling, Wisdom and Ibe now experience.
In Wilson Liverpool have a fantastic prospect but it is essential to hammer home the point that he is a prospect and nothing more and has to be given the time and patience required to fulfil his potential.
Over the next couple of years he will make mistakes, have poor games and be required to work harder than at any point in his career to date. In order to do this successfully, fans will need to take this Wales call up as the flattering act it is and apply no level of unrealistic on such young shoulders.