Liverpool fan '@Support_Believe' provides insight into Brendan Rodgers' use of the new 3-4-1-2 formation and the long-term plan of the boss.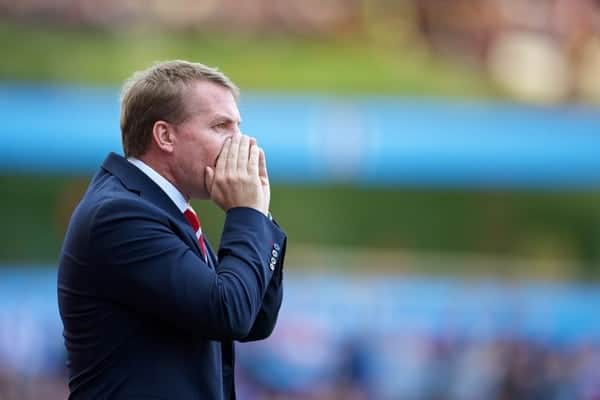 The 3-4-1-2 formation was, for some, a tactic that was new and unknown up until the League Cup tie at Old Trafford last month. Shortly after kickoff the realisation of a new line up was in front of us. Sky Sports had confidently set out the team as 4-4-2 with Suarez's return they knew he had to be levered back in but where?
4-4-2 was the obvious solution to their problems, so confident that they plastered it up on the screen at every given opportunity. If nothing more, it proved, to some, the laissez faire attitude within the media. It also proved one really big point – they are guessing! Not only are they guessing but also they are lazy with it, and the sad thing in all of that is? Joe public hangs on their every word likes it means something!
Meanwhile back in the changing room Brendan continued with instruction after instruction, a reminder of drill after drill, remember, remember, remember, if this happens, that has to happen, if he goes there, you drop in there, and you move over there, are we all clear? ARE WE ALL CLEAR? Yes Boss! The troops go on their way to carry out the duties as assigned, some fearing the consequences of failure already.
Of course, instruction is one thing, drills and repetition are another but, human error or brilliance, loses or wins the day, always has always will. Why did Jose leave his man? Was Gerrard culpable in any way? Was the system to blame? The questions and many more follow the day after. The system was new granted, worked on in parts during the end of last season, refined and studied over the break. Has Brendan got a 'redprint' for the future? Damn right he has and it will be a system copied throughout football over time.
Brendan looks from the outside to be tinkering with 'systems' and its fair to say he is to an extent but the criticism following his Southampton selection of 4 centre-backs wasn't really fair, why?
Because it was something forced upon him at the time, and he, like the new manager at a really big club, with seasoned pros who are popular with the fans, conceded! He conceded long after team selection and into the next day, 3 hours before kick off in fact. Why? Because a player pleaded with him to be selected, begged him you could say. Brendan feels for this guy, he knows, if this new guy comes in he could finish him and he'll never get back in the team again. So Brendan bows to pressure and it bites him on the arse, a valuable lesson learnt that will never be repeated.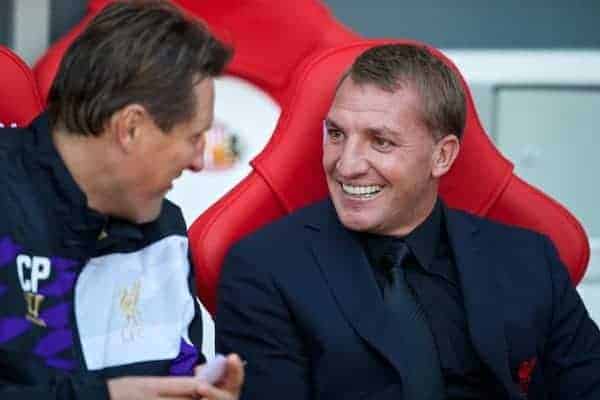 So lets look at the system…
Any F1 fan will tell you that team tactics are the cornerstone of their sport. I wont bang on about it too much so don't stop reading just yet. Tactics are analysed on a second by second basis. The top 3 in a recent GP finished so close to each other that by the time you have read this sentence they had all crossed the line and the prizes decided. Was 1st place won by chance? Tactics won the day and they nearly always will in that sport.
The monitoring of which tactic to use or change to is, as I said earlier, monitored on a second by second basis and relayed to the drivers accordingly to tweak from their £100,000 steering wheel. A click here and a switch there and the race mode is transformed completely. The individual car set up and tactic are relevant to the race conditions. Conditions change? They have a plan for that, in fact, they have a plan for everything!! Does it always work? No, but through refining of the tactics a better result is secured next time.
So where does this fit into football? more specifically, for us anyway, Liverpool FC.
3-4-1-2 is arguably the most interesting tactic of Brendan's reign so far. I'd go as far as to say, it's the most interesting tactic currently used in football. Why? Because it has flexibility like no other. Lets start with my preferred team selection this year, assuming everyone was fit.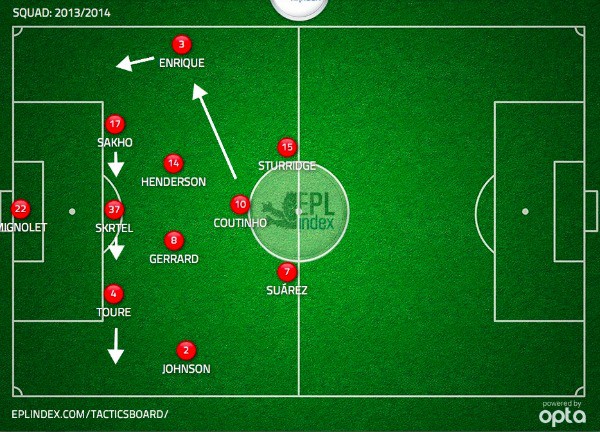 In anyone book, that's a strong team. A nice balance. enough attack-minded players to win you most games, enough defenders to snuff out any dangers. It can quite literally become several different formations at any given moment; very defensive, defensive, balanced, counter, attack, very attacking. What other formation gives you that scope?
If you are anything like me you will look at that image and say, we can beat anyone in the Premier League with that team, but it is vital to know how the opposition are intending to play against you in order for you to counteract their system. Not everyone gets team news and formations early enough to do anything about it. So what's the next best thing? A formation that can morph into another, then another and another if needed? A team and personnel who know the role required of them in that change? Wouldn't that be nice! Well that's what we are starting to see. It's in its infancy granted but it will become part of the fabric and when it does, watch out!
Of course, personnel are massive, and we didn't just come across the players we have now by chance. You can point to the odd exception that isn't working right now but you have to understand, this is new to nearly all if them. A plan is in place for every single player, be that weight gain, muscle gain, sharpness, whatever, point is there is a plan. Ask yourself, when did you last feel that our manager had 'a plan'?
Ok OK! We all know it was Rafa, and boy did he have a plan! Shame the owners at the time didn't buy into it, but that's another story. Look at the other managers, sorry but King Kenny is in here to. They didn't have a plan other than, defend via the Owl or Kenny's attack philosophy, neither work in the modern game, they are just too simplistic.
The game has come a long was since my first game standing on the Annie Road in '76 when the only conversation before the game was will we win or not. Now we discuss fitness, tactics, positional sense and the likes. I remember playing a game of Madden NFL 20 years ago and seeing the various tactics and thinking, what? What are these things saying to me? So I would pick something random and hope it paid off, it never did! American sports showed us the way all those years ago, this is why FSG understand Rodgers.
Rodgers has always understood tactics and the magnitude of them, that players need 2/3 positions that they are comfortable in, the need for a system they know and know well, its not your average Premier League system, its unique and the 'redprint' to return Liverpool, one day, back to greatness.
Remember when a certain Bill Shankly walked into Melwood? He changed everything; it took time because it all had to change, training, eating, sleeping, the lot!
See any similarities?
Follow: @Support_Believe