Iago Aspas was handed the Liverpool number 9 shirt this summer but he's failed to live up to the billing so far. Henry Jackson discusses the Spaniard's start.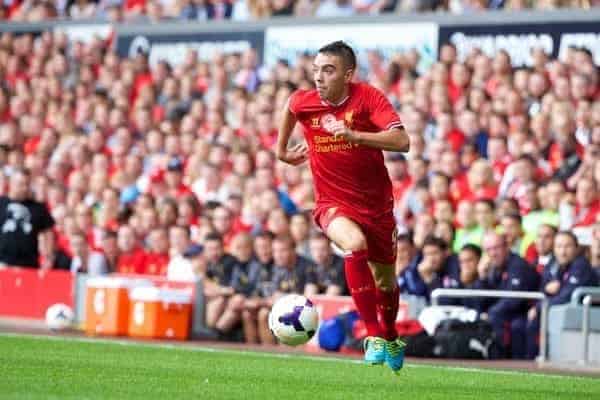 When you look at Liverpool's new signings this summer, the majority have got their Anfield careers off to flying starts. Simon Mignolet has been a revelation in goal, Kolo Toure and Mamadou Sakho have added character and leadership to the defence, while Victor Moses has been a terrific addition in an attacking sense since his loan move from Chelsea.
The one player who has been a disappointment, however, is Iago Aspas.
The 26-year-old arrived at the club from Celta Vigo in June for a fee of £7m, with many excited by the capture of the Spaniard. He was seen as an exciting forward with great individual quality, versatility to his game and a fighting spirit in the same style as Luis Suarez.
Renowned Spanish football expert Guillem Balague took to his twitter page to speak highly of Aspas, prior to his move to Anfield this summer.
"While very different in terms of physique and style, it's impossible not to reference Michu, who signed for Swansea from Rayo Vallecano in summer 2012," said Balague.
"If Aspas can have as big an influence at Anfield as Michu has had at the Liberty Stadium, Liverpool fans will consider him a snip at £7.7 million."
After a number of impressive pre-season performances for The Reds, most notably in the wins against Preston and Olympiakos, many were tipping the Spaniard to be a key player at the start of the Premier League season, particularly with Suarez suspended for the first six games. His movement and trickery caught the eye, while his work rate seemed to back up the claim that he was a winner at heart.
Since the heights of pre-season, however, Aspas has featured in six of Liverpool's seven Premier League games so far, and has really struggled to impose himself at all, failing to score once.
After a fairly lively first-half display on the opening day against Stoke, in which he set up Daniel Sturridge for the only goal of the game, Aspas' influence on the game waned by the minute, and he was replaced by Raheem Sterling in the 72nd minute. The following game, a gritty 1-0 win away over Aston Villa, saw the 26-year-old largely anonymous throughout, and while he didn't do anything wrong he simply didn't stamp his authority on the game. Again he was replaced midway through the second half.
Another 1-0 win, this time at Anfield against Manchester United, was always going to be a tough game to be thrown into for a new foreign player. It proved exactly that for Aspas. He simply never got to grips with the pace and physical nature of the game, and was replaced by Sterling on the hour mark.
While it was understandable that he looked off the pace, the aforementioned work rate and fighting spirit just didn't appear to be there. This has been the case in every one of his performances for the club so far, which is a worrying pattern considering he was known for his passion and never-say-die attitude in Spain. Physically he is no stronger than the maturing Raheem Sterling, and if he doesn't bulk up slightly the chances are he will never be a success in the Premier League.
Since the United win, Aspas has only started one league game.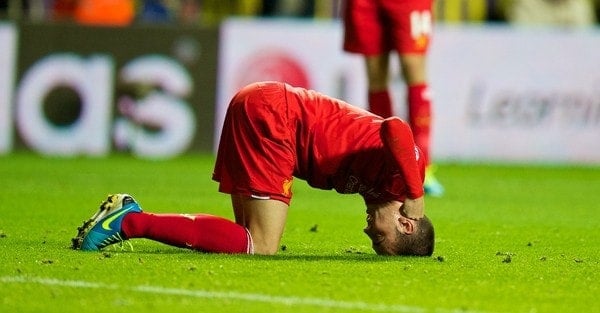 He appeared as a 55th minute substitute in the 2-2 draw at Swansea, replacing the injured Philippe Coutinho, and quite frankly the game changed from that moment on. The Reds lost the attacking edge that had made them so formidable in the first half, and they also looked more susceptible defensively. It would be harsh to blame Liverpool's failure to beat Michael Laudrup's side solely on Aspas, but he was certainly disappointing when he came on.
The shock 1-0 loss at home to Southampton on 21st September was probably Aspas' poorest performance in a Liverpool shirt to date, and he was hugely ineffective for the 45 minutes he was on the pitch. Again Sterling replaced him, this time at the interval. He didn't feature in the dominant 3-1 win away to Sunderland, while in their last outing, a victory of the same score over Crystal Palace at Anfield, he was only introduced in the 88th minute.
While Aspas has clearly struggled to adapt to life in England so far, it could be argued that Brendan Rodgers' successful current 3-4-1-2 system does not suit his style of play either.
The former Celta Vigo man was seemingly signed to play out wide in a flexible 4-3-3 formation, but Rodgers' change of system now means wide forwards are not required. The width is provided by the full-backs/wing-backs, with two strikers playing relatively narrowly down the middle. Aspas would be perfectly comfortable playing in one of those two striking roles, but with Suarez and Sturridge unstoppable at present, there is simply no space in the side for him. He has shown that he can't play in a slightly deeper role behind the front two, so that also rules him out of replacing Moses in that role. With Coutinho set to return from injury in the near future, that lessens his chances of breaking into the side even further.
So what does the future hold for Aspas at Liverpool?
It appears that he is already showing signs of unrest, and in a recent interview with Spanish publication Marca he revealed he needs first team football if he is to stand a chance of making the Spain squad for next summer's World Cup.
"I'm finding it hard to be a sub at Liverpool having started games in the past few years," he said.
"When I left Celta Vigo I was aware that to start for Liverpool wasn't going to be easy. And now the team is winning and we are among the leaders in the Premier League, it's very hard to get a game.
"I hope to carry on working hard and little by little to get more game time with Liverpool. I want to change the current situation.
"Now it's difficult to get in the Spain team because I'm playing less but I'm not worried about that. However, I will try to get in the squad."
He clearly wants to be a success at Anfield, but you have to wonder what would happen if a Spanish club came in for him in the January transfer window.
It's safe to say Aspas has not set the world alight in his short Liverpool career to date, and the form of the other attacking talents in the squad, coupled with a system not favouring his style, seems to suggest the Spaniard's spell as a fringe player is set to continue.