Liverpool's superb 4-1 win over West Brom on Saturday may have been dominated by a mesmerising Luis Suarez display, but the performance of Jordan Henderson was once again excellent, as he continues his terrific start to the season.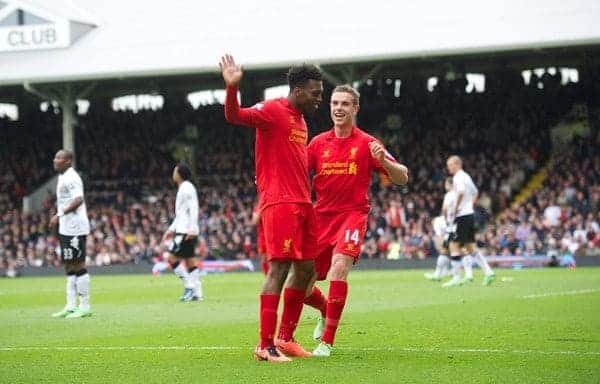 It's fair to say that, on the whole, the 23-year-old has had a tough time of things at Anfield since his big-money move from Sunderland in the summer of 2011. In his first two years at the club – barring a good spell towards the end of last season – he looked out of his depth, nervous and, to be blunt, a waste of money. Many people doubted him, this writer included, but he has been a revelation in the Reds opening nine league games to date, starting every one.
Whether it be in a central midfield role or at right wing-back filling in for Glen Johnson, Henderson has played with pace, power and a relentless work rate. Centrally, in particular, he has added drive to the side that has been lacking with Steven Gerrard and Lucas Leiva at times. He has also shown a terrific range of passing that in years gone by he seemed incapable of producing.
Sir Alex Ferguson's comments regarding Henderson in his new book last week, in which he criticised his running style, were both uncalled for and lacking class, and there did seem to be an extra edge to the Englishman's play on Saturday. Perhaps it is over dramatising things, but there appeared to almost be a hint of anger to his play and a desire to further prove the former Manchester United boss wrong.
One thing that Reds fans have to be slightly careful of is not going completely overboard about Henderson. As it stands, he is not the successor to Steven Gerrard in Liverpool's midfield, and he will never reach the legendary heights of the 33-year-old skipper. He is also still not the finished article and could certainly improve both his decision making in key areas and his goal tally.
That said, he is certainly blossoming into the very fine player many expected him to during his teens. Back then he was regarded as one of the country's most promising youngsters, with every top team in the country tracking his progress, United and Ferguson included. After two years of disappointment and ridicule from many, Henderson is now really coming into his own.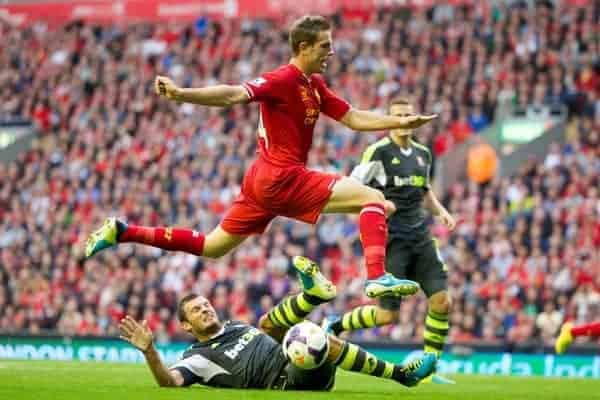 On Sky Sports' recent Champions League coverage, Gary Neville was discussing Bayern Munich's hugely effective forward Thomas Muller. The former United hate figure, who in fairness is a terrific pundit, described the German as "not a great player, but a player who makes a team great." Despite the brilliance of world-class players like Bastian Schweinsteiger, Franck Ribery and Arjen Robben in Pep Guardiola's side, Neville said Muller would be the first name on his team sheet.
This very much applies to Henderson at the moment, although not quite to that extent. Anybody perhaps only watching Liverpool fleetingly will look at the genius of Suarez, the goals of Daniel Sturridge and the undoubted class of Gerrard and not even give the former Sunderland man a mention. The reality is that Henderson has been one of Liverpool's standout players so far this season without doubt.
Every great team- admittedly it's far too early to be calling this current side "great"- needs someone like Henderson; a player who does the dirty work and the hard running, and is appreciated hugely by his teammates for the underrated work he does for the side. Dirk Kuyt was that man during Rafa Benitez's best years at the club, while at other clubs there have been players like Gilberto Silva and Darren Fletcher who have been hugely understated but key men in excellent sides in years gone by.
At 23, Henderson is only going to improve with age. He will grow in stature and become more of a leader as the years pass, and will hopefully become a top, top player (sly dig at Fergie there) at Liverpool. If his form continues to flourish for the rest of the season, there is no reason why he can't make the plane to Brazil for next summer's World Cup.
It is great to see Henderson performing like he is and he really deserves the current adulation he is receiving. He has clearly worked incredibly hard on his game during the summer and is reaping the benefits. It's not long ago at all that his days at the club appeared numbered, and he could easily have shied away and accepted his fate. He didn't, however, and while players with less fight like Stewart Downing and Fabio Borini were shown the door, Henderson has got over his toughest spell and is now showing why Kenny Dalglish signed him for approximately £16m.
Here's to Jordan Henderson: the ever-improving, likeable youngster playing a pivotal role in making Liverpool great again.
Henry Jackson
Follow me on twitter: @OnFootballTweet