Having bounced back from a disappointing display at Newcastle with an emphatic win over West Brom, Ben Twelves discusses whether there is a need to change the team ahead of Liverpool's trip to the Emirates.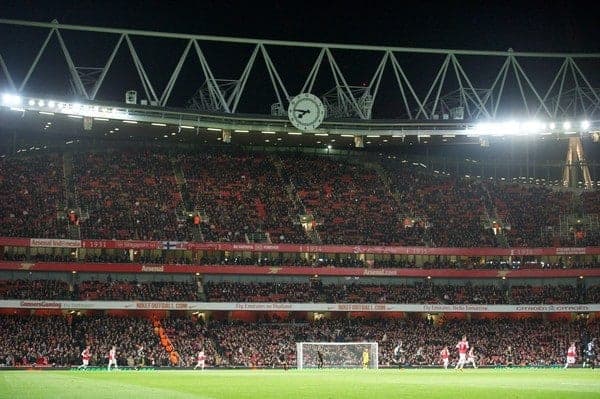 The 4-1 demolition of West Brom at Anfield last weekend couldn't have been better timed. After a sloppy display at Newcastle the week before, we needed to bounce back with a strong and commanding performance and if we did, a result was sure to follow – and that is exactly what happened. Luis Suarez will rightly grab the headlines for his exquisite hat-trick, but the team as a whole looked more solid as we start to really settle with the 3-4-1-2 formation, giving us the perfect preparation as we get ready to face our biggest test of the season so far.
If I was offered 10 points from a possible 12 available in the games before we visit Arsenal at the Emirates, I'd have taken it, no doubt about it. Of course, it's a shame that we didn't finish those fixtures with maximum points, but the 10 we collected continues our solid start to the season. Now our fixture list becomes more challenging however and we'll start to get a proper idea of where we stand with the games coming thick and fast. A home game against Fulham is sandwiched between Saturday's game in North London and a trip across Stanley Park to Goodison for the derby and with away games at Tottenham, Manchester City and Chelsea next month, we could either find ourselves slipping away from the pack, or right up there amongst the front-runners.
If we want to keep our place amongst the Champions League spots, we will need to make sure we keep our key players fully fit as well as utilising the strength in depth that we currently possess in the squad to assist. Going into Saturday evening's game at Arsenal there seems little team selection debate. It makes perfect sense for Rodgers to keep the same team that got the job done at Anfield and that is what I fully expect to happen unless a change is forced. That would mean Liverpool line-up against Arsenal like this:

While the team did look more solid and showed more of the characteristics that we associate with a Brendan Rodgers team, mobility in the midfield is still an issue and could be a concern up against a very fluid and energetic Arsenal midfield.  It wouldn't be an easy decision for a number of reasons to drop anyone from the starting team but if there was one change made, it would have to be in the midfield area. Thinking back to this game last season, after going 0-2 up thanks to goals from Suarez and Jordan Henderson, Arsenal came back strongly and really increased the tempo of their play which saw Gerrard and Lucas completely bypassed and left chasing shadows as the home side clawed two back to claim a point in a 2-2 draw.
Lucas Leiva would be the unfortunate player to make way and that would create a number of possibilities for Rodgers to explore. Our ball retention was better against West Brom and our play more incisive than in recent games, but in a match where we need to really impose ourselves, I'd be tempted to look towards including Joe Allen who could really link our play. Alternatively, Henderson could drop into the central midfield alongside Steven Gerrard, helping to provide more energy and dynamism in the middle of the park.
This could see Philippe Coutinho, if fit as rumoured, return to the number 10 role that Henderson vacates to give us what is theoretically our strongest forward three of the Brazilian magician, Suarez and Daniel Sturridge. Other options would include reintroducing Moses to the side, although not in his strongest position or looking towards giving a chance to Luis Alberto which is what I'd explore. Those potential options could see us start the game along these lines:



Having last week written that results have been better than performances so far this campaign prior to West Brom's visit to Anfield, the team produced a display that matched the result. Brendan Rodgers' Liverpool have now set the bench mark ahead of what is undoubtedly the biggest test for his side so far this season and winning at the Emirates would really send out a message that we are serious contenders for the top four this season.