It's a generation now since the Kop was rebuilt, Liverpool supporter Pete recalls memories, tales and stories of the Old Spion Kop.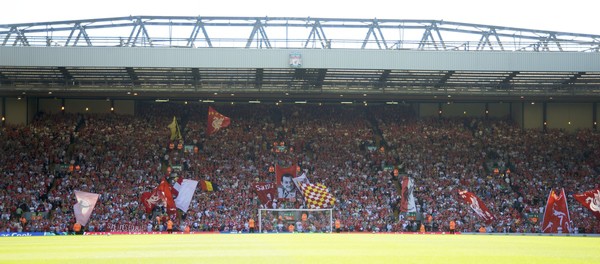 For my Friend Bruce, who passed away in 2011
My friend Bruce and I first went to see Liverpool when we both lived in Cheshire, all members of my family were fanatical Wolves or Mancs supporters, so none of them would take me to see Liverpool. Bruce was born in Liverpool, and I in the small village of Heywood just outside of Manchester. Our work took us to north Cheshire.
I believe that I was born a red therefore it was only natural that I sought refuge with the red family. It might seem strange in the present day to think of two young guys heading off to a Liverpool football match for the first time, but we had no sense of apprehension, only excitement at what the day would bring.
The old Kop at Anfield
Most games were on a Saturday and that day would be packed with fun from beginning to end. In the hour before kick off, we would take in a few beers near the ground after having a few at the pub where we would meet, and most importantly we would then go to watch our beloved Liverpool FC.
When my dad took me to see Bury play I went in the 'Boy's Pen'. It could be quite rough in there. A large number of boys in a penned area then seemed quite a frightening prospect but I guess I managed to stand my ground.
We didn't know what to expect with our two tickets in the Kop, so we were at best well bevvied up to handle whatever came along.
When we first went on the Kop, it was an amazing a rite of passage, so to speak. It was no place for the fainthearted. A confidence was needed to literally stand your ground. However, we are both 2 meters tall (6' 6") we were smart enough to stand way up in the Kop so as not to block anyone's view. But our favoured spot was in the middle, halfway up and firmly in front of a barrier.
With the benefit of hindsight I suppose that there must have been many times when I was crushed and Bruce and I lost touch, but because of our height we would push and move back together to enjoy the game. For me, it was sheer excitement. The adrenalin rush was amazing and it was very much living in the moment. The degree of camaraderie in the old standing Kop should never be underestimated. The Kop functioned as a single entity. You literally went with the flow. It was like a natural force and was an amazing experience.
http://www.youtube.com/watch?v=cwFtdHV-oUc
I can recall one game when we had just scored. I lost a shoe in the ensuing sway, however, someone shouted from further down that they had found a shoe and I tugged at the sleeve of a guy standing next to me and told him it was mine. The shoe was duly dispatched hand to hand back up through the crowd and returned to me – but it stank of piss!
I also remember an occasion when I was leaving the Kop after a game and, having had too much beer, fell over. What could have been a disastrous situation was averted by someone quickly shouting that someone had fallen and people stood firm around me until I was safely back on my feet. These two examples show that although the environment was not ideal from a safety perspective, nevertheless, there was a high degree of commonsense and camaraderie that prevailed which negated any problems.
The bigger games at Anfield held in excess of 50,000 people. It was quite common for fans to faint in such a large crowd. If someone fainted in the Kop they would carefully be passed over the heads of the crowd (a bit like crowd surfing at concerts today) until they reached the awaiting St John's Ambulance for first aid who stood at the corner of the Kop.
The Kop was extremely quick witted and would respond to any event with an appropriate song. My mate Bruce recalls the rivalry between Liverpool keeper Ray Clemence and Peter Shilton. Both England goalkeepers. Shilton had been chosen ahead of Clemence for the England game against Poland and had an awful game. The next time he was playing at Anfield he ran to take his place in the Kop goal. Traditionally, opposing players received a good welcome by the Kop but on this occasion they all started singing Poland's number one record! (can't remember what it was).
Also the local rivalry between Liverpool and Everton was enduring but good-humoured. The late Gordon West, Everton's goalie, was nick named Mae West by the Kop and whenever he came to Anfield, someone would run on the pitch from the Kop and present him with a ladies handbag. He always took this in good spirit.
The singing was something else! In those days it was commonplace to sing popular songs, especially Beatles songs. An old BBC report shows people singing 'She loves you'. It is hard to imagine so many people singing in unison and believing that it would start with one person and grow to the entire crowd singing. However, as I said previously, the Kop functioned as one. Culturally, football and music were the twin passions of scousers. This is still largely true today. It is what makes our Liverpool supporters so special. We are a diverse group of people and bring a richness of cultural differences to the table.
The singing of "You'll never walk alone' is tied up with the popularity of Liverpool groups at the time. Gerry and the Pacemakers were second only to the Beatles. When Gerry recorded YNWA (from the musical 'Carousel'), it seemed a natural progression from the pop charts to the terraces. The words were appropriate to showing support and solidarity but an added poignancy was added after the Hillsborough disaster. Although I have heard it sung thousands of times it still fills me with emotion.
My most memorable singing of the song is a Hillsborough related story. I have a friend who attended the (now discredited) inquests into the deaths. On the final day of the inquests the coroner recorded 'accidental death' verdicts against all the dead. Families were distraught and many began crying. He told them to be quiet or they would have to leave the court. He said that the names of the dead would be read out and he would leave the court in silence. The names were duly read out but as he was exiting the courtroom a bereaved mother began defiantly singing, "When you walk through a storm…" She sung for us all that day, everyone one of us who could have been her dead son. I will always admire her dignity and courage.
I remember getting my first season ticket from a friend in a pub whose dad had died years ago but still had a season ticket in his name.
Some games are legendary. The St Etienne game for example, which is a popular favourite. However, Bruce recalls a Derby game in 1970(?). Everton were doing well that season and had beaten us in the previous game and were winning 2-0 in this game. They were smugly singing about winning the league, confident that they would win this game. However, Steve Heighway, John Toshack and Chris Lawler had different ideas and we won 3-2! That was the Liverpool we loved best. The Liverpool that fought back.
Fog was quite a common feature at matches in wintertime. Evening matches would be most affected but the dark winter days meant that there were times when you would not see a goal for the fog. It was common (and sensible) to shout 'who scored the goal'? It would be unthinkable in the present day to play a game in such conditions. A dear friend of mine recalled, recently, a Kop event on one foggy day. Knowing that the Annie road end could not see the Kop goal they suddenly burst out into a huge roar, all the Annie road end supporters thought Liverpool had scored and roared back, but later told us it must have been disallowed because it wasn't followed by a kick off!
In the past there was tremendous loyalty shown to players by the Kop even if they were off form. They would not have been booed. It is so different today but I put that down to the changing economics of the game. Many players do not have the same passion for the game and that is obvious to the discerning fans.
I was not on the Kop for the last game against Norwich, I can't remember why, however, musician and kopite Peter Hooton recalls:
"To be quite honest he last day of the Kop was pretty much an anti climax. I had stood/swayed on the famous terrace for many years witnessing fantastic comebacks, great victories and some agonizing defeats! But to be beaten by Norwich for the last game played was very disappointing. The game was played in a 'surreal' atmosphere it was as if nobody could really believe this was the end of the famous terrace. I mean how could you demolish a terrace that had thousands of fans ashes scattered on it? The Kop was full an hour before kick off and the last Kopites were ushered out about an hour after the final whistle but it still felt like a dream/nightmare! Jeremy Goss of Norwich is credited as scoring the last goal in front of the 'old Kop' but some of us know the truth. A mate of mine called John Garner ran on to the pitch at the end of the game with his own ball and dribbled from the half way line and smashed the ball into the Kop net. For Kopites this was our symbolic 'last goal' and it was right and fitting!"
Personally, I am not against standing. It was not standing that killed people at Hillsborough. It was a prevailing culture that saw fans treat like animals; corralled to the stadium, herded into pens – even the language is animal terminology. However, I respect the views of those that support all seated stadia, especially those that lost people in the disaster. Football matches are not the same. Sitting is not the same. Many people stand up from their seats. Is this any safer?
I miss the old Kop in as much as it was a part of my life. I miss the collective nature it encouraged. I often wonder if it helped form my views on life, love, and family. Equality,. Thrilled by the team and the crowd in equal measures.
It's not the leaving of Liverpool that grieves me, but my old kopites when I think of Thee!
Pete, aka, LancashireLad