Liverpool FC writer Neil Collins is back with his intelligent and humorous assessment of Liverpool's 3-1 victory over Crystal Palace on Saturday at Anfield.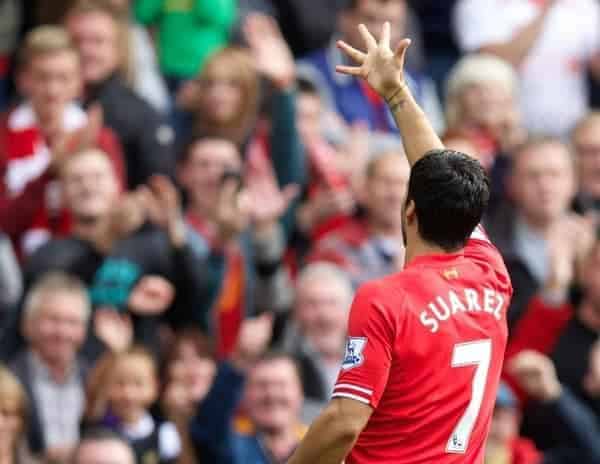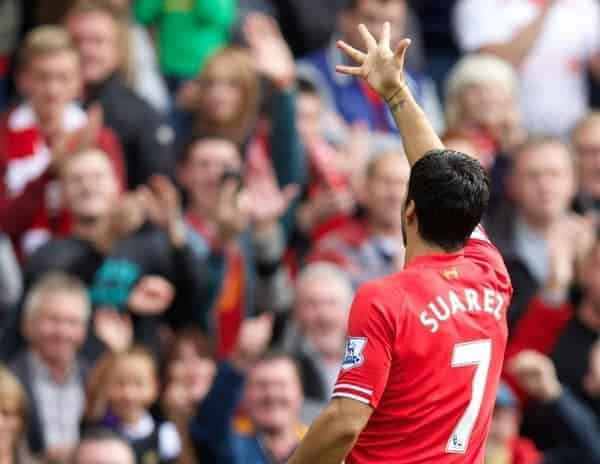 Liverpool 3-1 Crystal Palace
Saturday 5th October 2013
Premier League
Anfield
The last time Ian Holloway prowled around the technical area at Anfield, he left the ground with a smile as big as the River Mersey. That was three years ago when he brought his newly-promoted Blackpool side to L4, and they played the Reds off the park to deservedly win 2-1. The Tangerine Dream was fast becoming a reality. Yet, a nightmarish second half to the season meant that the Seasiders were relegated. And with it came the loss of their best players including Charlie Adam, who went on to have an ill-fated season with Liverpool; albeit with a League Cup success. The Scotsman actually scored a pen that day, but he couldn't do it for us just over a year later in the aforementioned cup final. That ball is still orbiting the moon by the way.
That bleak October afternoon signalled the start of the pressure mounting on 'Woy of the Wovers' just seven league games into the season as audible shouts of 'Hodgson for England' emanated from the Kop, as well as pleas for the return of King Kenny. On paper a team including the likes of Reina, Carragher, Gerrard, Kuyt and Torres should have cruised passed a promoted team. Yet, we lacked any kind of heart and were totally complacent to say the least. Torres went off inside 10 minutes with an injured ego (i.e. he wasn't very good any more). But fear not, Hodgson had a secret weapon in his arsenal to replace him with. Step forward David N'Gog…who did absolutely nothing. Dear God, it was a sorry state of affairs. Hodgson was going to remedy our troubles by bringing in Carlton Cole on deadline day too. His actual signings weren't much better. He picked Christian Poulsen over Lucas, even though my nan is probably quicker than the Dane. Elsewhere, Raul Meireles was totally anonymous and didn't pull his finger out until Dalglish took over (and somehow he won the PFA Fans' Player of the Year award). Then there was Joe Cole; a free transfer who I was genuinely excited about. Yet, I remember the England winger being clean through on goal to grab a late equaliser, but he completely fluffed his lines. The bloke next to me bellowed into my ear in no uncertain terms that Chelsea had only let go of him because he was passed it, before storming out of the ground. Kyrgiakos (who Hodgson often preferred to Agger) headed a consolation. However, that wasn't enough to prevent us from slumping into the bottom three, whilst Blackpool shot up to the heady heights of ninth. I've not experienced such a miserable, uneasy atmosphere at Anfield ever since. Actually, there was the Wolves defeat too. I tend to lose count of the amount of depressing days under Hodgson…
Fast forward three years and there's been a significant change in fortunes after seven league games. It was Liverpool who played Holloway's boys off the park this time, with the victory propelling the Reds to the top of the table. And it was Rodgers who was all smiles, whilst it was his opposite number looking dour as his side remain one place off the bottom. Yesterday's meeting Crystal Palace was one we would've lost or drawn under previous regimes. However, I anticipated that the game wouldn't provide us with too many problems providing we matched the level of performance against Sunderland. And we did just that. I predicted a 3-0 scoreline, so I wasn't far off. It was vital that we didn't become lazy in a game we were expected to win comfortably though. And the professional manner in which the Reds approached the game was exactly what was required following that slip-up to Southampton last month.
Nevertheless, we often need to be patient at Anfield particularly against the lesser sides who set their stall out for a draw; but I wasn't expecting us to be out of sight by half-time. The football Liverpool played throughout the first half was breathtaking and Palace could consider themselves lucky they weren't further behind considering the chances we missed. When the Reds steamrollered into a two-goal lead within 17 minutes, I got a little ahead of myself and wondered if a repeat of that legendary 9-0 win over Palace from September 1989 was on the cards. I don't remember it personally because I'd barely finished eating rusks at the time, but incredibly there were eight different scorers that night. However, the newly-promoted Palace side managed somehow managed to beat us 4-3 in the FA Cup Semi-Final later that season with Alan Pardew scoring an extra-time winner. Coincidentally, we'll come up against his Newcastle side after the international break and it was essential that we got maximum points yesterday as the Toon Army are such an unpredictable outfit; especially at home.
Holloway evoked memories of both that 9-0 drubbing and the 2-1 Blackpool defeat before the game. Following the latter match, Anfield staff were amazed to find a message scrawled in marker pen on the whiteboard in the away dressing room. It said, "The fans were singing You'll Never Walk Alone, my dad's favourite song. He is no longer with us. I was very emotional and singing along with them. To then be applauded off the pitch in what is almost the home of football made the day so special. In my era there was no better football club in the world. These supporters have seen some of the best football ever." Likewise, he was equally complimetary yesterday — "I can't wait to hear that song, I'll have a tear in my eye. That song is worth just standing there, it's worth a 10-0 hammering. For me, Anfield being special goes back to being a kid." Perhaps the Palace fans wouldn't have been too happy with him getting so doe-eyed over all things Liverpool, especially as he was singing along to our anthem again yesterday. But I hope they stay up purely for him. He seems like a great guy with a sharp sense of humour; plus he's passionate and honest, and his interviews are pure gold. Quite simply, he's football man playing the game in the way it should be played. Most importantly, he's a clever man-manager and he'll inspire confidence in his players that they can stay up. And who can forget that press conference when he laid the smackdown on Wayne Rooney when the Manc striker was dilly-dallying over a new contract and flirting with a move to Man City? Have a look on Youtube, it's brilliant ("IT'S WRONG!!!"). Regardless, I still don't think Palace will have sufficient quality to maintain their Premier League status, and the same can be said of Hull. I reckon Sunderland, Stoke and Fulham will be in the relegation scrap this season too.
Talking of passionate managers, Hodgson was in the stands (yes, we still allow him into Anfield these days; even after his seat in the Directors' Box was given to James Corden last month). He's finally realised how good Sturridge is, and he'll have been filling his pants when our striker went down clutching his hamstring in the first half. Hopefully, he'll continue to pick Welbeck instead because England's loss is Liverpool's gain. Talking of which, Hodgson was on Match of the Day last night. Gary Lineker could barely contain his excitement at having the England manager in the studio. Yet, for a man with 30-odd years of managerial experience (with the likes of Halmstads, Örebro Malmö and some club called Viking), he barely offered any analysis or insight whatsoever. It would've been more entertaining if they had just done a live link-up to the Talking Clock instead. He didn't offer any indications as to what his England selection would be either. But then again, I suppose he kept that for the Tube journey home…
Credit to Palace; they opted for an ambitious line-up spearheaded by Marouane Chamakh and Cameron Jerome, with attacking players Jimmy Kébé and Jason Puncheon providing width. Rodgers went with the same line-up and formation that was so successful at the Stadium of Light last weekend; except for Sterling replacing the suspended Lucas. Luckily that meant no place for Aspas, so Sterling shifted to a right wing-back role, whilst Henderson (whose ball retention is exceptional) operated in a withdrawn central midfield role alongside Gerrard. The boss persevered with Moses floating in the hole behind the strikers, whilst Agger had to content himself with a place on the bench following injury. Bizarrely, Suárez brought his newborn baby and daughter out on the pitch to partake in the pre-match handshakes. It may sound cynical, but I can't help thinking it's a bit of a smokescreen to divert attention away from his antics over the summer. Even this week, Liverpool legend John Aldridge has said that he's not convinced that Suárez's misdemeanours are behind him, and that we shouldn't offer him a new contract next summer. Regardless, as long as he continues to do the business for us, that's all I really care about. Where do you draw the line though? Will Rodgers be sat next to his dog in the dug-out for the next home game?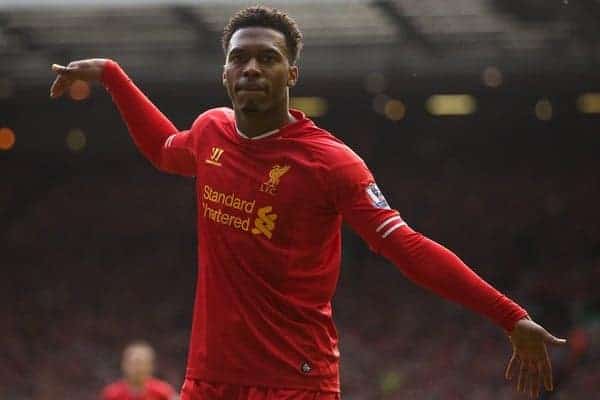 The opening minutes were played behind the haze of a flare let off in the away end. I cannot fathom the mentality of people who carry these things into grounds; especially as it can lead to bans. There were a couple of bangs, which were greeted with mindless cheers too as if bringing in pyrotechnics and setting them off in a confined space is a good idea. The muppet who bought them in was chucked out just two minutes into the game having spent between £30-£40 for a ticket and travelled over 200 miles. Nice one. He'll probably find a nice banning order from his own club on his doormat come Monday morning too. This goes for our own fans as well because a flare was chucked onto the pitch at Old Trafford a couple of weeks back. These flares look utter shit as well. Everton let one off in the derby last season, only for the Kop to rip it them to shreds for it a few seconds later. If there's any setting where a flare actually looks good, it would be in a hostile European night setting; not in broad daylight on a Saturday afternoon. More than anything it endangers the safety of fellow fans. I remember a Wales World Cup qualifier against Romania in the 90s where a Welshman was actually killed by a firecracker thrown by a Welsh fan.
Liverpool flew out of the traps from the opening whistle; dominating possession with lovely interplay and winning a couple of set-pieces in dangerous positions. However, it wasn't until seven minutes that the first proper chance was created. Anfield was waiting with bated breath as the ball found it's way to Gerrard for a sighter from outside the box, but his blast went into the second tier of the Anfield Road End. Meanwhile, Palace had a chance of their own, and it was a gentle reminder to the home crowd that the outcome of this game wasn't a foregone conclusion. Puncheon found room down the left, but his cross was a little to high for Jerome in the centre, who could only glance his header wide.
I'm surprised that Southampton let Puncheon go out on loan. He's a versatile in that he can play on either flank and in the hole behind the strikers, and he was one of the Saints' better players last season; scoring seven goals in 34 appearances. Plus, he's a player with vast experience having played in every level of English league football. At the age of 27, he's hardly a spring chicken needing loan experience and he only signed a new three-year contract at St Mary's in March. Regardless, he's a great signing for Palace. I'm not convinced acquisitions like Chamakh and Barry Bannan are going to keep them up though. Talking of 27-year-olds on loan, Palace also have Cameron Jerome who is hardly a prolific striker with a total of 81 goals in 349 career games. Nevertheless, he's got the odd screamer stowed in his locker as evidenced by his 30-yarder for Stoke against Southampton last year, which was a contender for Goal of the Season. Plus, he scored a Gerrard-esque thunderbolt at Anfield in November 2009 on a night when a David N'Gog dive in the penalty area was needed to spare our blushes and claim a draw.
Anyways, Jerome missed this time in front of the Kop, and the Reds took the lead from the next attack. Suárez exchanged passes with Enrique down the left side of the box, but the chance looked like it had gone when the Uruguayan lost his footing at the crucial moment. A couple of the Palace defenders were wrong-footed and hesitated for a split-second thinking the referee would award a pen, and that was all the time he needed to score. He thrashed the ball into the bottom left corner whilst still on the floor, and it was a ingenious bit of improvisation. Enrique may have his critics, but he links up superbly with Suárez. The interplay between them reminded me of Suárez's goal against Spurs last season. And it was also the Spaniard's long ball over the top that expertly picked out Suárez for that amazing equaliser against Newcastle.
Liverpool were rampant by now and Sturridge fired a left-footer from the right side after collecting Sterling's pass, but Speroni was able to tip it around the post. The striker wasn't to be denied though and he grabbed his goal two minutes later with a great solo effort. Sturridge twisted and turned Ward down the left side of the box before drilling it across goal into the bottom corner in trademark style. His left-foot drives have got no back-lift and are practically unstoppable. Just ask Joe Hart and Asmir Begovi?.
Annoyingly, Liverpool became a tad complacent again as the visitors enjoyed a spell of pressure. Kébé was allowed far too much space to bound into the box and it's lucky that he didn't get full contact on his shot as Palace would've been right back in the game. Bearing down on Mignolet, his effort lacked power, which was further diminished by a nick off Škrtel. Even so, the ball trickled past the onrushing keeper and Touré was needed to sweep off the line. That should've woken the hosts up, but we continued to look nervy at the back with frail defending almost gifting Palace with goals on two further occasions. Puncheon connected with a fierce half-volley in the centre, which took a heavy deflection. Yet, Mignolet watched it all the way; adjusting his body at the last second to pull off a fine reaction stop before Kébé skied the rebound. Worse was to follow as a Mignolet mishandled a save and Sakho almost sliced the clearance into his own net. The ball spurned wide for a corner which Gerrard cleared, but I'm not sure I'm overly pleased with our French defender's shrugged shoulders reaction with a confused grin across his face.
Palace's bad luck in front of goal was compounded by them conceding a soft penalty down the other end soon after. Sterling ran onto Suárez's ball down the right, but was fouled by Moxey. Initial contact was outside the box, and Anthony Taylor was initially going to award a free-kick before the linesman advised to give a pen. Sterling flung himself to the ground theatrically, but he's so quick that his momentum could've propelled him into the area. Yet, I'm not sure we would've got this decision away from home. This was hardly Antonio Valencia feeling Mascherano tugging at him for half the pitch before losing his balance once he'd got into the box though. Yet, Holloway does have a case for being aggrieved when a more obvious pull on Kébé in the opposite penalty area went unnoticed. Gerrard stepped up and calmly steered the ball into the bottom left corner to kill off the game before the break. The skipper has been in commanding form so far, but he needed that first goal of the season and hopefully plenty more will follow. That goal was his 99th in the Premier League for Liverpool, and he's now scored in 15 consecutive seasons.
The Reds continued on the front-foot for the remainder of the half and Moses will be waking up this morning wondering how on earth he didn't score. Suárez laid it on a plate for him when he picked him out in the centre from the left for an open goal. Yet, the Nigerian made a hash of a simple tap-in and the ball bobbled up onto the bar. It's up there with his compatriot Kanu's miss inside the six-yard box for West Brom a few years ago. It was a nice touch to hear the away support singing Moses' name as he started his career with them. Yet, I wonder if it was meant more as a sarcastic chant in the same way we did with Shelvey after his cock-ups in the Swansea game. Palace had their goalkeeper to thank for the scoreline not being double going into the interval as he saved from Suárez and stopped Sturridge twice.
Holloway shook things up by introducing Gayle and Campaña for the ineffective Kébé and Jerome at the start of the second half. I was surprised that Chamakh wasn't hooked because other than a couple of blocked shots, he barely did anything throughout the opening 45 minutes. He arrived at Arsenal on a Bosman in May 2010, but with a good reputation. Yet, he hung around like a bad smell for the next three years; rarely making an impact and he even had an unsuccessful loan spell at West Ham last season. Eventually he left the Gunners over the summer after scoring just 14 goals for them. He's their version of Anthony Le Tallec; albeit slightly better. You would think Chamakh would want to hide in the shadows, but he attracts more attention to himself with the worst barnet ever. In fairness, he does manage to rock out three looks in a single haircut — one part oil-slicked side-parting, one part cockatoo, one part mullet. Arsène Wenger may have managed to get him off his books, but he's lumbered himself with another deadweight in the form of Nicklas Bendtner. Any takers for him? Thought not…
Liverpool showed no signs of slacking off with Sakho's bullet header shooting narrowly wide from Gerrard's corner in the opening minute. Yet, that was our last meaningful chance until the closing stages. The Reds lacked incisiveness going forward throughout second half, and the killer ball in the final third was often found wanting. Our intensity levels understandably reduced after the explosive start, and Palace boosted their possession around the hour-mark. Nevertheless, the visitors were still toothless in attack with Chamakh and Puncheon bringing routine saves out of Mignolet. And even when Gayle latched onto Enrique's back-pass and got the better of Škrtel, he could only blast high and wide.
Rodgers tried to reinvigorate his troops by replacing Moses and Sakho with Alberto and Agger. Moses seems to have reverted into the Aspas role in that he's always the one substituted in games, and after a bright start he's gone a bit lacklustre. Holloway used his final sub by bringing on Bolasie for the uninspiring Chamakh, as he attempted to pack the midfield zone with Palace gaining a foothold in possession. And the change made immediate dividends. Sterling was booked for a foul on Bolasie in a dangerous position on the left. Campaña swung the ball into the near post where Gayle headed into the far corner with a clever flick. It looked like an own goal from Gerrard in open play, but the skipper left the striker completely unmarked. I know we had giants like Jedinak to deal with in the centre, but it was dreadful defending to concede from a set-piece to a header from their smallest player. And is it just me, or has Dwight Gayle got the name of an 80s popstar? The Palace fans sang, "We're going to win 4-3", and it certainly would've made it a nervy finish if they could've snatched a second. Yet, anything other than a Liverpool win would've been robbery, and the visitors hardly had another chance after scoring anyway.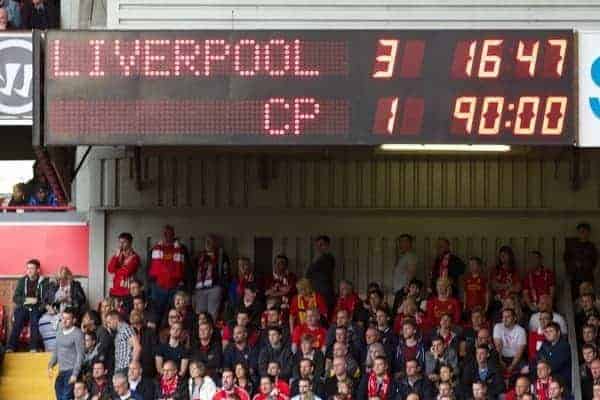 In fact, it was the hosts who came closest to scoring having finally clicked back into gear with five minutes remaining. And it was Sturridge in the thick of it again. Suárez dribbled into the left side of the area and found his strike partner in the middle. Sturridge thumped it first time, but his his drive came flying back off the inside of the post before being cleared. Suárez's cross was perhaps a little bit too fast and it did catch under his feet slightly, but Sturridge did well to re-adjust and get his body over the ball. He was substituted a couple of minutes later to have a standing ovation after another Man of the Match performance, and he's definitely been our MVP so far. His replacement, Iago Aspas is a long way from reaching that level. Ok, he only arrived two minutes before the end but he still had time to pick up a yellow card for petulantly kicking the ball away. He's only two further cautions away from a suspension already considering he picked up a needless booking at Villa, followed by another one for stupidly waving an imaginary card under the ref's nose for Tom Cleverley against the Mancs. His contributions are akin to a fellow Spaniard who was at Anfield a few years ago. No, not Fernando Torres. I'm thinking more along the lines of Antonio Núñez…
Seconds later the final whistle went and we regained our place at the summit of the Premier League. I was expecting us to continue preying on the Eagles throughout the second half and boost our goal difference even at this early stage in the season. Disappointingly, the Reds cruised through the remainder of the game without threatening a fourth goal until late on. We've still got this annoying stat hanging over our heads of only scoring once in the second half of a league game, and Palace were there for the taking if we had replicated our first half form. Nonetheless, a win is a win and I'll take them whichever way they come. Our mentality in the first-half was first-rate so the boys could afford to slip down a gear in the second 45 minutes. And crucially, we've averted another banana skin. Remember, Palace knocked us out of the League Cup the last time the sides met in October 2005, and they defeated us in the league a few months before courtesy of an Andrew Johnson goal (he was snapped up by Everton the following year in time to score a brace against us in the Merseyside derby). Even in the corresponding fixture at Anfield, a hat-trick from Milan Baroš including a last-minute penalty was needed to finally overcome a plucky Palace side.
Overall, I'm delighted with another win, but this business of tailing off in the second half is slightly concerning. Yesterday, we could afford to do it but that's not always going to be the case. As Rodgers said, "We've won the game, even without playing great…That's the beauty of the team – with those two (Sturridge and Suárez), there are not many better. Their movement was outstanding and how they combined with each other…But we've still got a lot of work to do behind that because the lack of control in the game was disappointing." Individually, the front two's stats are impressive, but together they are devastating. Suárez has scored 19 in his last 25 games, whilst Sturridge has 19 in 25 appearances since joining in January; including eight in nine matches this season. For the first time in years we can rely on our strikers alone to out-score what we concede. However, it's imperative that the rest of the team don't get complacent around them. Hopefully, our second half showing should alert us to the fact that all 11 players need to be switched on for the entire 90 minutes. This will definitely have to be the case if we are to get a good result at Newcastle. Let's just hope the international break doesn't disrupt our fluency.
Liverpool 3
Starting XI: Mignolet, Sakho (Agger 67), Touré, Škrtel, Enrique, Henderson, Gerrard, Sterling, Moses (Alberto 66), Sturridge (Aspas 88), Suarez.
Subs Not Used: Jones, Wisdom, Ilori, Ibe.
Goals: Suárez (14), Sturridge (17), Gerrard (38 pen).
Booked: Sterling (76), Aspas (90+4).
Starting XI: Speroni, Ward, Mariappa, Delaney, Moxey, Jedinak, O'Keefe, Puncheon, Kébé (Gayle 45), Jerome (Campaña 45), Chamakh (Bolasie 68).
Subs Not Used: Price, Inniss, Guedioura, Phillips.
Goal: Gayle (76).
Booked: O'Keefe (10).
LFC Man of the Match: Daniel Sturridge.