We got our hands on a copy of Simon Hughes' new book on Liverpool players in the 1980s – 'Red Machine'. And here's what we thought…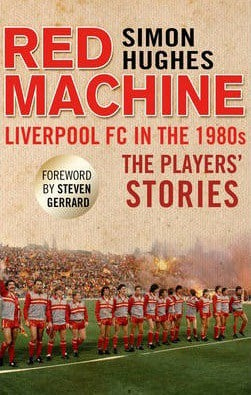 The first thing that struck me about Simon Hughes' new Liverpool book 'Red Machine' when it arrived was how simple, but beautiful it was.
There's no glossy pictures, fact files or endless statistic-based appendixes – this is not encyclopaedia.
Instead, 'Red Machine' is ultimately a collection of interviews with the stars of Liverpool Football Club in the 1980s.
Hughes has meticulously stitched these together to make a compelling and fascinating unraveling of an unprecedented era for both the club and the history of English football.
Being born in the mid-'80s myself, my Liverpool memories started quite some time after the end of this incredible decade of success for the club.
Hughes paints what seems an honest and detailed account of life at Liverpool during that time based on his findings with the likes of Howard Gayle and Steve Staunton.
For fans like myself, too young to remember these days, this book opens an exclusive back door to the rich tales and glories of the decade.
Also interviewed are Craig Johnson, Nigel Spackman, Kevin Sheedy, John Wark and Bruce Grobellaar amongst other icons of not only the club, but the city of Liverpool in the '80s.
Hughes doesn't just cover football. 'Red Machine' opens the door for the reader to the underworld of football in the 1980s – a time before Sky, the Premier League and the Spice Boys.
At times this open door seems over-nostalgic – maybe written slightly too much with the rose-tinted glasses effect. It's easy to get carried away in the magic of these myths and legends which, until books such as Hughes', were confined to unrevealing history books and glossy propaganda documentaries.
At other times in the book, the life of a footballer in the 1980s seems a darker place. It perhaps unravels that not all is wrong with the modern game, despite what we want to believe.
Particularly fascinating is Hughes touching upon the subject of racism both back then and in modern day stadia with John Barnes and his attitude to the people who subject it.
Hughes begins the introduction for the book by saying it was born out of a frustration – "few of the active footballers that I have met since starting a career in journalism have anything that is genuinely interesting to say."
He is right – today's media is full of babbling quotes from players and managers who seem under a trance of carefully crafted PR quotes and media training to protect the "brand" of a club.
Hughes has captured some very open and frank interviews in 'Red Machine', which must be credited to his personal nature in a world where many players draw an untrusting skepticism towards journalists. Sometimes rightly so.
A testament to good football journalism and an open insight of Liverpool Football Club's golden era through the eyes of the men who made it.