Sometimes to move forward, you need to look at your past; John Ritchie explains the importance of Kenny Dalglish's return to Liverpool.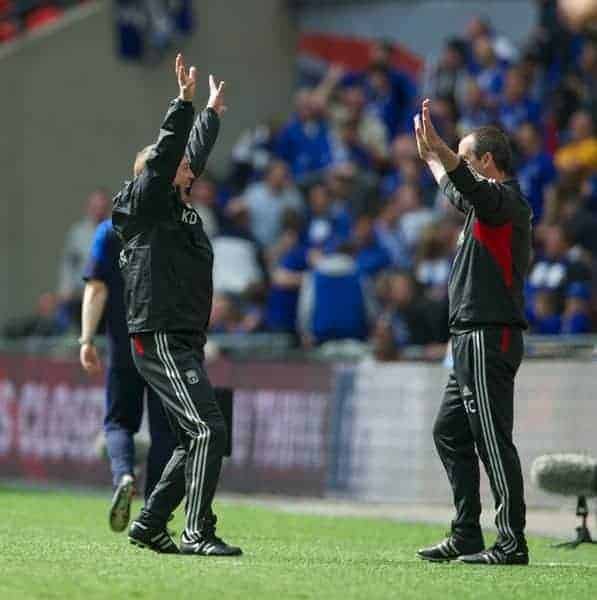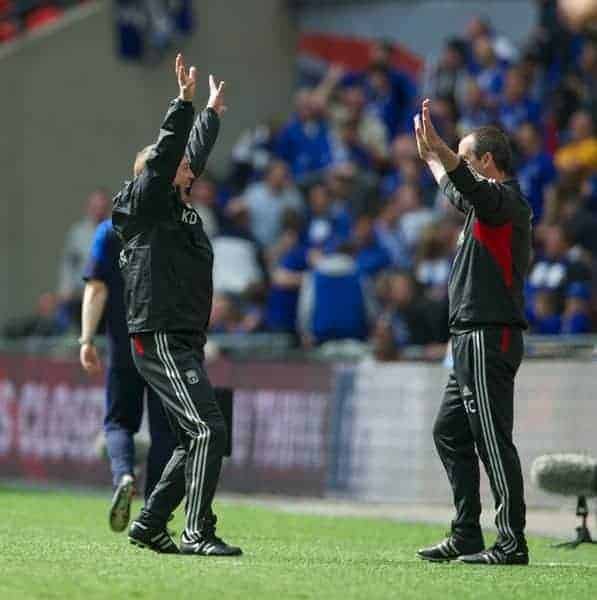 I love Friday nights; it's my time to chill out with a beer and to enjoy a bit of time knowing that I can relax at home for a few days, relishing the prospect of spending some time with my wife and our little girl. Fridays are always great, but I'll remember last Friday night for other reasons; last Friday the news broke that Kenny Dalglish returned to Liverpool Football Club.
I'm not sure words can sum up exactly how I felt at that moment; happy doesn't do it justice and overjoyed is another word that comes close, but with no cigar. It was a mixture of relief and joy all rolled into one; joy that my childhood hero had come back home and relief due to the vacuum I've felt since Kenny has been gone.
Relief is a strange emotion to describe, it's mainly relief that there's someone who 'gets' the mysterious world of football, relief that finally Liverpool had started to act like a big club once more. That's something that's been missing for too long at Liverpool and something I'm not sure you can measure the impact of, through recognised empirical methods.
I'll never forget when Kenny was sacked, I came home after a painful day in the office and as I made dinner I checked Sky Sports to see what was going on. The news Kenny had been sacked was the top story and whilst the news was no real surprise, I couldn't help but feel the gut wrenching realisation that 'our Kenny' had gone.
I was actually in favour of Dalglish going, having hoped he'd maybe step down; for me the players he'd bought, on the whole, had been somewhat of a disaster, and the model of play he was trying to replicate was a system all too easy to unpick in the modern game. At times we played some phenomenal attacking football, and other times it looked as if tactically we had no idea what to do. I still think about those deep routed lines of defence and shake my head in despair as to why.
The ongoing conflict with the media wasn't helpful either; today we've got the opposite in Brendan who can talk for an age about such things as false 9's and low, mid and high pressing (God knows what it means, but it sounds good) and like it or not, that's what the modern media and modern fan wants to hear. Kenny didn't get that and you can tell he suffered a great deal because of his frosty relationship with the press. Press conferences had become an event whereby most fans would be waiting for the inevitable come back, or the shake of the head and an angry response.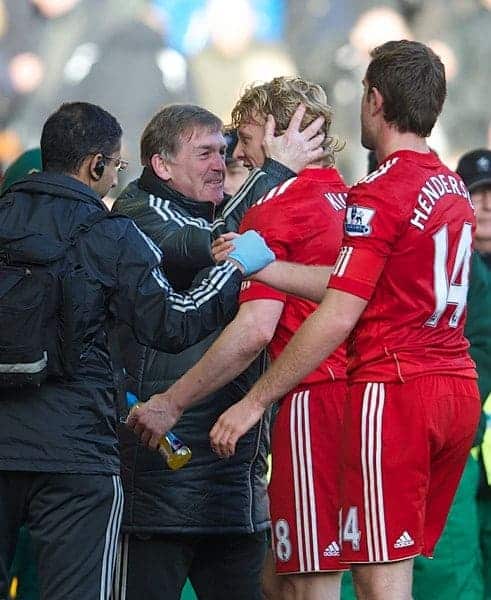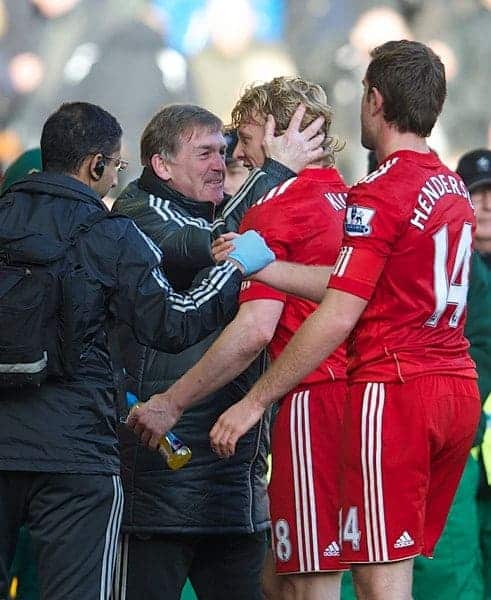 I still stand by that opinion and I'm happy to debate it. People are entitled to their views and I'm fortunate and privileged to be able to share mine on a site with a truly global audience. That doesn't mean I don't appreciate Dalglish and what he's done for the club, but at times you have to be objective and for me it was right for him to go when he did. The real issue I had personally, is the way in which it happened, a way that in my view wasn't befitting of someone who gave his heart and soul for the club.
Yet despite being on the side that Kenny should go, something happened that evening after the news had sank in. I realised that at Liverpool, at least on a senior management level, there was a vacuum of footballing knowhow and general knowledge of the true Liverpool way.
I have always admired clubs who treat their legends well and who use them wisely. United, Bayern Munich and Ajax to name some of the more recognisable clubs, have all understood they need key people at a senior level; opening shops and posing for pictures is fine, but these men all offer more than that. These men offer passion as well as status on the prestigious stage of world football, they've inspired cities, and generations all over the world, their legacy lives on and their legends haven't faded over time.
Likewise with Dalgish, personally speaking, he's important to me for a number of reasons. Being Scottish I'm proud of the long line of footballing greats that have gone on to achieve great things. Law, Gemmel, Shankly, Dalglish, Hansen, White and the Saint to name just a few; growing up it was a sense of pride that Scotland had produced these greats and it inspired hope that maybe once again our small corner of the world could do the same once more.
But it's what he did at Liverpool that made him stand out. Being a 'red' from a young age I remember seeing this magician on the ball who seemed to know what he was doing at least three seconds ahead of anyone else. It's thanks to his ability that I've came to love Liverpool and the type of player he was had lead me to appreciate the true technical styles of play in models such as total football, or Tika Taka. Whilst, strictly speaking, Kenny never played in any of these systems, he played in an era where Liverpool had revolutionised the way football was played at home.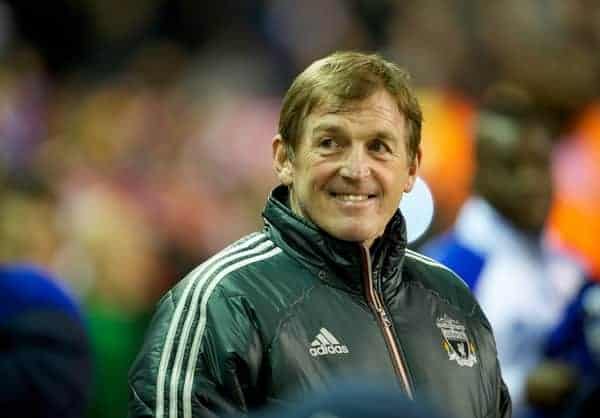 'Pass and Move' is the term we've all come to know and love at Liverpool and really, whilst it wasn't quite that simple, it sums up all you need to know about how Liverpool dominated English and European football for almost twenty five years. Those teams which Shankly, Paisley, Fagan and Dalglish shaped and moulded were fitter, tactically smarter and had a perfect balance of workhorse grit and magical footballing ability that achieved remarkable things.
That reason alone is enough to justify why this great man has returned to the boardroom. He's also given his life, and at one stage his health, for the club during the aftermath of the Hillsborough disaster. The courage and bravery he showed not only to guide the club in a difficult time, but to support the families throughout that painful process is something Kenny has still never received full recognition for other than within the Liverpool community, the survivors of that painful day and the family members of the 96.
As always with football, it's hard to see the wood from the tree's when it comes to being objective. But as emotional it is for all of us following Liverpool, there's also got to be a sense of reason to such an appointment in such a crucial time for the club.
Emotion isn't enough to justify a senior role; there must be a reason with a pre-defined objective in mind. Success comes and goes, we all know that and the glory days never last forever, yet if Liverpool fails to now progress both on the pitch and off it, then we risk falling into a sort of mediocrity that will make it even harder to progress in the long term, and the prospect of a golden sky falls back into the distance, ever harder to reach once more.
You can't underestimate the importance of a great management structure in any successful institution or company. The way modern football works, clubs are in the unusual situation of being both institution adored by millions as well as a business which must be successful in order to keep up the pace with our rivals home and abroad.
Dalglish has been appointed as a non-executive director which is a common role in many of the most successful businesses in the world. Their role is largely one of advice, used as mainly sounding boards for the operational directors who run the business from day to day. They don't participate in executive meetings, but they participate heavily in the boardroom and are able to help make decisions which affect both the overall strategy and the goals which are set in the long and short term. They are usually freely available to call and to meet whenever you need them and they are often the ones who can offer a fresh perspective on what could be better in the way in which you operate on the whole.
Practically, Kenny is a great fit for such a role, mainly because he 'gets' the club and the fans, he 'gets' what it means to pull on that shirt and he's still widely regarded in footballing circles as one of the greatest players of his generation. He's also largely idolised by both old and new generations of fans much like Shankly was, because of what what he did for Liverpool and part of the reason it became such a great club in the first place.
Why does that matter? Well you'll remember at the time when Benitez was sacked and the split that divided the fans; that split has never truly healed and if anything when Kenny was sacked the gulf in both the crowd at Anfield grew wider and due to the increasing globalisation of the Premier League, the split grew wider than just from the crowds walking down Anfield Road. Even today the arguments about Benitez go on and on, likewise with Kenny and many of my friends I used to go to the matches with have very strong opinions on both sides of the camp. There's no real middle ground anymore and it's been a problem for the club ever since.
It's not just the ebb and flow of managerial appointments that's caused the split either; we all remember the dark days of Hicks and Gillett and since then the mistrust of the board.
Fans are still unsure of FSG, whilst others are maybe optimistic and hopeful, if not really truly satisfied (I'd class myself in this camp), some now have a full blown love in with our Boston based owners. Fans will and always have been divided when it comes to boardrooms; that's a healthy tension to have at times, you always need to make sure they know that they are accountable to you the fans, whilst only the temporary guardians of something we all love with a passion that is rarely matched in life.
Those tensions, the split in the fansbase and the mistrust of the board is something I hope that at least Kenny can maybe help to begin to heal; with the atmosphere at Anfield nothing on par to what it used to be, even as recent as four or five years ago, there's a lot of work to be done and in many ways Kenny can act as a unifying figure who can help to facilitate an urgently needed reconciliation between the board and the terraces. Maybe Kenny can act as a way for some disengaged fans to buy into the project, maybe he can also help give advice and address some of the issues some of the rest of us have with the current make-up of the board.
For me, Dalglish is someone we can all rally around and you know whilst he's there, the King himself, he'll be a voice which recognises the importance of the fans both home and abroad. He's also there for the manager and can maybe offer a word of advice as and when the boss requires. Being the Liverpool manager is an incredibly difficult job for anyone, but Rodgers can know speak to someone who's been there, seen it, done it and suffered for it.
Kenny knows more than anyone what the fans expect, he knows what it is the club needs to be successful and he also knows how to take the fans on an adventure. As much as I would have loved to be in the Champions League, I couldn't help get swept up by the adventure of two domestic finals and the emotional roller coaster that was inspired by the King.
As ever, this is my opinion and I appreciate you all have a different view, but I believe in order to move forward, we need someone to help FSG signpost the way whilst we're on that journey. That someone has arrived in Kenny Dalglish, finally we're able to welcome the King back home.