Liverpool chairman Tom Werner has spoke of the summer's Luis Suarez transfer saga, and says the club are committed to keeping the Uruguayan at Anfield.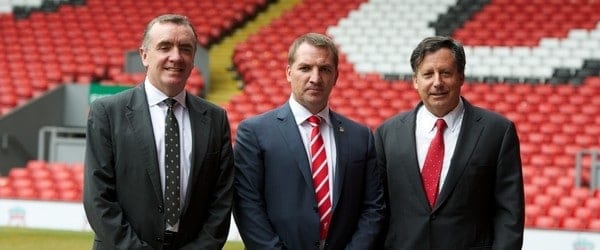 Suarez was embroiled in a long-running battle over the summer months in which he declared he wanted to leave Anfield. However, he was denied an exit and has since returned to his world class best following the end of a suspension.
Werner was speaking to The Mirror's Oliver Holt in Boston, on the third anniversary of FSG's purchase of the club. Werner gave credit to Reds boss Brendan Rodgers for reiterating to Suarez Liverpool's need for him to stay.
"I give Brendan Rodgers an enormous amount of credit for making sure Luis knew how needed he was at Liverpool" said Werner.
"Brendan made it plain to him how much he was going to be embraced by the fans, and the supporters have been terrific."
"It was important for us to try to keep him. He is one of the great players of the world and we felt that we would be a stronger club with him than without him.
"That does not mean I don't respect his intense desire to play in the Champions League. But it would be a very happy day next May if and when we get to the Champions League by finishing in the top four and he is part of it.
"It is our intention to keep him for a while. Our intention is to build a winning club and he is integral to that. The past is the past and I have great affection for him personally."
In an interview with many positive points, including Werner discussing openly the Financial Fair Play rules which are slowly beginning to be enforced in world football, the American spoke of his confidence in Rodgers:
"I think Brendan has made remarkable progress. He's a great strategist and has shown strong leadership. When we hired him, we were confident we were getting one of the brightest managerial talents in the game and he is proving his worth.
"He's dedicated to improving the club as a whole and shares our vision of developing a club that is built for sustained success.
"Brendan is respected by the players. They feel he is a good strategist and a good leader and his philosophy has been embraced by everyone.
"We are all moving in the same direction and Brendan is very much the leader.
"We're pleased with the progress we're seeing on the pitch but our goal is to create sustainable, long-term success at Liverpool and to consistently compete for silverware, so we're not getting carried away with a few good months.
"The club is definitely moving in the right direction under Brendan and as owners we're very optimistic and excited about the future."
Read the full interview in today's Mirror and online here.