Former French World Cup winner Zinedine Zidane has dismissed comments released this week by ex-Manchester United boss Alex Ferguson this week that Steven Gerrard has never been "a top, top player."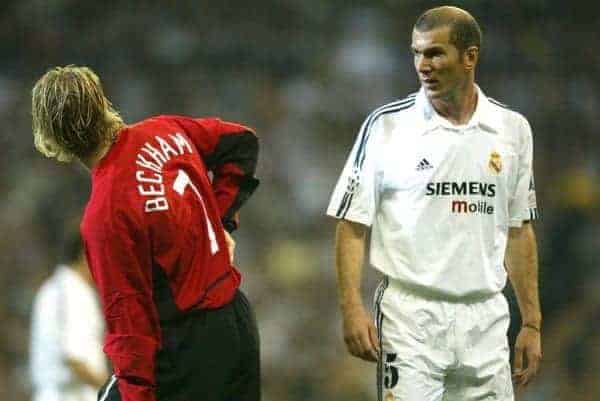 The 41-year-old, who played a colourful career at the likes of Juventus and Real Madrid, described 71-year-old Ferguson's comments as "strange", insisting Steven Gerrard is one of the world's best players of his generation.
Zidane is quoted in several of the Sunday papers, including the Mirror as saying, "For two or three years, Steven Gerrard was the best midfield player in the world. Even now he is playing at a high level for ­Liverpool and England."
"Gerrard has been loyal to Liverpool throughout his career – which is great for them – but if he had wanted to leave four or five years ago then every top club in Europe would have tried to sign him.
"And they would have probably had to break the transfer record to do it.
"Alex Ferguson is obviously one of the most successful coaches the game has ever had. But I did find his comments about Steven Gerrard very strange. To say he is not a top player is wrong."
Gerrard's roll of honour during his career at Liverpool so far includes all major trophies except for the league title, having made 641 appearances for the club, scoring 161 goals.
Former teammate and now Sky Sports pundit Jamie Carragher said he was "flabbergasted" by Ferguson's "wrong" comments in his book.
Writing in his column in the Daily Mail, Carragher retorted to Ferguson's book, saying, "Gerrard won a Champions League final almost single-handedly in 2005. I didn't see anyone do that for Ferguson on the two occasions Manchester United won it, 1999 and 2008.
"Ferguson's opinion is authoritative but I'd love to know who he does class as a 'top, top player'; he says Stevie never got a kick against Roy Keane and Paul Scholes, but I don't remember that to be the case. What I do remember is Stevie scoring big goals against United —like the League Cup final in 2003 — and setting up winning goals for Danny Murphy at Old Trafford. I remember Stevie's energy, desire and talent rattling United when we played them.
"Look at it the other way. Put Keane or Scholes in a Liverpool shirt and let them play against Stevie with the other alongside him. I would have been surprised if they could have done more on their own than Stevie. Keane and Scholes had the advantage of being surrounded by more great players."
Gerrard celebrated scoring his 100th Premier League goal for the Reds last weekend, before helping Luis Suarez and Daniel Sturridge bag the goals in Liverpool's 4-1 rout of West Brom on Saturday.