Brendan Rodgers was understandably delighted with his team's performance to cruise to a 5-0 victory over Tottenham at White Hart Lane on Sunday.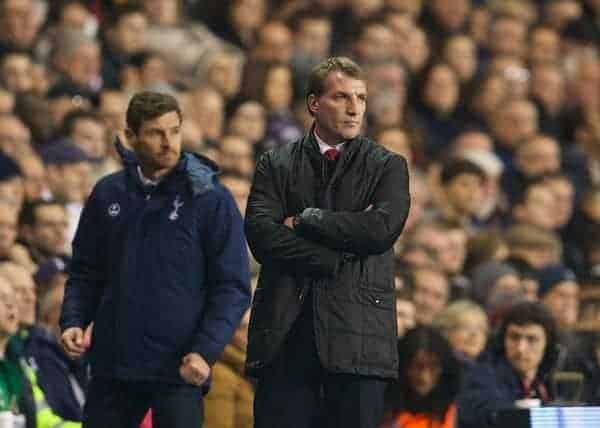 Goals from Luis Suarez (2), Jordan Henderson, Jon Flanagan and Raheem Sterling sunk Spurs in their own back yard to move Liverpool up to second in the Premier League.
The Reds could even be top at Christmas should they beat Cardiff City at Anfield next Saturday and Arsenal fail to beat Chelsea at home two days later.
It was, as Rodgers put it, the "complete performance" — and one worthy of any side challenging for the Champions League places, and possibly more.
"It was probably the most complete performance, to come here and get a victory like that," he told the media at his post-match press conference, with quotes picked up by the club's official website.
"I loved our arrogance today. The arrogance with the ball was very good – lots of angles, lots of people moving and interchanging positions. We looked a real threat whilst retaining that solidity in defensive shapes. It was very good.
"The model of our game today was outstanding. We were like animals without the ball, how we pressed, and our hunger for the football was great. Once we got it, the use of the ball was outstanding. It was a complete performance and a big victory for us.
"In football, it is very hard to sustain that level. We have had a lot of first-half performances that have been exceptional and sometimes it just tailed off in the second half, which is natural in the game.
"We knew today we had to retain our focus; Tottenham have an outstanding squad here, with a lot of talented players. If you lose your concentration, you can concede.
"Our concentration was good defensively – we had good shape to our team, the organisation was very good from the players when they pressed.
"What really pleased me was when they went to 10 men, how tactically we opened up the pitch with the ball but also pressed even harder to get the ball back.
"We work on overloads in training when you have the man advantage, and I thought we saw that through very well. We scored five and maybe could have had seven or eight."
Liverpool return to Merseyside now to concentrate on next weekend's game against Premier League newcomers Cardiff.
They must also face Manchester City (December 26) and Chelsea (December 29) away before the year is out, before a New Years' Day game at home to Hull City.
Liverpool fans were also revelling in Sunday's victory in North London. See a round-up of the best reactions on Twitter here.