Steven Speed, author of the Liverpool book 'Ex-Reds Remembered', recalls the enigmatic Czech forward who won the European Cup in Istanbul.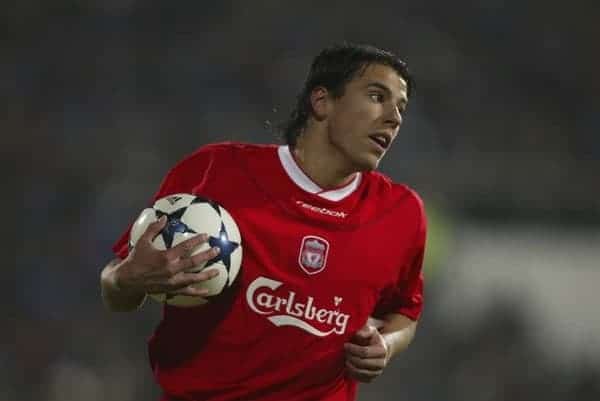 Milan Baros was always a source of frustration to me during his time at Liverpool. He showed flashes of absolute brilliance but would then go through periods of looking absolutely hopeless. My main complaint was the way he would run with the ball and not look up for a team mate to pass to. There is no doubt that he had plenty of talent, he just didn't do the business often enough for The Reds.
Baros was born in October 1981, in Czechoslovakia. He spent five years as a youth team player with Czech side Banik Ostrava. He made his first team debut in 1998 and over the next few years he gained a strong reputation as one of the hottest young talents in Czech football. He was also a regular in the Czech Republic international youth sides.
He was spotted by the Liverpool European scout Alex Miller playing in a youth tournament with the Czech Republic and Liverpool monitored his progress over the next couple of years. In December 2001, Liverpool made their move and Baros joined the club just before Christmas. His debut came in a huge occasion in March 2002 at the Nou Camp in a Champions League game against Barcelona. This was his only appearance during the 2001/02 season.
A Great Start
Baros made his Premier League debut in September 2002 against Bolton Wanderers. The game couldn't have gone much better for him, as he scored twice in a 3-2 win. He was an instant hit with Reds fans as he showed so much energy and enthusiasm and was always involved in the action in the attack. He went on to play forty games in all competitions that season and scored twelve goals. He also won his first medal as a Liverpool player when he came off the bench in the Carling Cup final victory over Man Utd.
A promising first season with Liverpool led to great expectations for Baros at the start of the 2003/04 season. Sadly disaster struck in September when he broke his ankle against Blackburn Rovers. He was out injured for the next 6 months and even when he was fit again, Reds manager Gerard Houllier didn't seem to want to know him and he barely got a sniff of first team action for the rest of the season. Baros has since been quoted as saying he wanted to leave the club at the time as his confidence had been wrecked by Houllier dropping him.
European Success
Baros confidence was soon back though as he was raring to go when he was involved in Euro 2004 with the Czech Republic. He scored five goals during the tournament and won the golden boot.
After his summer exploits at the Euro's, I was extremely excited for his return to Anfield and was expecting goals galore from him. Michael Owen and Emile Heskey had been sold and Baros was now our main striker alongside new signing Djibril Cisse. I wasn't disappointed as he started the season in fine form, scoring eleven goals in the first four months. He also played a vital part during the group stages of the Champions League. He scored a fantastic goal against Monaco and the winner away to Deportivo. When Cisse broke his leg at Blackburn in October, Baros became our main striker, particularly in the Champions League. In November he scored his first hat-trick for The Reds against Crystal Palace.
Despite his performances in the first half of the season, Baros fell out of favour slightly during the domestic campaign when Fernando Morientes was signed from Real Madrid in January 2005. He was surprisingly dropped to the bench for the Carling Cup final defeat to Chelsea.
He remained the lone striker for the entire Champions League run however, as Morientes was unable to play in the competition and Cisse didn't return to fitness until near the end of the season. Baros scored his only goal during the knockout stages during the second leg win away to Bayer Leverkusen.
He missed a one on one chance in the away leg against Juventus and sadly this was a part of his game that had really come to the fore around that time. I often got really angry and was heard several times shouting "headless chicken" at him as he would go on runs with the ball that went absolutely nowhere, often to the corner flag.
He had a very memorable experience in the Merseyside derby in March 2005. Sadly it was memorable for the wrong reasons. At one point in the game he was put through with almost the entire Everton half to himself, all he had to do was put the ball past the keeper but after running with the ball he proceeded to completely mess it up and his tame shot was easily saved. Later in the game he was sent off and left the field to a chorus of boos. What made his sending off even more frustrating was that near the end of the game we had used all of our subs and Didi Hamman and Luis Garcia were both playing through injuries. So effectively we were potentially down to 8 fit players, fortunately we still won.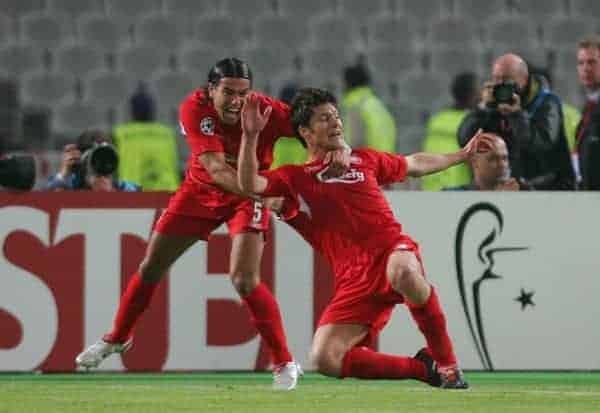 Baros started the Champions League final in Istanbul. He didn't score in the game but played his part in one of the greatest nights in Liverpool's history. He was replaced by Cisse in the 85th minute so didn't get the chance to take a penalty in the shoot-out. Possibly his biggest contribution to the entire Istanbul experience was when he dropped the trophy during the celebrations, leaving a dent in it.
New Horizons
During the summer of 2005, Baros was strongly linked with a move away from Anfield, this looked even more likely when Peter Crouch was signed. According to the newspapers at the time, he was aggressively pursued by two clubs in the Champions League, Lyon and Shalke.
Further fuel was thrown onto the fire when Rafa Benitez left him out of the side for the Champions League qualifiers. Baros said publicly that he intended to stay on Merseyside and fight for his place, but at the end of August, he joined Aston Villa.
His time at Villa Park couldn't have started any better as he scored after just ten minutes of his debut against Blackburn. He went on to score twelve goals during the 2005/06 season but wasn't popular with the supporters who criticized his apparent lack of effort during matches.
The following season was a complete disaster for Baros and he soon lost his place in the side. He was challenged to prove himself by the manager Martin O'Neill, but after scoring just two goals in the season, he was sold to Lyon in January 2007.
It was a surprise that he joined Lyon as they were managed by Gerard Houllier and they had fallen out during Houllier's final season at Liverpool. Whatever their problems were on Merseyside seemed to be behind them as Baros was a regular in the side for his first few months in France. However in April 2007 he was suspended for the rest of the season for making an alleged racist gesture towards Stephane Mbia of Rennes.
Houllier left the club at the end of the season and Baros found himself out of favour with the new manager, Alain Perrin. His situation wasn't helped when he got some bad press after being arrested for going 271 km/h in his Ferrari.
In January 2008, he went on loan to Portsmouth. He played an important role in the run up to the FA Cup final when he won a penalty in the quarter final and set up the winner for Kanu in the semi-final. He won an FA Cup winners medal, when he came off the bench in the final victory over Cardiff City. Despite playing his part in the FA Cup run, Baros wasn't signed permanently at the end of the season and he failed to score a single goal for the club in his five months there.
He played for the Czech Republic during Euro 2008, where he was involved in a famous incident. He was booked for going wild on the touchline during the crazy finish to the match against Turkey. What made this booking so strange was that Baros was an unused substitute during the game.
Turkish Delight
In the summer of 2008, Baros signed for Galatasaray, where was joined by former Liverpool team mate Harry Kewell. He was a massive success during his first season in Turkey and was the league's top scorer with twenty goals as Galatasaray became the league champions. He finished the season with twenty six goals in forty three appearances in all competitions, the most goals he has ever scored in a single season.
In April 2009, Baros, along with five other players, was banned for life by the Czech FA from playing for the national team. This was after they went out on an all-night drinking session after a World Cup qualifying defeat to Slovakia. The coach was then replaced and Baros was recalled to the national team and scored on his comeback against Belgium in August 2009. He retired from international football after playing at Euro 2012.
Baros missed five months of the 2009/10 season after breaking his foot. He later scored two goals against Liverpool during a pre-season friendly in July 2011, which Galatasaray won 3-0. During 2012/13 he lost his place in the team and in February 2013 it was announced that he had left the club by mutual consent after not playing a single game during the season.
He then rejoined Banik Ostrava where he had started his career. He scored his first hat-trick in Czech football in March 2013. At the end of the season he moved back to Turkey and joined Antalyaspor on a one year contract.
Disappointing
Despite showing glimpses of promise at times during his three seasons at Liverpool, Milan Baros has to be ultimately seen as a disappointment. He scored twenty seven goals in sixty eight appearances for the club, this is not a horrendous statistic, but I believe he was capable of more. His tendency to keep his head down and not look up often cost him from scoring good chances too many times, in my opinion.
Regardless of any of this however, Baros will always be known as a Champions League winner and he certainly played a really important part on the Road to Istanbul. For this alone he will always be welcomed back to Anfield.
[table id=34 /]