Joseph Copeland on the immense talent of Luis Suarez and where his sizzling form leaves Liverpool.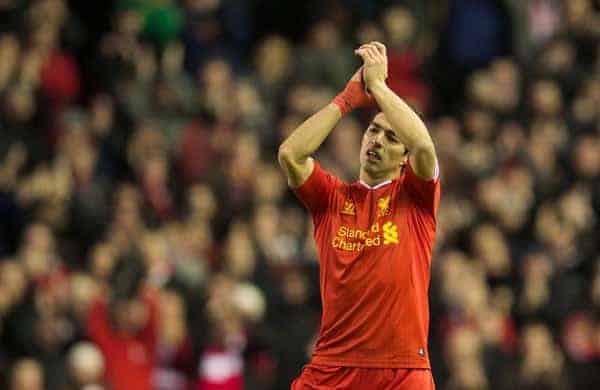 The Liverpool gravy train was beginning to wobble. First, the revelation that has been Daniel Sturridge was sidelined for up to two months with an ankle injury.
That was swiftly followed by an anaemic performance that saw the Reds fall 3-1 to Hull City.  Things were beginning to look far too familiar to Liverpool fans and manager Brendan Rodgers.
The Premier League schedule might've given a gift to Liverpool by having them host a hapless Norwich City side a mere three days after the dreadful Hull result.  The team had no time to sit around and mope; they were forced to move on quickly.
With the absence of Sturridge there were questions as to whether or not Luis Suarez could lead the line alone yet again (How misguided they look now). What was to follow from the Uruguayan on Wednesday night is beyond description.
I'll try anyway; Brilliant. Superb. Mesmerising. Scintillating. Breathtaking.  Astounding.  Dazzling. Irresistible
To quote a favourite movie of mine, "Nights like these are far too rare to cheapen with heavy handed words."
Suarez got things started with an audacious 40 yard dipper that overtook an out-of-place John Ruddy that sent the Anfield crowd into delirious rapture.
His second, not quite as mind blowing, was a poacher's goal if there ever was one. Suarez pounced on a Gerrard flick on from a Philippe Coutinho corner to smash it into the top corner.
His third goal displayed the entire repertoire at the disposal of Liverpool's No. 7. He controlled a high bouncing ball, only to weave past one defender, and flick the ball over and around another to tee himself up for an assured volley at the far post.
It was his third career hat-trick versus Norwich City since joining Liverpool. (If only we could see the Canaries 38 times a year eh?) The fourth and final goal, was terrific was well. Suarez curled a 25-yard free kick up and over the Canaries wall to beat Ruddy at the near post.
This was a performance that will be talked about decades from now.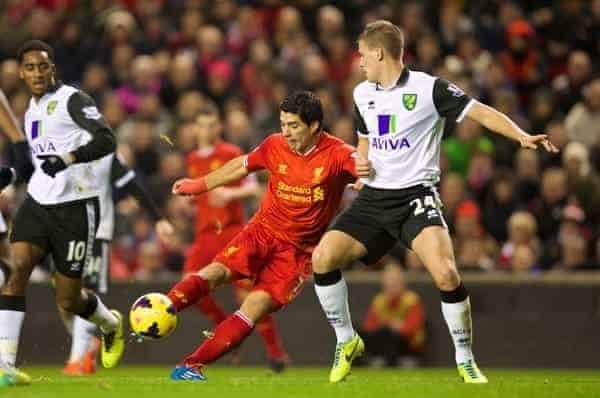 Since he came to Merseyside, Suarez has made it a habit of putting the team on his back and single handedly dragging them to the finish line with his undeniable heart and desire, and his nigh unmatchable skills.
Whenever the Reds need a crucial goal, Suarez is always there to either provide the finishing touch or set-up one of his eager teammates. What's even more remarkable about Suarez is how quickly he has learned to love Liverpool, and vice versa.
Granted, 51 goals in 84 league games will make any transition a lot easier. Reading quotes following the game; it is clear the beloved Uruguayan has settled at Anfield and has only one focus going forward.
"I think we can achieve what we set out to do," he told Marca. "My aim is just to help make the team better. My job is just to score the goals that mean we keep winning games and get as high in the table as possible. I am happy to be in the Premier League, the best league there is. I don't know about challenging for the title, but we want to be as high up in the table as possible and do as well as we can. I think we can achieve our target."
He also told the club's official website, "It was most important we won. I helped the team and I am so happy. It is good for me but for the club it is important for confidence for the next game. It is very important because we lost the last game and played very badly. We know when you play at home you have to be strong."
That must be music to the ears of everyone associated with Liverpool Football Club. We've seen what a fully focused and determined Suarez can do; now the key will be to maintaining this momentum.
The loss of Sturridge will be a blow going forward, the England International was in fine form before being sidelined, but without any European football to wear the squad thin, this could be a chance for Suarez to continue to flourish week-in and week-out. Suarez is quickly reaching legendary status at Anfield.
This is a club that has seen a remarkable lineage of strikers from Dalglish, Rush, Fowler to Torres to name just a few.  However, Suarez seems to be on a different planet right now.
One that is inhabited by only Lionel Messi, Cristiano Ronaldo and himself. It is questionable that Liverpool has the best team in the Premier League, but there is absolutely no doubt that they boast the League's best player.
Going forward, I do not expect this incredible run of form to slow for Suarez. At 26, he is still improving and hasn't even reached the peak of his powers yet, which is a scary thought for defenders across the globe.
He has the work ethic, dogged determination and sublime ability to shoulder the load until Danny can return.  So whenever things look darkest, turn to Luis Suarez and watch him paint a masterpiece.