Tributes have poured in from Liverpool and football fans for the late former South African president Nelson Manela, who died on Thursday, aged 95.

Freedom campaigner Mr Mandela spent 27 years in prison before leading South Africa's during transition from white-minority rule in the 1990s.
Mr Mandela had been suffering from a long-term lung infection.
"What made Nelson Mandela great was precisely what made him human. We saw in him what we seek in ourselves," President Jacob Zuma is quoted by the BBC as saying.
"Fellow South Africans, Nelson Mandela brought us together and it is together that we will bid him farewell."
Mr Mandela met Liverpool players at a United Bank Soccer Festival friendly match at Ellis Park Stadium in May 1994.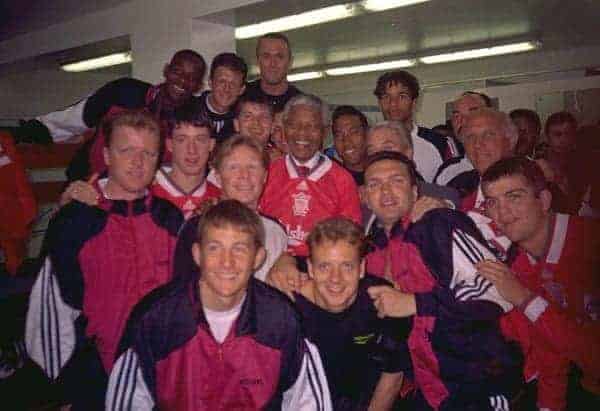 You'll Never Walk Alone
RIP Nelson Mandela. YNWA. pic.twitter.com/0F4MEfTPL2

— This Is Anfield (@thisisanfield) December 5, 2013
Sad news tonight that Nelson Mandela has passed away. He was awarded the Freedom of Liverpool in 1994 for his anti-apartheid work.

— Liverpool Council (@lpoolcouncil) December 5, 2013
This sums up the man #NelsonMandela pic.twitter.com/I99EeaN6Pt

— Paul LFC Foreman (@redsmicer) December 5, 2013
The greatest man on the planet has died. RIP Nelson Mandela

— Gary Lineker (@GaryLineker) December 5, 2013
Truly gutted that Mandela has died. One of my childhood heroes and in his fight for freedom was more than heroic – world has lost an icon.

— Ritchie (@JohnRitchie84) December 5, 2013
Imagine spending 27 years in prison just to change things for the better? To stand against prejudice? A truly incredible man. #Mandela.

— Simon Steers (@sisteers) December 5, 2013
RIP Nelson Mandela. Unforgettable moment of 2010 World Cup final: http://t.co/jkZEEL8XRn via @youtube

— Henry Winter (@henrywinter) December 5, 2013
I'll never forget listening with my Dad on the day Nelson Mandela was released from prison after 27 years.

— Ben Smith (@BenSmithBBC) December 5, 2013
World has lost a good egg tonight… #RIPMandela

— Joseph Barton (@Joey7Barton) December 5, 2013
Rest in Peace Nelson Mandela #YNWA pic.twitter.com/99NpBCTE0T

— LFC Australia & NZ (@LFCANZ) December 5, 2013
Great contribution to humanity and a man who represented genius, personal integrity, and peerless instinct for survival and triumph #Madiba

— Steve (@SteveMcVeigh123) December 5, 2013
Never met a better person in my life than Nelson Mandela. My sympathy to his family & his country.

— Samuel L. Jackson (@SamuelLJackson) December 5, 2013
"Death is something inevitable.When a man has done what he considers to be his duty to his people&his country,he can rest in peace" #Madiba

— NelsonMandela (@NelsonMandela) December 5, 2013
#RIPNelsonMandela…a Hero in every sense of the word. pic.twitter.com/ryuWhd8glI

— Lloyd Barker (@lloydbarker11) December 5, 2013
Very honoured to have been lucky enough to shake a true, true legends hand #inspirational #legacy pic.twitter.com/sAOc4F3Aum

— Rob Jones (@robertmarcjones) December 5, 2013
The amount of tributes I'm seeing typifies what a great man Mandela was

— Annie Road (@ThoseScouseLads) December 5, 2013
City staff and players had the honour of meeting with Nelson Mandela and his family and his greatness will never be forgotten

— Manchester City FC (@MCFC) December 5, 2013
"We must use time wisely and forever remember that the time is always ripe to do right." Nelson Mandela.

— Jake Humphrey (@mrjakehumphrey) December 5, 2013
Mandela was giant in our living history because he was a revolutionary. Those who seek to lead us but err on the conservative side take note

— Peter F (@PFurmo) December 5, 2013
We know Nelson Mandela was pictured in a Liverpool shirt but forgive me for thinking this is the most iconic image. pic.twitter.com/uIHSfPjxpZ

— ?Kirsty? (@LFCKirstyLFC) December 5, 2013
Thoughts and prayers with friends in South Africa tonight. RIP Nelson Mandela. A man of remarkable courage and dignity.

— James Pearce (@JamesPearceEcho) December 5, 2013