Liverpool have been drawn to play either Mansfield Town or Oldham Athletic in the 3rd round of the FA Cup.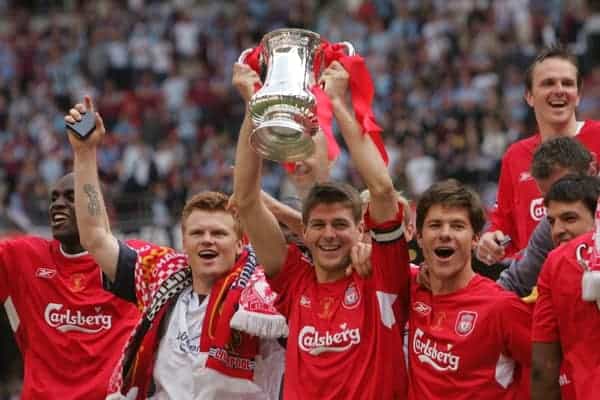 Mansfield host Oldham in the FA Cup 2nd Round Replay on Wednesday, December 18th at Field Mill. The winner wins a lucrative tie at home to Liverpool.
The sides drew 1-1 at Boundary Park yesterday.
History is repeating itself, with Liverpool having faced both sides in last season's FA Cup – narrowly defeating Mansfield 2-1 in the third round, before an embarrassing defeat to Oldham in the fourth round.
The game will be played at Anfield on the weekend of the 4/5 January 2014, with television scheduling yet to be decided.
As Everton were drawn at home to QPR, Liverpool or the Blues will see their game moved due to local policing and transport logistics.
Liverpool last won the competition at Cardiff's Millennium Stadium in 2006, defeating West Ham on penalties in the final.
Other highlights of the third round draw include a North London derby between Arsenal and Tottenham, Blackburn host Manchester City, Newcastle vs Cardiff and Manchester United vs Swansea City.
The full draw for the 3rd Round of the FA Cup is as follows:
Bournemouth v Fleetwood or Burton
Derby v Chelsea
Ipswich v Preston
Grimsby v Huddersfield
Birmingham v Bristol Rovers or Crawley
Arsenal v Tottenham
Brighton v Reading
Everton v QPR
Blackburn v Manchester City
Bolton v Blackpool
Sunderland v Carlisle
Macclesfield v Sheffield Wednesday
Aston Villa v Sheffield United
Norwich v Fulham
Port Vale v Plymouth
Manchester United v Swansea
Charlton v Wrexham or Oxford
Wigan v MK Dons
Rochdale v Leeds
Newcastle v Cardiff
Southampton v Burnley
Stoke v Leicester
Doncaster v Stevenage
Kidderminster v Peterborough
West Brom v Crystal Palace
Middlesbrough v Hull
Southend v Millwall
Bristol City v Watford
Nottingham Forest v West Ham
Liverpool v Oldham or Mansfield
Yeovil v Leyton Orient
Barnsley v Hartlepool or Coventry