Off the back of his latest personal rout of Norwich City at Anfield on Wednesday night, Luis Suarez has committed himself to Liverpool Football Club.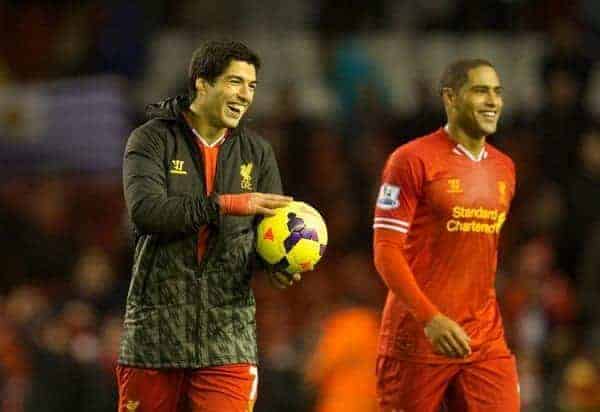 The Uruguayan international fired four goals past Norwich keeper John Ruddy in Liverpool's 5-1 win over the Canaries. It was his third hat-trick against Norwich in his last four games against them.[table id=20 /]After the game, Suarez spoke to reporters about his own career ambitions and that of the club, revealing he is now "happy" at Liverpool and wants to stay.
The 26-year-old told Marca with quotes being translated and picked up by the Guardian, "I think we can achieve what we set out to do. My aim is just to help make the team better. My job is just to score the goals that mean we keep winning games and get as high in the table as possible.
"I am happy to be in the Premier League, the best league there is. I am happy here and I will stay. I don't know about challenging for the title, but we want to be as high up in the table as possible and do as well as we can. I think we can achieve our target."
Happy to have you here, Luis.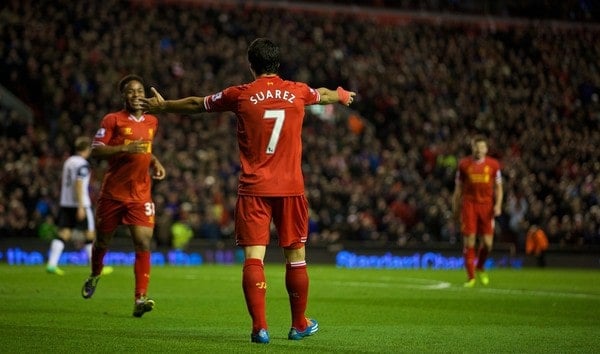 Brendan Rodgers was equally as enthusiastic about Suarez's performance against Norwich, which earned him a late standing ovation from the Anfield faithful.
"If you look at the world-class performers at the top of the game their numbers are just exceptional and that is the level he is at," Rodgers told the BBC.
"To miss the first four games of the season and to be on the number of goals he is now is a wonderful return.
"The football suits him here. We try to play a certain way that allows him the freedom to move and to create the spaces for him to exploit."