Martin Kelly has revealed that he is almost back to full fitness and ready to make a push into Liverpool's first-team.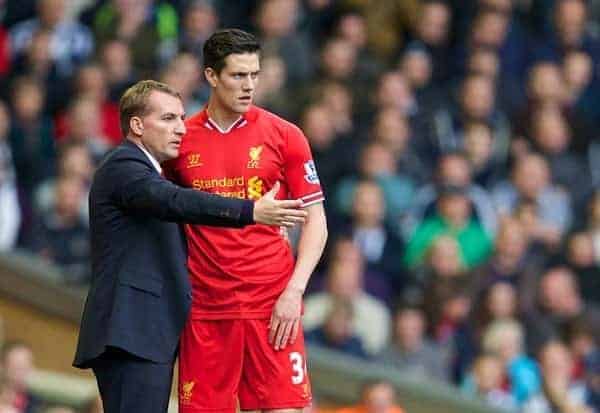 Kelly has made just two league appearances for the Reds since rupturing an anterior cruciate ligament during a league match against Manchester United in September 2012.
Now the 23-year-old defender feels he is regaining his sharpness after over a year in rehabilitation.
"It was a good chance for me to get some minutes," Kelly told the Liverpool Echo, after coming on as a second-half substitute against West Ham at the weekend for the final 12 minutes.
"I'm feeling a lot sharper. I've been doing some additional training over the past few weeks and I'm ready to push on.
"It has taken longer than I hoped to get back to this level but that's been brought on by us not being in the Europa League or having much of a run in the League Cup.
"It's been difficult to get game time as the manager has to pick his best XI to start every game
"I was just made up to get on against West Ham and now I need to keep progressing. I've been working hard and I feel a lot fitter than back in pre-season."
Kelly also played during the Liverpool Under 21s defeat at home to Bolton on Monday afternoon as he looks to increase his game time and fitness.
Asked whether the final part of his return from injury could have any psychological hurdles to jump, Kelly added, "I don't think there's been a mental barrier to get through as such, it's more about not feeling as sharp as I wanted.
"Ask anyone who has had a long-term injury and they'll tell you it's tough to get back to that level you were at before the injury.
"It takes time and it comes back slowly. Now I'm back nearly to peak fitness and I'm ready to go."
Since making his debut for the club in 2008/09 under Rafa Benitez, Kelly has made 57 appearances in all competitions for the club, scoring once, in a League Cup victory over Chelsea at Stamford Bridge in November 2011.