Liverpool managing director Ian Ayre is in Barcelona for talks with Luis Suarez's agent Pere Guardiola, according to Andy Hunter of the Guardian.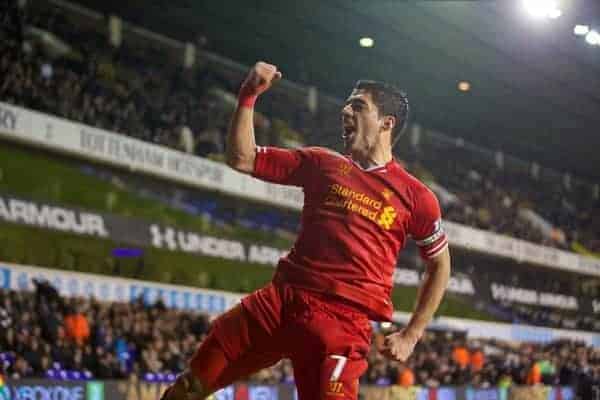 Hunter writes in Wednesday morning's newspaper:
The Anfield club's managing director, Ian Ayre, flew to Barcelona on Tuesday for preliminary negotiations with Pere Guardiola, the agent involved in the striker's dispute with Liverpool over the terms in his existing deal when Arsenal tried to sign him in the summer.
The stunning form of Suarez has urged the club to act quickly in trying to tie up the Uruguayan international into a new long-term deal.
Suarez still has two and a half years remaining on his current deal, and it is likely any new contract would include clauses to allow him to leave, should Liverpool fail to qualify for the Champions League.
In the summer, Suarez claimed Liverpool had gone back on a promise to allow him to leave Anfield should they not qualify for UEFA's elite competition—which they failed to do.
Both Arsenal and Real Madrid were said to be interested in signing the Liverpool forward.
Since Suarez's return from a 10-match ban for biting Chelsea's Branislav Invanovic in April, he has scored 17 goals in 11 starts for the Reds this season.
However, Hunter warns that Liverpool will have to put their money where their mouth is if they hope to sign the 26-year-old up to a new deal and fend off interest from Europe's top clubs. He adds:
There was no official contract offer put to Guardiola by Ayre. Their meeting was merely the start of what could prove a protracted process, with the brother of the Bayern Munich coach Pep Guardiola well aware of how highly Suárez's stock has risen this season. Real Madrid were interested in the 26-year-old in the summer but did not lodge an official bid, although they are expected to again be among Suárez's suitors at the end of this campaign.
Last night Suarez picked up the Football Supporters' Federation Player of the Year award at a ceremony at Arsenal's Emirate's Stadium.
On accepting the award, he thanked Liverpool fans for their support in welcoming him back this season, despite a bad year.
"After so many difficult moments for me I was able to win the supporters back," he was quoted by Sporting Life as saying. "And that was unbelievable when I came back to play.
"They helped me, and that was important for me, for my confidence, and for my family, because they are together with me in this.
"It's very special for me (the award) because my hard work on the pitch is recognised.
"Everybody knows about my problems and my difficult year, but after that I forgot everything and have been able to get back on the pitch."