Neil Collins hits back at the media's reaction to Luis Suarez winning a penalty for Liverpool against Aston Villa on Saturday.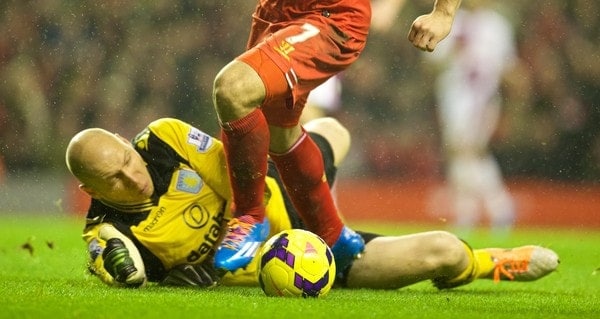 You could be forgiven for thinking everyone was talking about Tom Daley's Splash TV show considering the amount of attention given to an apparent dive.
Yet, the press has blown out of all proportion the manner in which Suárez won his penalty against Aston Villa. The majority of pundits felt the decision was correct, but that didn't make any difference. The fact it was open to such debate proved it wasn't an obvious dive; but that didn't matter either. There were papers to be sold, and his name sells like no other.
Following the final whistle, social media was awash with the subject. Twitter went into meltdown with many angry Kopites venting their spleen at Stan Collymore, who was adamant on talkSPORT that the Uruguayan had cheated.

@StanCollymore I don't really get your point. I totally agree with your disdain for diving. Just on this occasion I don't think it's a dive.

— Gary Lineker (@GaryLineker) January 19, 2014
In contrast, Gary Lineker, Alan Shearer and Danny Murphy all supported Suárez on Match of the Day. Critics will argue that their views were biased coming from two strikers and an ex-Liverpool midfielder, but even without my red-tinted glasses on I could see they were talking sense.
A player with Guzan's bulk should never be stampeding out of his goal on a wet pitch and throwing himself at a striker's feet. Plus, our No.7 was heading away from goal and was probably at too tight an angle to round the keeper anyway. There were a couple of Villa players dashing in to cover too.
Therefore, Jonathan Moss was correct in deeming the penalty a sufficient enough punishment not to dismiss Guzan. From the referee's perspective behind the play it looked like a stonewall penalty. He can only award what he sees, and doesn't have the benefit of viewing endless slow-motion replays in minute detail.
Yet, after reaching a general consensus in the studio, the producers at the Beeb still felt the need to run a viewers' poll to determine whether Suárez dived.
The Daily Mail were still banging on about it two days later; publishing a story with a panel asking Jamie Redknapp, Martin Keown, ex-referee Graham Poll and sports journalist Martin Samuel if it was a dive. All said no.
Collymore said yes, alongside Guzan who's response was always going to be obvious. In the interests of fairness, shouldn't they have been asking Suárez as well considering they got hold of the Villa keeper?
At Stoke, Sterling won a far softer pen, which arguably had a handball in the run-up to it as well. Other than Mark Hughes, there were few condemning the English winger. In fact, several pundits said how clever the 19-year-old had been in taking the ball out of Wilson's reach and inviting the tackle.
Suárez was no different on Saturday. His feet are unbelievably quick and Guzan was naïve to think he could swipe the ball away without taking him out.
This was hardly a repeat of Suárez's dive against Stoke last season though. Back then he was rightly castigated for his theatrics, but when he came out and admitted his dishonesty; it was used as yet another stick to beat him with by the press.
On Saturday Suárez ran full pelt onto Gerrard's superb raking ball and can't be blamed for losing his balance under the slightest contact whilst moving at such pace.
Neither did he purposely initiate contact with the goalie; as was practiced to a fine art by Henry, Pires and Ljungberg a few years ago. Yet, Wenger's 'Invincibles' were the darlings of the London-based media, so they were never brought to task.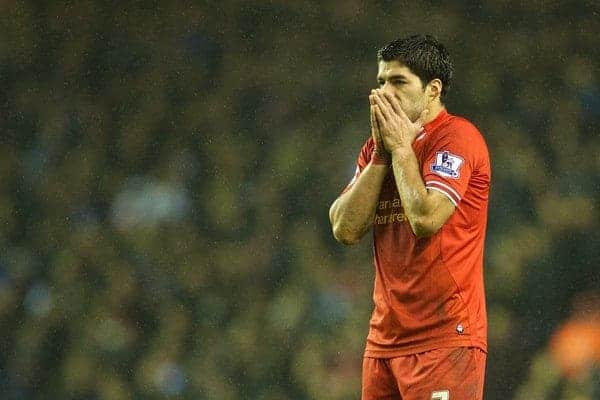 A player of Suárez's calibre is always going to attract plenty of fouls though. Not only has he won the most penalties in the Premier League, but he's also the most fouled player.
Yet, referees often turn a blind eye when he's kicked black and blue by opposition. Kevin Mirallas got away with just a booking for a ridiculous tackle, which could've broken his leg. And Samuel Eto'o blatantly chopped him down in the area for a certain penalty, and then had the nerve to hurl abuse for diving.
After the bite, the media (led by Sky) asked every man and his dog for an opinion; even getting a quote off the Prime Minister. Geoff Shreeves grilled both Dalgish and Rodgers immediately after the Evra and Ivanovic incidents, but did we see him doing the same when Mourinho practically called Suárez a cheat?
Rodgers and Moyes were both fined £8,000 for criticising referees recently (which at least demonstrated some uncharacteristic consistency from the FA). But is there any difference between criticising a player's professionalism and questioning a referee's integrity?
Furthermore, Villa's Leandro Bacuna fell to the floor clutching his face after a nudge in the side from Sturridge. Not a huge deal was made of this, but is trying to get an opponent sent off any different to trying to dupe the ref into awarding a pen? Can you imagine the repercussions if Suárez had done that?
Last January, ESPN issued an apology after commentator Jon Champion called Suárez a cheat live on-air following an accidental handball that led to the decisive goal against Mansfield. Therefore, surely Mourinho as a manager should have a greater punishment? But there was no apology, or an invite from the FA to explain his comments as requested of Rodgers following his comments about Lee Mason.
Also, would the media get their knickers in a twist over one of their favourite England internationals like Walcott, Lampard or Townsend going down a bit easy?
The only time the media (or the FA for that matter), outright condemns an England player is when the misdemeanour is absolutely obvious. I'm thinking of Kyle Walker taking a legal high, Ashley Young's latest 'Eddie the Eagle' impression, Rooney swearing down a camera lens and Ashley Cole's shooting of the work experience boy.
Anyone with the slightest skills in lip-reading knew what John Terry said in the incident with Anton Ferdinand, and yet the FA dealt half the punishment to the ex-England captain as opposed to the eight-game ban handed to Suárez for his spat with Evra, which lacked concrete evidence. Also, Suárez got two more games for the bite than for alleged racial abuse, so what sort of message are the FA sending out there?
Keep this next bit quiet in case any suit at Wembley realises, but they gave Wilshere a two-game suspension for flipping his middle finger, which was double what they gave to Suárez for the same crime. Do the words "piss-up" and "brewery" spring to mind?
Suárez has made the headlines for the all right reasons this season, but the media don't seem to like this calmer version, who's contributed 22 goals and five assists for his team; including several as captain.
It's no coincidence to me that this character assassination is happening as England prepare to face Uruguay in June. The press are now bored with his masterful displays and are literally gagging for him to mess up again.
This is just the latest in a long string of media hypocrisies surrounding Suárez though. Sky buried him for months, and even took the piss by playing the Jaws theme over his clips montage when he returned against Sunderland.
Yet, 90 minutes and two goals later, they had incredibly changed their tune with presenter Ed Chamberlin remarking 'how good it was to have him back,' and that it was now all about 'payback' – a strange choice of word suggesting Suárez was wronged; thus contradicting their original stance on him.
Payback will be on his mind when his nation takes on Roy Hodgson's men though, and he'll be relishing sweet revenge.
The new five-year contract isn't a guarantee that Suárez will stay in the summer, but at least he'll now go with our best wishes; as hard as it will be to accept. However, if he does decide to leave the media will have played no small part in making up his mind.