Luis Suarez and Daniel Sturridge are not only forming a deadly partnership, they're pushing each other and creating a friendly rivalry, writes Ryan McTernan.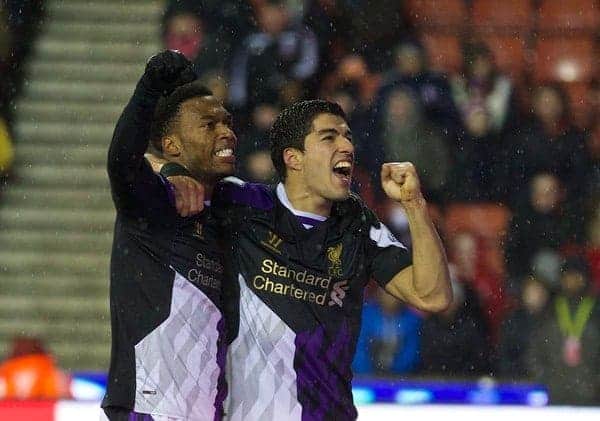 The January transfer window, on the whole, has been very good for Liverpool in recent years; Maxi Rodriguez, Daniel Agger, Alvaro Arbeloa, and Javier Macherano all signed for Liverpool in the first month of the year, and in hindsight, they were fantastic pieces of business.
Of course, Liverpool fans remember a certain Geordie trotting his way across the country for £35 million, but the less said about the calamity, the better. Liverpool on the whole, have done okay in the winter dealings.
Well, "okay" is an understatement.
A Brazilian, an Englishman and a Uruguayan walk into a bar. But up until that point, the Uruguayan couldn't stop hitting the bar. Either could the entire Liverpool team. In fact it wasn't just the bar; it was the two posts as well. There's actually no punch line here…
Anyway, the men in question are the exciting triad of Philippe Coutinho, Daniel Sturridge, and Luis Suarez. And thanks to the addition of the two aforementioned men, Liverpool's goal tally has sky-rocketed having netted 47 times in the 2011/2012 Premier League season, compared to 71 last season. This is a tremendous achievement by Brendan Rodgers' and his attack-minded approach, as he tapped into Suarez's finishing ability, and brought in two quality attackers at the midpoint of the campaign.
Each man possesses talent of undoubted quality, all of which compliments one another in the various combinations they may be deployed in.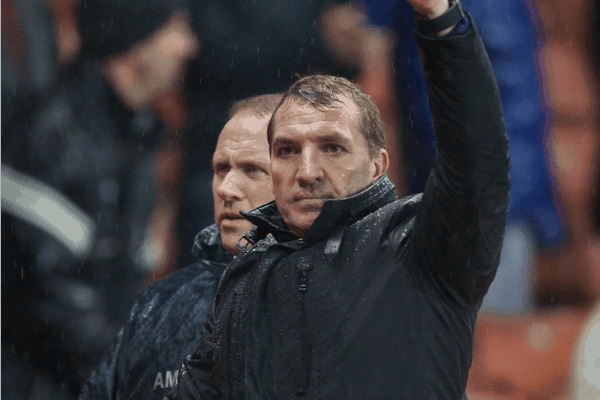 We have seen Brendan Rodgers utilise a number of formations this season, but to accommodate the attacking talents of his two outstanding strikers, he was forced to compensate the control he craves in matches.
In fact, Rodgers had indicated that he would be deploying Suarez on the wing in order to maintain Sturridge as the lone striker with the creativity of Philippe Coutinho in the number 10 role, or the trequartista. However, Liverpool fans must know by now that Rodgers, like any other manager, is not always to be believed in his interviews.
And so, as Rodgers looked to deploy Suarez on the wing, he played two setups with no wingers. A "flexible 4-4-2", and the much disputed "3-5-2"; the latter also coming as of a result of the number of centre-backs at Liverpool's disposal.
But as of yet, Rodgers initial perseverance with two strikers has worked out relatively well, as Suarez and Sturridge have collectively scored 11 goals when playing together, and assisted 5 of those goals for one another.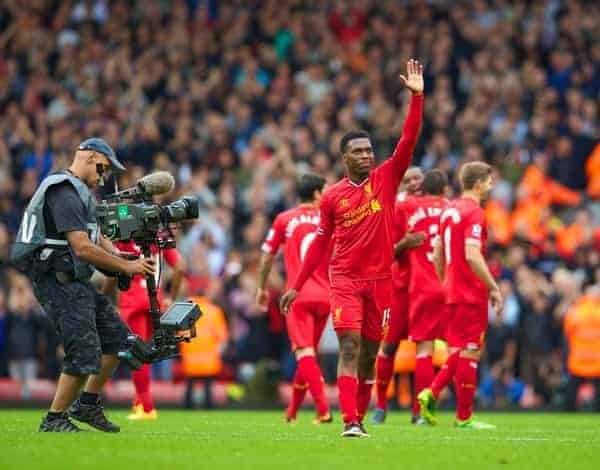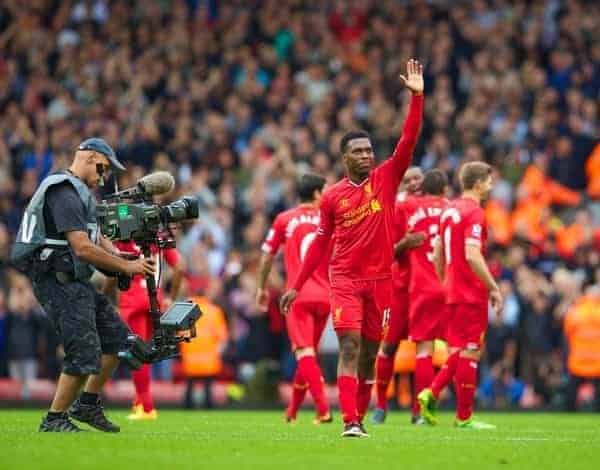 Before this partnership came into full effect this season, Daniel Sturridge was pulling a resilient Liverpool side through games, with the Redmen winning their opening three league fixtures 1-0. In fact, until Luis Suarez's reappearance from suspension, Sturridge had scored in all of Liverpool's fixtures bar the defeat to Southampton.
The return of Suarez appeared to take Liverpool to a different level. On his first Premier League outing of the season, Suarez netted a brace with Daniel Sturridge assisting both goals; Sunderland once again falling victim to Suarez's talent. Sturridge had opened the scoring at the Stadium of Light, grabbing, almost literally, his chance from a perfectly swung in corner from Steven Gerrard.
Suarez was clearly not yet at his best, having had a disjointed preseason coupled with little football since his ban the previous April. But with the help of Sturridge the Uruguayan celebrated the birth of his son the only way he knew how.
And so it was born, the partnership between Suarez and Sturridge; quickly dubbed by many as "SAS".
Sturridge has come out and spoke about the intuitive relationship he shares with Liverpool's number 7, stating that:
"The relationship we have means we know when to pass to each other and when we're going to make runs. It's just a totally natural thing.

"It means we can do more off-the-cuf' and instinctive things – because we're on the same wavelength."
This shows on the pitch. Their movement and passing to one another demonstrates a relationship beginning to form between the two, similar to Steven Gerrard's with fallen hero Fernando Torres.
Liverpool put three past Crystal Palace at Anfield the following week, with another Suarez brace topped off by a Daniel Sturridge goal. However, in the next two games, one away to Newcastle and the following at home to West Bromwich Albion, fans began to see a different side to Suarez and Sturridge while on the pitch.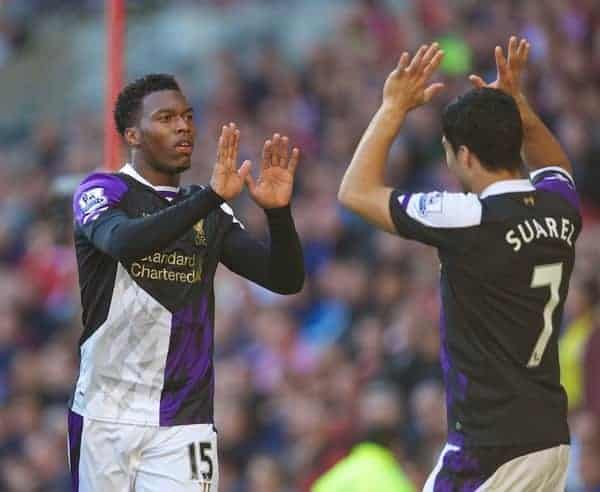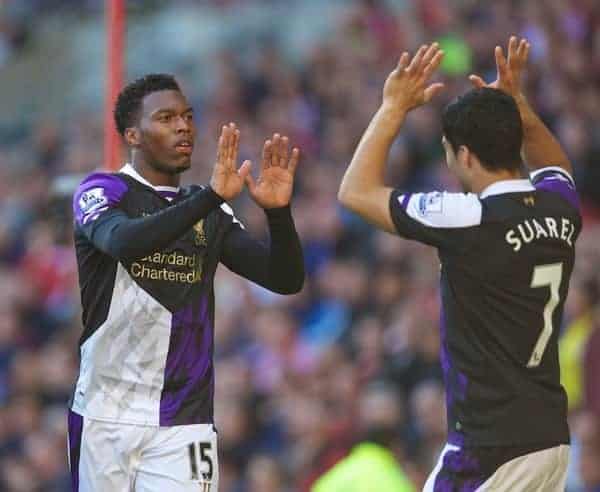 A disappointing 2-2 draw against Newcastle was the result of an early Saturday afternoon kick-off at 12:45 immediately after the international break. Liverpool were outdone by a Newcastle side even after they were depleted by the sending off of Mapou Yanga-Mbiwa. Rodgers' side was tired, outpaced, and out-muscled. Although Liverpool managed to get the equaliser through a clean Daniel Sturridge header, assisted by some great play by Suarez, the passing between the two, at times, was inconsistent. Suarez's choice to shoot when Sturridge was in a better goal scoring position was the peak of a miniscule mountain of frustration between the two.
At the end of the day, these two men are strikers. They want the team to succeed, but they will have individual targets and personal objectives as well.
There are moments of individuality when each player believes that they are the sole figure on that pitch; the protagonist to a dramatic story, enacted on their stage.
In a 4-1 victory over league strugglers West Brom, Luis Suarez truly announced himself to the Premier League. It was a glimpse of spectacular things to come, as he scored his first ever hat-trick at Anfield with three equally sensational goals.
Then, Daniel Sturridge decided to have a go.
An audacious chip from twenty-odd yards, reminiscent of the glory years of Southampton icon Matthew Le Tissier, executed to microscopic perfection, reminded Liverpool and Luis Suarez that Daniel Sturridge is not going to hide in the shadows. Having seen two fantastic goals from Suarez, Sturridge scored the pick of the bunch.
It was in that moment that "SAS", a tag-team of devastating proportions, became "SVS".
Suarez vs. Sturridge
And it continued after Daniel Sturridge made his triumphant return to Premier League football, in the nerve-shredding tie on a wet night at the Britannia Stadium. Liverpool somehow managed to beat Stoke City, even though they conceded three goals and threw away a two goal lead. Brendan Rodgers' men managed to net five of their own in a thrilling contest, with Sturridge coming off the bench to not only assist a beautiful goal for his striker partner, but score a marvellous effort of his own: a finish of composure, skill and determination, all coming from one of the crosses of the season, compliments of the wonder that is Luis Suarez.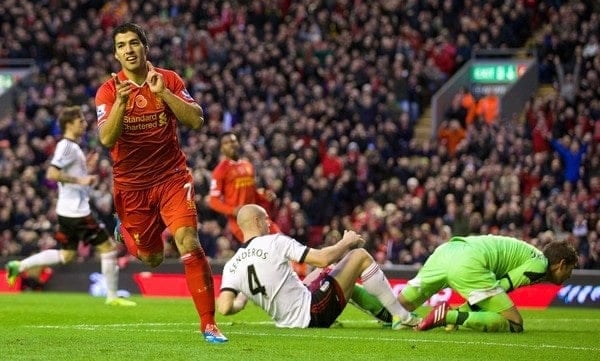 Liverpool fans are possibly beginning to witness a healthy rivalry emerging. Suarez and Sturridge are pushing one another, battling for the golden boot at the end of the season, and at times battling for goal of the season. They compliment one another, combine to annihilating effect, and now push each other to be better.
It is almost as if Liverpool's finest ever rivalry between John Lennon and Paul McCartney is reincarnating itself on the turf of Anfield, through the talented feet of Sturridge and Suarez. Lennon and McCartney wrote some of the greatest songs as a partnership with The Beatles, but also as solo artists. For every She Loves You, we have an Imagine. And now, for every 45 yard volley versus Norwich, we have a thunderous bullet against at the Etihad Stadium.
Suarez and Sturridge will continue to terrorise the defenders of the Premier League, and hopefully in Europe as well. But with every goal they score, whether their counterpart is on the field or not, Suarez and Sturridge may well be thinking the same thing.
"From Me, To You."
Ryan McTernan
Follow me: @RyanMcTrippy