Ahead of Tuesday's Merseyside derby, we get the views from Evertonian Gary Maiden, who runs the website Gwlady's Street Preacher.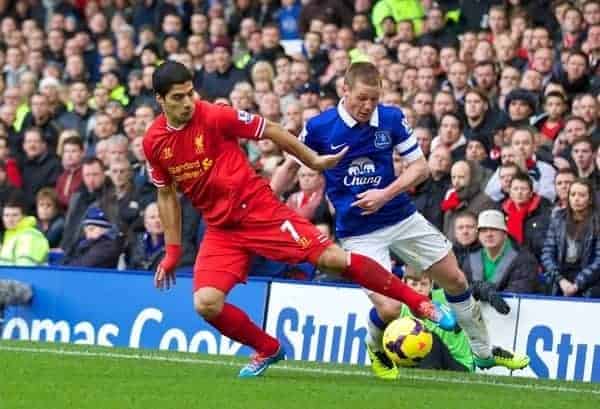 There's been much talk of how well Liverpool are doing this season, yet we're only a point ahead of you, surely you are the ones performing above expectations?
We're having a really encouraging season. The majority of blues that I speak to were concerned for this season, willing to take a mid table finish as Martinez finds his feet. In reality, what we have found is that we now have a squad capable of European football, and a tactician at the helm capable of delivering it. Our inability to turn draws into wins may hamper us towards the end of the season but to only have lost two league games so far is impressive.
Martinez is certainly impressing. Did you expect he'd do so well when he was initially appointed?
I didn't. I'll hold my hands up, he wasn't my first choice. That's not to say I was upset with the appointment, I wasn't at all. I just liked the look of Vitor Pereira, who was at Porto at the time. He'd talked up a move to England and has that all-important winning mentality. I was wrong. Martinez and Everton are a perfect fit.
I won't bore you with the finances of the club but let's just say he is doing great to promote talent from within and using his connections to land some important players on loan. Moyes was at times unfairly criticised for his style of play, particularly towards the end of his reign, but the stuff we are playing under the Spaniard is like a breath of fresh air.
In your questions to us, you admitted "Evertonians, in general, backed David Moyes during his 11 years at the club, whereas Liverpool fans didn't seem to rate him. Us blues were wrong, weren't we?" Can you elaborate on this?
I think the main confusion amongst reds was how can we back someone who has had over a decade and won nothing? In hindsight, you were right. It was almost as if Moyes played up to the 'skint Everton' tag and used it to his advantage. If we won, he was a genius. If we lost, we didn't have the finances to compete. Martinez has come in and made a mockery of that now. Not that we've won anything yet, but he says the right things. He doesn't look for excuses, he demands the best and it is very refreshing. We've had a squad capable of challenging for Europe for years, perhaps just not a manager ambitious enough to take us there.
Do you feel sorry for Moyes at all? Do you think he'll turn it around at United?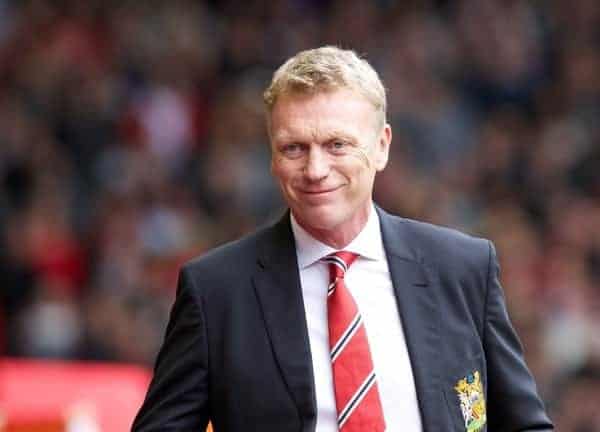 I do feel sorry for him yes. Don't get me wrong when you're at the match you get a little bit caught up in the emotional side of the game. At Old Trafford he took a lot of stick and I joined in with it, but in reality, I think given time the relationship between Moyes and Everton will improve again. He gave us 11 years of his career! I would however, like to point out that he was given a standing ovation and guard of honour in his final game at Goodison. He left Merseyside a very popular man amongst blues, it is his derogatory comments and derisory bids since that have soured the relationship, shame really.
In honesty, I don't think he will turn it around no. At a club like Manchester United there isn't the need to find a Seamus Coleman for £60k or a Tim Cahill for shy of £2m. He has to sign top class players ready to win things straight away and make them tick. I'm not sure he has that in his locker. Don't get me wrong, Moyes is a good manager and he won't finish seventh, United will be battling it for fourth, but that isn't enough.
It looks like a four-way race for fourth place between ourselves, United and Spurs. Who do you think will win it?
I've been asked this a lot and up until a few weeks ago I have been saying that Everton will do it. This may get some laughs on your site but I think we have the most balanced and talented first team in this race. However, you have a certain Luis Suarez and we don't. He makes a huge difference. Spurs have a huge squad but an inexperienced manager who I'm not sure can lead them to fourth.
United have just thrown almost £40m on one of the best creative midfielders in the world so they will improve. I have a horrible feeling that they will finish fourth. If they get Rooney, Van Persie and Mata fit and firing, that will likely be enough. Goal scorers win you games which is just as well because the rest of their side is mediocre.
Much debate surrounds your use of loan players, how do you feel about it? Do you expect to sign either of Barry or Lukaku permanently?
I think it is only an issue for the rest of the country because our loans have been so successful! It baffles me the uproar that has been met by our loan captures when clubs are spending £30m+ on one player and over £250k a week on wages. How else can we compete? For me, there should be a wage cap, maximum transfer net spend per season and no loans between clubs in the same division. I'd also scrap the January transfer window but I'm heading into a completely different argument.
We've benefitted from it so I'm happy. Martinez has a job on his hands replacing Lukaku and Deulofeu at the end of the season mind.
£6m for Anichebe, £5m for Jelavic and £28m for Fellaini… what's the secret?
A very good question. £6m for Anichebe was outrageous. Jelavic is about right and the Fellaini deal was brilliant. We've received almost £30m on a player who wouldn't get a game for us in the way we now play. In fairness, a few seasons back he was one of the best midfielders in the country, but to receive as much as we have is superb business. Maybe Bill isn't as daft as we all think?
Derbies have a tendency to throw up a mad moment or two, what's your favourite Merseyside derby memories?
They certainly do and we haven't had too many go our way over the years. The Luis Suarez disallowed goal springs to mind but then we had the Distin header chalked off at Anfield. I'll always remember Pepe Reina nearly taking Andy Johnson's head off after he had pushed the ball under his own crossbar during our 3-0 win at Goodison.
Nothing mad about this one but the minute's silence at Wembley a couple of seasons back for the anniversary of the Hillsborough tragedy was a special moment between the two clubs. We're unique in that way.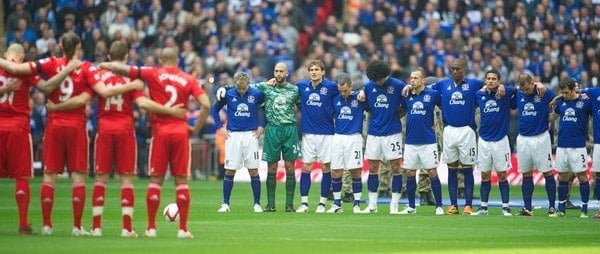 Looking at the match on Tuesday, where do you hope Martinez will look to get the better of us?
Romelu Lukaku has been a little out of form of late and will want to get back to scoring ways at Anfield. He has shown he can do that while at West Brom last season so there is no reason why he can't do it again. Your defence is a little leaky and for us to win, he has to perform. Lacina Traore may catch a few off guard also. Our defence will have to be sharp because Suarez and Sturridge frighten the life out of me.
How do you expect Martinez's side to line-up on Tuesday?
That all depends on who he has available. We are facing an injury crisis with nine important players currently out. He'll have four at the back with Gareth Barry and James McCarthy offering protection. That leaves the front four free to roam.
If that front four is Lukaku, Gerard Deulofeu, Kevin Mirallas and Ross Barkley, you may have a tough night on your hands. If it is, Lukaku, Steven Naismith, Leon Osman and Aiden McGeady then the emphasis may well be on keeping your attacking options quiet. As ever, it should be a great game either way.