Steven Gerrard has taken plenty of stick from some fans lately, with some questioning his place in the side. Henry Jackson (@OnFootballTweet) simply doesn't understand the majority of the criticism, or why Brendan Rodgers won't play him in him slightly further forward.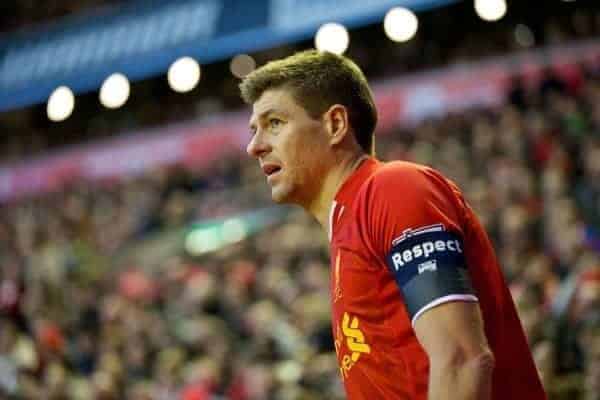 There can be no denying that Gerrard had a stinker in the opening 45 minutes at Anfield on Saturday. He was deployed on his own in a defensive midfield role by Rodgers, and the results were disastrous.
He never looked comfortable for one second, losing the ball constantly and being overrun by Villa's dynamic midfield. It is a tactic I would put good money on Rodgers never using again.
While Gerrard can be effective in defensive midfield alongside someone like Lucas, spraying passes and dictating proceedings, in my opinion he is still at an age where he is more effective closer to the oppositions goal.
At 33 he is, admittedly, not the player he once was, but he is also not on his last legs. People said the same about Paul Scholes and Ryan Giggs when they were his age, and they've gone on to play for another six or seven years on top of that. Although far from my favourite player, Frank Lampard is nearly 36 but still brings quality to the Chelsea side when he plays.
The question I constantly finding myself asking is: why is Rodgers so reluctant to let Gerrard off the leash and influence the game further forward?
Whether it's Jordan Henderson, Joe Allen or, in the case of Stoke away, Lucas, they always seem to be given a more attacking role to Gerrard. For someone who is far from the finest defensive midfielder on the planet, this makes absolutely no sense.
Some will argue that Rodgers' pressing style is not suited to Gerrard playing high up the pitch, but is he really so immobile these days? Is he really so incapable of pressing effectively? I think it's a weak argument. Is someone like Allen THAT good at pressing relentlessly in Gerrard's place?
Gerrard also remains Liverpool's most gifted creative midfielder. For all of Henderson's lung-busting runs and dynamism, Allen's neat and tidy style and Lucas' excellent reading of the game, none are on the 33-year-old's level when it comes to natural ability.
He can open up a defence with a precise pass, shoot from range- another downside of playing him so deep is that he longer has the opportunity to score his trademark thunderbolts as much- and still has a certain amount of drive despite his ageing legs.
Those who feel he can no longer bomb forward simply have to look at his vital goal for England against Poland in October. He was only given the license to push forward once, and he scored after a typically driving run forward. If he could do that three months ago, I doubt he's now so incapable of it.
Some would argue that that trio of Lucas, Gerrard and Henderson doesn't work, because Henderson is the only one with genuine dynamism, but if you can't play all three of them it should be Lucas who is replaced for a more combative defensive midfielder. Yann M'Vila, for example. Or even Allen, perhaps. That's nothing against Lucas, who changed the game against Villa when he came on, but I feel he is more easily replaceable than Gerrard.
Ask any rival football fan whether they would rather see Gerrard playing against their side in defensive midfield or attacking midfield, and the majority would say the former. He can't hurt teams as much from deep.
It is no surprise that as soon as Lucas was introduced at half-time on Saturday, and Gerrard pushed into a more attacking role, both he and the team's performance improved greatly. Suddenly there was an extra dimension to their attacks, and you could see Gerrard enjoying himself far more. Let's not forget that it was his sublime pass that led to Luis Suarez winning the penalty.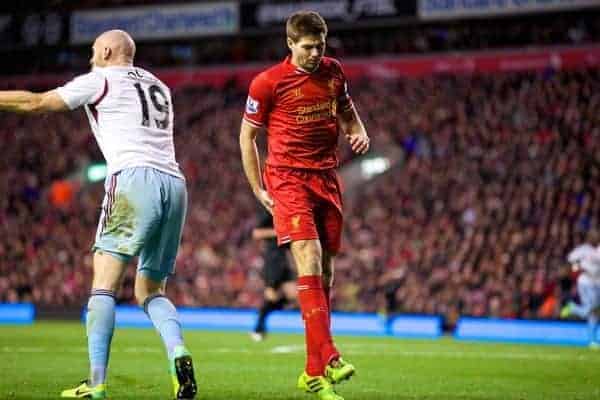 Football is very ageist. Once a player hits 30 it seems so much easier to criticise them. Personally, I think this is what is happening with Gerrard. Ok, he's no longer one of the best players in the world like he was in the mid to late 2000s, but he still has so much to offer.
Just because Liverpool beat Tottenham 5-0 away without Gerrard in the side, in what was an admittedly outstanding team display, suddenly he should no longer be first choice in the eyes of many.
Where were these critics when Liverpool lost to Manchester City and Chelsea without Gerrard?
Liverpool played well in both of those games, particularly against City, but Gerrard's influence, experience and quality may well have seen the Reds get something out of both matches. Yes, Allen pressed well and didn't lose the ball, but he also didn't influence the game enough.
A midfield three of Lucas, Allen and Henderson is not good enough, despite the attributes each player brings to the side. It lacks goals and creativity hugely.
Liverpool can get by without Gerrard at times these days- in the past if he was missing they simply wouldn't win- but to call for him to be dropped seems very harsh. A few rusty performances, particularly after he's been out injured for two months, shouldn't cloud peoples judgements.
Maybe my heart is just ruling my head, but to me Steven Gerrard remains hugely important to Liverpool's chances of qualifying for next season's Champions League. Playing him in defensive midfield benefits neither the player or the club, and I just hope Rodgers realises that before it's too late.
Do you agree with Henry? Would you drop Steven Gerrard?