Is Steven Gerrard a central defensive midfielder? After five games finding his feet there, Jack Lusby gives an assessment so far.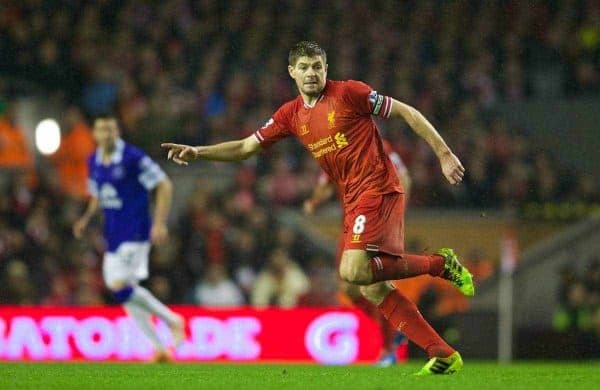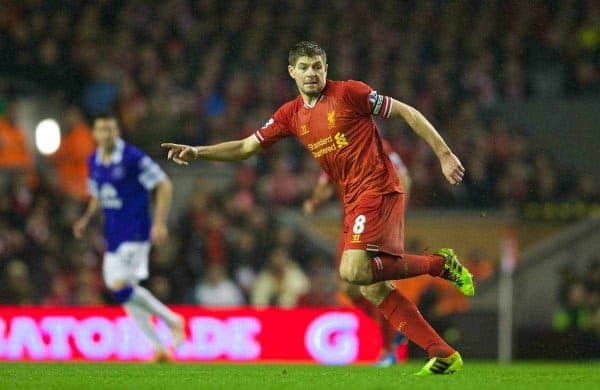 Often is the case with an ageing central midfielder, the shift into a less advanced position is generally utilised to prolong the career of one whom has developed a considerable influence on their team.
In recent years we have seen Ryan Giggs successfully shift into a deep-lying midfield role as the Welshman continues to defy footballing biology.
Elswhere, following a move to Juventus in 2011, and hugely successful Euro 2012 campaign with Italy, Andrea Pirlo has been widely considered one of the greatest in this role.
Pirlo as the regista, as portrayed by Jonathan Wilson for the Bleacher Report, is a player who no longer relies on physical capabilities; more a leaning on abnormal pitch intelligence:
"His effectiveness, rather, lies in his intelligence, his ability to conceptualise the pitch in its entirety, to know where teammates and opponents are and where they will be, allied to a sumptuous ability to craft a pass."
This season, with Liverpool suffering from a dearth in quality in the central, defensive midfield position – not helped by the propensity of Lucas Leiva to injury – 33-year-old talisman Steven Gerrard has made this move.
Now, five Premier League games on from Brendan Rodgers' tactical shift, how was Gerrard fared?
Initial Reception
Described by Rodgers as the start of January as "critical", Gerrard's move into the central defensive role came at a time when many questioned the relevance of Anfield's long-serving messiah within the Northern Irishman's tactical system.
A perceived lack of legs and a predisposition with the Hollywood pass were two qualities which jarred with Rodgers' high-pressing, possession-based game.
However, the same could have been applied when considering Gerrard's move further towards the defence, and that these qualities could leave the England captain exposed in a more dangerous position.
Therefore was the move to CDM an attempt at shoehorning in a player whose reputation exempts from dropping?
The Results
The results, on paper, work to flatter the influence of Gerrard since his shift into a new position.
Stoke 5-3 (W), Villa 2-2 (D), Everton 4-0 (W), WBA 1-1 (D), Arsenal 5-1 (W)
It's clear to see that, since Gerrard has been deployed deeper, Liverpool have yet to lose a game. However, naturally, the pertinent proof can be found in the performances.
The Performances
Stoke City; Away; Sunday 12th January – 5-3 win
Making his 650th appearance for the club, Gerrard performed shakily, often playing in the anchor-man role between Kolo Toure and Martin Skrtel.

Whilst the score-line resolved a positive one, in truth Gerrard performed abysmally.
Gerrard's slip, bombing towards the ball in typical gung-ho fashion, led to Charlie Adam's 20-yard equaliser at 2-2.
Defensively unstable, the Reds were lucky to have the talents of Daniel Sturridge and Luis Suarez to rely on in outscoring the Potters.
Aston Villa; Home; Saturday 18th January – 2-2 draw
Another out-of-sorts performance in his new role, as Villa went two goals up before the break.
With this clear to Rodgers, Gerrard was moved further up the pitch in the second half following the introduction of Lucas, and Liverpool were galvanised to bring the game to a draw.
Talking to Sky Sports after the game, Gerrard frankly outlined his deficiencies:
"They put a lot of men around me. Every time I tried to get the ball under control they swamped me in the first half.
"It didn't work for myself or the team. I openly admit that it wasn't one of my better 45 minutes."
Everton; Home; Tuesday 28th January – 4-0 win
In the season's second Merseyside derby, Gerrard played with the trademark fervour that we have become so accustomed to over the years.
His headed opener sparked an impressive rout, and Gerrard rarely put a foot wrong.
I could be said however, that Gerrard's performance was helped by the effervescent display of Phillipe Coutinho in the more creative role.
WBA; Away; Sunday 2nd February – 1-1 draw
This draw was a wholly uninspired team performance, with Gerrard unfortunately at the heart of proceedings.
Much was made after the game of Kolo Toure's defensive blunder, leading to Victor Anichebe's late equaliser.
However, this was due to Gerrard's lacking in positional sense: a poor pass played to Toure followed by no offering of an outlet. Subsequently Toure played a square ball into the path of Anichebe, and the rest is history.
Arsenal; Home; Saturday 8th February – 5-1 win
In a team performance Gerrard himself ranked in the top three of his career, this was the best we have seen the Reds in many, many years.
His two assists, both supplying Martin Skrtel goals, exemplified Gerrard's exceptional dead ball skills.

However, the Englishman was at the heart of the game's only flaws: firstly, an unnecessary slide-tackle to award Arsenal a consolation penalty, followed by another bizarre pass to put Toure under unwanted pressure.
It is important to mention also that Coutinho, again, shone.
Moving Forward
Overall, the past five Premier League games have shown that Gerrard can perform in this new role.
However, it is clear that Liverpool's captain currently lacks consistency, and apparent positional sense.
It is alarming the regularity with which Gerrard has made mistakes leading to goals since the switch.
Also, notably, the two best displays of this jaunt have come when Coutinho has flourished in the central creative role.
However, whilst these growing pains have dampened a promising start, should they be eradicated Gerrard may have found a new home.
Does Gerrard have the capacity to successfully into life at CDM? Or should this remain a short-term measure? Let us know in the comments below.