Having won big games against their rivals this season, Liverpool have often struggled to recreate that form in their following match. Henry Jackson (@OnFootballTweet) believes the Reds must eradicate this ahead of their trip to Cardiff on Saturday.

When Liverpool thumped Everton 4-0 at the end of January, confidence was sky high and momentum was gathering. A trip to struggling West Brom five days later signalled a relatively easy next game for Brendan Rodgers and his side.
Instead of a resounding victory, however, what followed was a limp display from start to finish. Daniel Sturridge's first-half goal looked to be earning Liverpool an ugly win, but they simply never kicked on in the game.
At times they were a shadow of the side that dismantled their Merseyside rivals. In the end it was Kolo Toure's disastrous error that gifted Victor Anichebe an equaliser.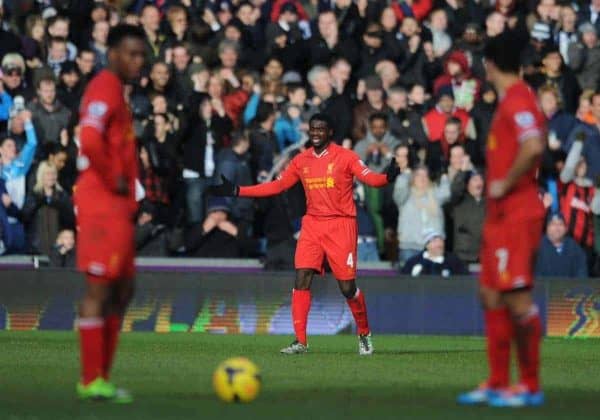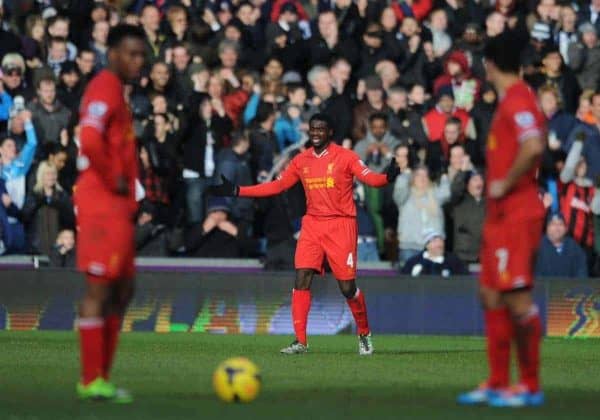 A few weeks later it was Arsenal who were put to the sword at Anfield, with the Reds producing an unbelievable display to thrash Arsene Wenger's team 5-1. A surprising title charge really was beginning to gather momentum.
A trip to west London four days after the annihilation of the Gunners saw Liverpool face the Premier League's weakest team, Fulham. The visitors may have earned all three points in the end, but they were nowhere near their best once again.
Having trailed 2-1 with the game reaching its latter stages, it was only Philippe Coutinho's deflected strike and Steven Gerrard's late, late penalty that got the Reds over the finish line. A win is a win at the end of the day, but Rodgers' men should have breezed that game given the respective talent in each squad.
Although not a so-called 'big' game, the 5-3 win at Stoke- a very important win at a very tough ground- was followed by a hugely disappointing 2-2 draw at home to Aston Villa.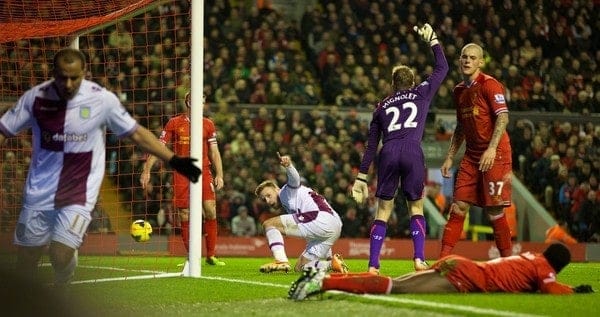 Another example is back before Christmas. Having snatched an unlikely last-gasp draw at Goodison Park, most people expected Liverpool to take that momentum with them to Hull in the following weekend's game. They lost 3-1, performing dreadfully in the process.
On Saturday Liverpool head to Wales to face Cardiff City, having destroyed Manchester United 3-0 at Old Trafford on Sunday. Like every league game left now, it is another huge test of the Reds' title credentials.
Cardiff are right in the middle of a relegation dog-fight, and they will likely raise their game for the visit of the country's most in-form side. Their ground is intimidating because of their terrific support, their manager Ole Gunnar Solskjaer is an ex-United player- I still haven't decided if that makes a difference or not really- and the Reds will not have things their own way at all.
They have to be ruthless and show that they have learned their lessons since the iffy performances against West Brom, Fulham et al. This game is as important, and may actually be more difficult, than the United match.
Liverpool have been absolutely superb this season, and a title triumph really is a possibility now. They are a joy to watch and are potentially nine wins away from one of the greatest moments in the club's illustrious history.
While it will be hard to take if the Reds' title chances are ruined by a defeat to either Manchester City or Chelsea at Anfield next month, dropping points against Cardiff would hurt even more.
Liverpool will be expected by many to go to the Cardiff City Stadium and win comfortably, judging by their magnificent recent form. If they play like they have following other unforgettable victories, however, there is every chance they will slip up.
What's your prediction for Saturday's game?