We understand that Liverpool managing director Ian Ayre and chief scout Barry Hunter were in Rome on Tuesday evening to watch AS Roma defeat Torino 2-1.
We profile one player that The Reds might be monitoring, midfielder Miralem Pjanic.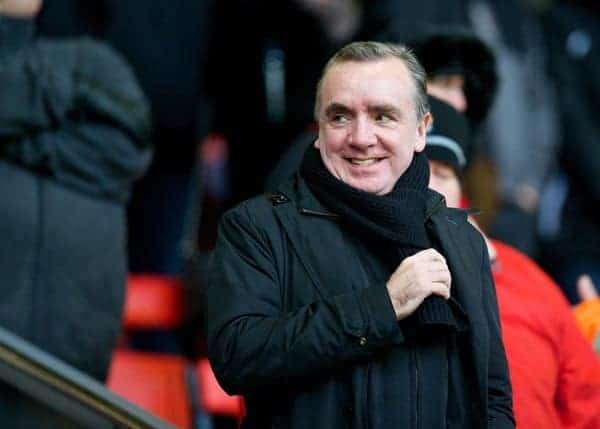 Report by Nikola Mitrovic
As this season enters it's final stages, preparations for the next one are already underway and football scouts throughout the world are working hard in quest for identifying the right players for their respective clubs.
Liverpool is no exception to that. However, next transfer window might carry a significant difference to previous four summer transfer windows should their last eight fixtures prove fruitful – Liverpool should qualify for Champions League and thus unlock the upper echelons of football talent.
As witnessed last season, the call of Champions League was enough to sway their primary targets off the course to Anfield and Brendan Rodgers and his players are currently exceeding expectations in order to bring five-time European champions back to football elite and prevent the unsuccessful transfer scenarios from repeating themselves.
Liverpool's league form has done nothing to quell the speculation among fans with regards to future transfers. A few key areas of strengthening have been identified, though, with one of them being central midfield. While the variety of midfielders linked with Liverpool ranges from physical ball-winners to quick-thinking playmakers, it seems that a pattern emerges, not just when it comes to midfielders but to players in every position, a pattern that suggests that Brendan Rodgers is looking for hard-working, intelligent and strong-willed players, in addition to them possessing good technical ability. The latest name to fit that description is young Roma midfielder and Bosnian international Miralem Pjanic.

MIARLEM PJANIC
Date of birth: 2 April 1990 (age 23)
Place of birth: Zvornik, SFR Yugoslavia
Nationality: Bosnian
Height: 1.80 m (5 ft 11 in)
Position: Attacking midfielder
Primarily an attacking midfielder, Pjanic came through the ranks at FC Metz before making a move to Lyon, where he hadn't progressed quite as quickly as those who have seen him at Metz expected of him, partly due to a foot injury and club's inconsistent form in the period of time he spent there. However, his talent and attitude made it only a question of time before he was given a chance to impress in a better placed club and Roma was the club that believed in him the most, belief which he paid off handsomely with his performances.
Strengths
Pjanic's technical ability is arguably his biggest quality. His impeccable ball control, precise passing and sublime, almost arrogant dribbling skills he employed to keep the ball at his feet or skip past opponent were met with approval even from one of the greatest masters of those trades, Francesco Totti himself.
One would argue that training alongside Totti and generally playing in the Italian league has broadened the scope of Pjanic's skills (look at his stunning lob against Verona at Olimpico earlier this season and you can draw comparisons to Totti's signature move, "cucchiaio" (spoon)). When he was at Metz, he was more of an all-action attacking midfielder than the elegant one he is today.
However, while he's not relying on pace, he has kept the will to press high up the pitch and win the ball in opponent's half, which undoubtedly suits the way Rodgers sets his team out. His vision of teammates' and opponents' positions and lightning-quick thinking also stand out from the first time you see him playing (he currently has twenty two assists in less than three seasons with Roma), as well as wonderful set-piece ability, especially free kicks.
Weaknesses
While it is hard to find a true flaw in Pjanic's game, one would expect such a skilled offensive player to score more than he does. In that sense, he is more of Andres Iniesta or David Silva, where goals are a bonus to his creative play and usually a work of art, rather than Frank Lampard, where goals are the essence (Pjanic currently has eleven goals for Roma in all competitions). He can also be considered a temperamental player, accruing eighteen yellow and two red cards during his time at Roma, which is a bit unexpected from an attacking midfielder.
Conclusion
Miralem Pjanic is the kind of player who would probably fit into Liverpool's first eleven, provided he gets quickly accustomed to pace of Premier League and lack of breathing space afforded by opponents. His tenacity in opponent's half would work well in tandem with either Henderson or Allen pressing on in front of either Gerrard or Lucas, while he would offer genuine creativity and set-piece ability too.
Ball retention is another important aspect of his game, which would be a step in the direction of possession-based football Rodgers wants to take in long-term with his team. Also, the pace that Rodgers injected with Daniel Sturridge and Raheem Sterling would be well exploited by Pjanic's clever through and diagonal balls.
As an aside, Pjanic's game intelligence, passing and composure on the ball could see him occupying the deep lying playmaker role in the future and dictating the tempo of the game in the way Pirlo and Gerrard do so at the moment.
With only one year left on his contract and World Cup looming large, where he will feature with Bosnian national team, Pjanic will not be short of suitors Paris Saint-Germain, Manchester United and Arsenal all publicly linked with him.
Should Liverpool reach Champions League and should Rodgers decide to pursue him, Liverpool's style of football and good working relationship with Roma could prove to be the key in his possible transfer to Anfield and Rodgers would have another future gem at his disposal, ready to be polished and shine as brightly as ever.