Raheem Sterling has opened up about his rapid development as a footballer and relationships with Liverpool boss Brendan Rodgers and his mum.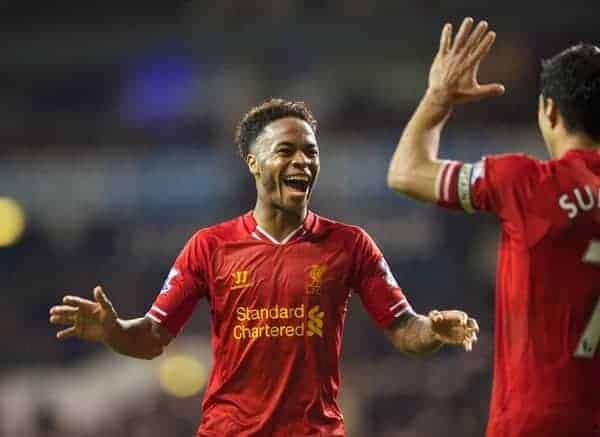 After making his senior debut at just 17-years-old in 2012, Sterling's meteoric rise to regular first-team player at Anfield has been nothing short of phenomenal.
Having made 26 Premier League appearances this season, added to 24 last campaign, Sterling has matured and strengthened as a man and a footballer — and he's still only 19-years-old.
In an honest and interesting interview with BBC Sport's Natalie Pirks, Sterling spoke of the role Rodgers has played in learning.
Speaking about a pre-season bust-up between the pair during Liverpool's tour of the USA in 2012, an incident which was caught on camera for the documentary Being: Liverpool, Sterling said it was the start of a "breath of fresh air" for him.
"He's helped me massively," Sterling said. "Not only with my footballing game but if I need someone to talk to off the field he's there for me. I've got to really give credit to him and thank him a lot."
Asked whether he thought the positive atmosphere at the club could lead them to the league title this season, the England international replied, "I don't want to be the one that says Liverpool can go on and win the league.
"But there's a real belief and togetherness in the squad, we're all working for each other. We all know what the dream is at the end of it."
Sterling also spoke about his relationship with his mother, Nadine, who has played a massive part in his career, moving her family to Merseyside when Liverpool came knocking on the QPR youth team's door in 2010.
"She's a big part of my life," he added. "She tries to have too much of a say sometimes! I try to listen to her, because most of what she says is right.
"My mum thinks she knows her football! She'll certainly tell me when I'm not doing something right. At other times she'll say I'm not listening to her. There's been a few clashes with her."
The full interview with Sterling is to be broadcast on BBC One's Football Focus at 12 noon on Saturday 29th March 2014.