Earlier this week, Spurs' Jan Vertonghen suggested that the difference between Liverpool and Tottenham is only Luis Suarez. But would any Spurs players even get in the Reds' side?
In a recent interview with The Independent, Spurs centre-back Jan Vertonghen was asked whether there was any difference in quality between the north London club and Liverpool. His response was to suggest that only Luis Suarez is the difference:
"Suarez is the reason (for the difference in the two sides respective league positions). At the moment he is up there as one of the best strikers in the world. I think he is the difference between the teams."
To me, this was a ridiculous comment from the 27-year-old Belgium international. There has been an enormous gulf in quality all over the pitch between the two rivals this season, and there is a definite argument to say that not one Spurs player would get into Brendan Rodgers' team at the moment.
GOALKEEPERS
Simon Mignolet and Hugo Lloris are both very fine 'keepers on their day, but they have both made several errors this season. It's fair to say neither have been at their very best for a really sustained period.
It is Mignolet who has been the more reliable, however. After a shaky spell around December and January- mistakes against Manchester City and Chelsea could prove pivotal in the title race- the 26-year-old has been very solid. In the 12 games Liverpool are unbeaten in in the Premier League in 2014, only a mistake at home to Aston Villa springs to mind.
Lloris, meanwhile, has been erratic at times. The France captain is world-class when at his best, but his decision-making has been disappointing for a player of his calibre.
FULL-BACKS
Glen Johnson and Kyle Walker are the two best English right-backs around, and like Mignolet and Lloris, there's not a huge amount in it between the two.
Both are good going forward but susceptible defensively, but Johnson has more experience and a better end product. He still has the edge, highlighted by the fact that he will start for England at this summer's World Cup in Brazil.
Jon Flanagan has had a terrific campaign, and Jose Enrique's long-term injury has actually aided the 21-year-old's progress hugely. He has grown in stature, and continues to improve all the time.
First-choice Spurs left-back Danny Rose and squad player Kyle Naughton are definitely a level below any of the Reds' full-backs in my opinion.
CENTRE-BACKS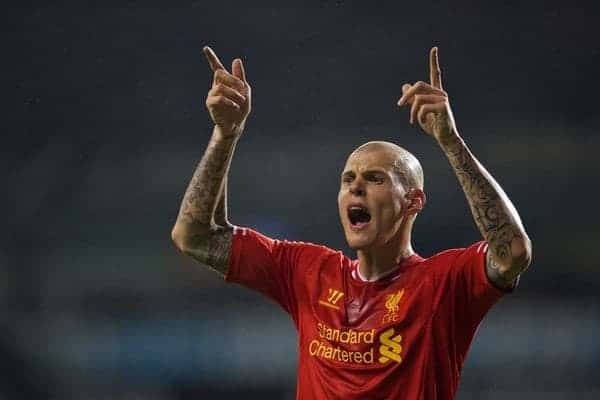 Martin Skrtel has been the standout centre-back in either squad this season, scoring numerous goals and playing with great authority and consistency. He's come a long way since losing his place to an ageing Jamie Carragher last year.
Daniel Agger remains an important member of the side, although Mamadou Sakho would be starting had he not been out injured. The Frenchman is a guaranteed starter sooner or later, and has the ability to become one of the best defenders in Europe.
Spurs, in fairness, also have some very fine centre-backs of their own. Vertonghen himself is one of the best in the league on his day, but he's been poor over the last few months. Michael Dawson and Younes Kaboul are also reliable, but would they really get into the Liverpool side? I don't think so.
Vlad Chiriches is a terrific player who would strengthen any side, but he has been missing for several months now. The Romania captain was his side's best defender before injury.
MIDFIELD
While Steven Gerrard, Lucas, Jordan Henderson and Joe Allen all offer something a little different to Liverpool- Gerrard creativity, Lucas defensive expertise, Henderson dynamism and Allen intelligence- Spurs' central midfielders all seem very similar and one-dimensional.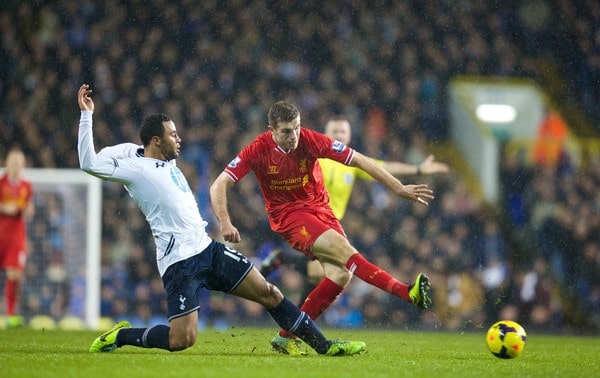 Whether it's Sandro, Moussa Dembele, Paulinho, Nabil Bentaleb or Etienne Capoue, they are all solid but unspectacular. All five are good players in their own right, but not one would remotely add a spark to Liverpool's midfield. At a push, Dembele maybe.
WINGERS and ATTACKING MIDFIELD
Raheem Sterling is a wide player with enormous potential, and the 19-year-old is enjoying an excellent season. Despite his tender years, he already has more pace, trickery and effectiveness to his game than Aaron Lennon, Andros Townsend, Gylfi Sigurdsson Erik Lamela and Nacer Chadli.
Lamela was signed for £30m from Roma last summer and must have something special in his armoury. On current form, however, there is absolutely no sign of it.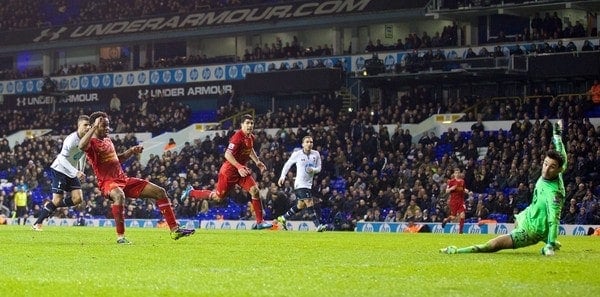 In attacking midfield, both sides are blessed with top class young 'number 10s'. Philippe Coutinho and Christian Eriksen, 21 and 22 respectively, are superb technically, capable of unlocking a defence and chipping in with goals of their own.
There is not a lot to choose between the pair, but I believe Coutinho has been more influential in big games. He was absolutely exceptional in the season-defining home wins against Everton and Arsenal, and his display in Wednesday's tight win over Sunderland was a joy to watch at times.
There can be no doubting that Eriksen is the kind of player who would thrive under Rodgers' management, but at the moment he is just a little bit behind Coutinho in terms of development.
STRIKERS
Choosing between Liverpool and Tottenham's strikers is an absolute no-brainer. In Luis Suarez and Daniel Sturridge the Reds have one of the most exciting, potent strike partnerships in Europe. They have scored a staggering 48 league goals between them so far this season, and created so many for each other too.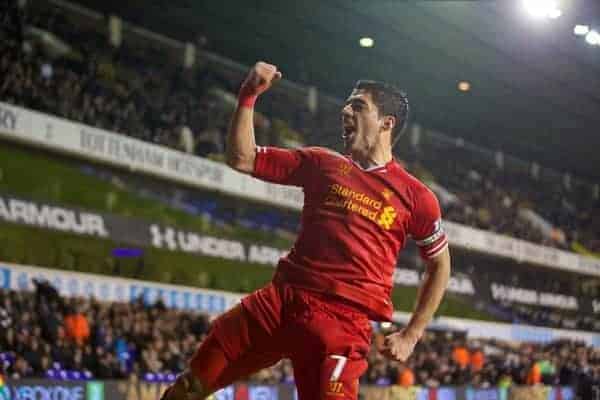 In contrast, Spurs have one of the biggest transfer flops of the season in their ranks. Roberto Soldado has found the net just six times in 25 league appearances- most of them penalties- since his big-money move from Valencia.
Although Emmanuel Adebayor has had a new lease of life under Tim Sherwood, he is not in the same league as Suarez and Sturridge.
CONCLUSION
There is a definite case to say that not a single Tottenham player would get into the Liverpool side on current form.
There's an argument for Lloris and Eriksen at their best, while Walker, Vertonghen, Chriches and Dembele wouldn't look out of place either. Not one player in their squad would make the Reds stronger though.
To put it bluntly, Vertonghen was talking absolute garbage – and that's without even mentioning the difference in class between the two respective managers.
Would you choose any Spurs star ahead of a Liverpool player currently? If so, who?